ACLP members and non-members have the opportunity every November to gather in a warm part of the U.S. for education, inspiration, and camaraderie and fun at the ACLP Annual Meeting.
For 2019, ACLP President Rebecca Weintraub Brendel, JD, MD, FACLP, and Scientific Program Committee chair Madeleine Becker, MA, MD, FACLP, have chosen the theme The Future of the Subspecialty, a topic which will serve as a springboard for many exciting presentations and a great meeting.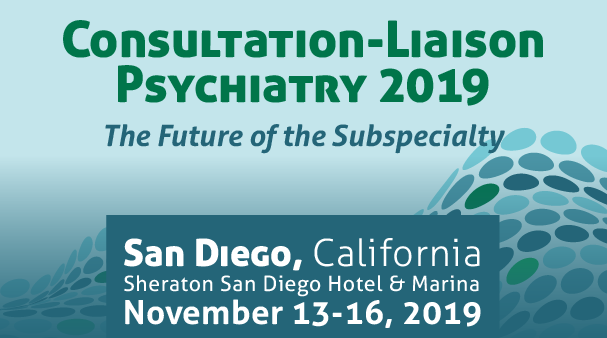 CLP 2019:
The Future of the Subspecialty
November 13-16, 2019
Sheraton San Diego Hotel & Marina
San Diego, California
Visit CLP 2019 for the latest information.
Past Annual Meetings
Videos of select presentations from past annual meetings are in the Academy's Live Learning Center (LLC).  If you have attended a meeting, you may view the videos of that meeting without cost. Others may view for a small fee.  Visit the LLC.
Presentation slides from 2014 through 2018 meetings are available for registered attendees. To access slides, log in on each respective meeting site with the access code you were provided at the time of the meeting. If you need to recover it, each site has a "forgot your access key" recovery feature.
Photographs from 2013 through 2018 capture highlights and casual moments during the meetings. The photographs may be viewed on Flickr.
2018: 65th Annual Meeting
Branding C-L Psychiatry: Defining the Breadth and Depth of Our Subspecialty
November 13-17, 2018
Caribe Royale, Orlando, Florida


Schedule, Speakers, Abstracts


Final Program
2017: 64th Annual Meeting
Addressing Current Dilemmas in Psychosomatic Medicine: Consultants Consulting the Experts
November 8-11, 2017
La Quinta Resort, Palm Springs, California


Schedule, Speakers, Abstracts


Final Program: View as

PDF or

e-flipbook
2016: 63rd Annual Meeting
Brain, Mind and Body: Why Every PM Psychiatrist Should Care About Neuroscience
November 9-12, 2016
JW Marriott, Austin, Texas


Schedule, Speakers, Abstracts"/a>


Final Program
2015: 62nd Annual Meeting
The Art and Science of Communication in Psychosomatic Medicine
November 11-14, 2015
Hilton New Orleans Riverside, New Orleans, Louisiana


Schedule, Speakers, Abstracts


Final Program
2014: 61st Annual Meeting
Lessons from Out Best Teachers: Patient-informed Advances in Clinical Care, Research, & Leadership
November 12-15, 2014
Marriott Harbor Beach Resort & Spa, Fort Lauderdale, Florida


Schedule, Speakers, Abstracts


Final Program
2013: 60th Annual Meeting
Psychosomatic Medicine Models in the Era of Health Reform
November 13-16, 2013
Westin La Paloma Resort & Spa, Tucson, Arizona


Schedule, Speakers, Abstracts


Final Program
2012: 59th Annual Meeting
Bioethics at the Interface of Psychiatry and Medicine
November 14-18, 2012
InterContinental Buckhead Hotel, Atlanta, Georgia


Final Program
2011: 58th Annual Meeting
Psychosomatic Medicine: Innovation & Opportunity in Community Practice Settings
November 16-20, 2011
Sheraton Wild Horse Pass Resort & Spa, Chandler, Arizona


Final Program
2010: 57th Annual Meeting
Advancing Psychosomatic Medicine through Excellence in Education
November 10-13, 2010
Marco Island Marriott, Marco Island, Florida


Final Program