How SIG Tackles "The Great Magnifier of Maladies"
In the US, 1.2 million people are living with HIV and 40,000 are newly diagnosed each year. One in eight is unaware of being infected.
HIV/AIDS is a severe and complex multimorbid medical and psychiatric illness similar to other such illnesses. Yet, APM members who specialize in HIV face some of the greatest challenges within C-L psychiatry.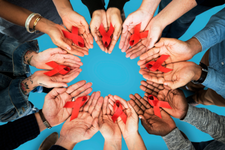 The greatest of all nowadays, contends HIV/AIDS Psychiatry SIG founder and co-chair Mary Ann Cohen, MD, FAPM, is "the shredding of the humanistic and compassionate aspects of medicine."
"Demands for productivity, complexities of coding for reimbursement, and the use of electronic medical records have taken a toll on the time and energy of physicians in every specialty and at every encounter with patients and contribute to physician burnout," she says. "There is no greater impact of these demands than on the severe and complex patient with a multimorbid medical and psychiatric illness.
"These challenges have been described as 'medicine under siege.' The complexities and dynamics are true for every illness, but are magnified by HIV and lead to the concept of HIV as 'The Great Magnifier of Maladies.'
"HIV magnifies disparities in health care, discrimination in medical care, and stigmatization of illness. HIV is stigmatized because, unlike most complex and severe medical illness, it is infectious and it is multiply stigmatized by its association with sexual transmission and drug addiction.
"It is not only associated with addiction but with PTSD, depression, and neurocognitive disorders. People with HIV who do not engage in care are also vulnerable to every medical illness of every organ and body system, including HIV-associated dementia."
"Many physicians do not know that transmission can be prevented both before and after exposure to HIV. Through a basic understanding of PrEP and PEP, psychiatrists are uniquely poised to use their skills not only to treat psychiatric disorders but also to provide HIV treatment recommendations that protect their patients and the community from HIV transmission." — Dr. Cohen.
Another important challenge for HIV psychiatrists is prevention, says Dr. Cohen – recommending and teaching about universal HIV testing, treatment as prevention, use of pre-exposure prophylaxis (PrEP) and post-exposure prophylaxis (PEP), and spending time to do a comprehensive psychiatric assessment that includes thorough evaluation of sexual health and practices, drug and alcohol use, and full neurocognitive evaluation.
A third major challenge is to ameliorate HIV and mental illness stigma. A fourth is to address drug-drug and drug-illness interactions in people with HIV and AIDS.
So . . . the SIG's prime goals are to role model and educate clinicians and trainees about the most important aspects of patient care: communication with compassion, competence, and collaboration.
Evolving SIG objectives
HIV/AIDS psychiatry has radically changed over the 37 years since the HIV pandemic began in June 1981. The SIG began in 2003, as the Organization of AIDS Psychiatry, and in 2008 evolved into the HIV/AIDS Psychiatry SIG. There were 32 founding members in 2003; currently it has more than 400, from the US and many parts of the world.
"Despite psychiatric illness being prevalent among people with HIV, and people with mental illness having high prevalence of HIV infection, there were no organizations dedicated to understanding and teaching about the psychosocial and psychiatric aspects of HIV and AIDS until our SIG was founded," says Dr. Cohen.
Since the development of effective antiretroviral medications in 1996, and the more recent developments of newer medications with simpler regimens and fewer side-effects, HIV/AIDS has evolved from a rapidly fatal to a manageable complex medical illness with which people who have achieved viral suppression can live longer and healthier lives. In keeping with the goals of improving care for people with HIV, the SIG's leadership now includes a C-L psychiatry specialist in the psychopharmacology of the medically ill.
Initially the SIG aimed to:
Provide a place for HIV psychiatrists to network and present findings.
Improve patient care, ameliorate stigma, and decrease HIV morbidity and mortality.
Collaborate with consensus research, publication, and presentations.
Teach and provide HIV education for psychiatrists, mental health clinicians, physicians and other clinicians in high-endemic underserved areas through a web page, slide sets and presentations.
Objectives evolved as the pandemic evolved. In the US and countries with access to HIV care and medicines, many with HIV do not know they are infected, do not access care, and can infect others. In the US, only about 60% of people with HIV are engaged in care and, of those, fewer than 50% are virally suppressed.
So, additional SIG objectives, with an emphasis on early treatment and prevention, evolved to:
Prevent HIV transmission by teaching about the need for universal HIV testing of all patients, including psychiatric patients.
Teach about the need for early diagnosis and early treatment and its role in improving health and longevity.
Teach about "treatment as prevention" – decreasing transmission through suppressing the viral load to undetectable through adherence to medical care.
Prevent HIV transmission by education about PEP that can be recommended for anyone who is HIV negative and accidentally exposed to HIV during a sexual encounter or injecting drug use.
Prevent HIV transmission in serodiscordant couples by recommending PrEP.
Prevent HIV transmission by encouraging adherence to antiretroviral regimens to maintain viral suppression. (Even in the US, where there is access to antiretrovirals and HIV care, viral suppression remains elusive and only about 50% who are on medications are adherent enough to be virally suppressed.)
Improve viral suppression by treatment of underlying psychiatric disorders in people with HIV that are barriers to adherence.
Continue to provide a comprehensive, compassionate biopsychosocial approach to care that maintains a view of each individual with HIV as a member of a family and community deserving of treatment with dignity.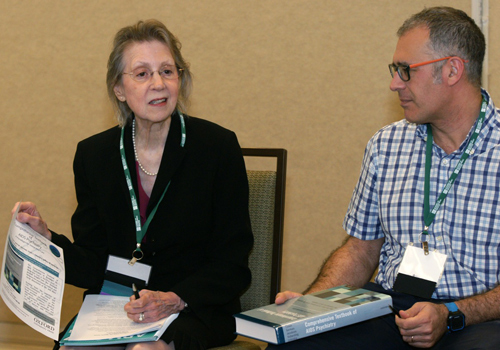 Breadth & depth of expertise
Since its inception, SIG members have been publishing articles, chapters, and textbooks, including:
Cohen, MA, Gorman, JM, Volberding P, Jacobson, J, Letendre, S: Comprehensive Textbook of AIDS Psychiatry – A Paradigm for Psychosomatic Medicine. Oxford University Press, New York, 2017.
Cohen MA, Goforth HW, Lux JZ, Batista SM, Khalife S, Cozza KL, Soffer J: Handbook of AIDS Psychiatry. Oxford University Press, New York, 2010.
Cohen MA, Gorman JM: Comprehensive Textbook of AIDS Psychiatry. Oxford University Press, New York, 2008.
The second edition of the Comprehensive Textbook of AIDS Psychiatry – A Paradigm for Psychosomatic Medicine had 135 contributors, more than half of whom are SIG members. It was a huge collaborative SIG effort.
One of the SIG's senior faculty members, an APM Fellow, is co-chair Kelly Cozza, MD, FAPM. Dr. Cozza is not only a master teacher and C-L and HIV psychiatrist but is also an HIV psychopharmacologist. Dr. Cozza chairs the SIG's HIV Psychiatry Research Task Force and develops courses and research projects in HIV psychopharmacology. Her work led to the development of a consensus survey on current practice in psychopharmacology and one of the only articles in the field:
Freudenreich O, Goforth HW, Cozza KL, Mimiaga MJ, Safren SA, Bachmann G, Cohen MA: Psychiatric treatment of persons with HIV/AIDS: an HIV-psychiatry survey of current practices. Psychosomatics 2010; 51(6):480-488.
James Bourgeois, MD, FAPM, is a senior C-L psychiatrist and department chair who is spearheading the development of a Clinical Manual of HIV Psychiatry. He has actively contributed to publications, education, and presentations in HIV psychiatry.
Another senior psychiatrist and HIV psychiatry and addiction specialist is John Grimaldi, MD, who heads production of the HIV Psychiatry section of the Quarterly Annotations of Journal Articles of Interest.
Drs. Cesar Alfonso, Kenneth Ashley, Asher Aladjem, Jordi Blanch, and James Bourgeois are senior psychiatrists who contribute to articles, chapters, and books as well as presentations at the APM, APA, AAPDP, EAPM, and WPA, bringing HIV psychiatry to faculty, trainees, and students throughout the world.
How it all began
Dr. Cohen was inspired to organize a group providing compassionate care, training, and consensus research in HIV/AIDS psychiatry in 1981 while C-L psychiatry director at the New York City epicenter of the drug and HIV epidemics, the Metropolitan Hospital Center, the municipal hospital affiliate of New York Medical College.
"The extreme discrimination and neglect of people with HIV led to the development of the Metropolitan AIDS Program," says Dr. Cohen. "It provided support for clinicians caring for people with HIV, and was a role model for a compassionate, comprehensive and collaborative approach to care using the biopsychosocial approach – maintaining a dignified view of each patient as 'simply human' by seeing each history as his or her story.
"By getting to know each patient well, and educating on all three shifts of care, and meeting weekly with every specialty to discuss patients, the program was able to help both staff and patients to provide care early in the epidemic when there were no adequate treatments for AIDS."
The idea of writing a textbook of HIV psychiatry came to Dr. Cohen in 1985, a year before she joined APM 32 years ago.
"Being a member and Fellow of the APM, committee chair, and founder and chair of the APM HIV/AIDS Psychiatry and Bioethics SIGs have provided me with an amazing group of like-minded people who have been an inspiration, catalyst, support, and network," she says.
"The APM has remained my professional family, a place to learn, to teach, and to create presentations and educational materials to found the field of HIV psychiatry. Our SIG is a microcosm of what is needed in C-L psychiatry and in medicine."
Want to join the Academy's HIV/AIDS Psychiatry SIG? Learn
how here.