New Nominations Process Heralds Greater Transparency Drive
ACLP has a new process for nominating members to leadership positions.
The move is part of a drive for greater transparency and fairness.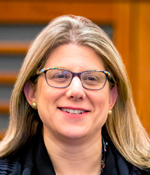 "Over the past decade, the Academy has grown from about 700 members to more than 1,500," says Rebecca Weintraub Brendel, MD, JD, FACLP, chair of the Academy's Nominating Committee. "Our meetings are larger. Our budget is bigger—now more than $1M per year. Our Council, our leadership body, is reorganizing as a board of directors. It is no longer good governance for the Nominating Committee to do its work of selecting nominees for leadership based only on personal knowledge and informal recommendations.
"In order to identify and benefit from the vast experience and leadership potential of our members, our process must evolve to keep pace with the growth of the Academy and to promote transparency and fairness in the selection of nominees for leadership positions."
As a result, Council approved the committee's recommendation (below) for a new nominating process.
Mid to late February: Call for nominations of Academy Fellows (members with FACLP status) for anticipated open councilor seats. Fellows of the Academy may self-nominate. Fellows may serve a maximum of two 3-year terms (not counting partial terms) on Council. The Nominating Committee may also solicit nominations from Academy Fellows who have exhibited leadership and potential for consideration for nomination to Council.

Nominations shall include information about the nominee's length of Academy membership, positions held and dates (length of service), mentorship or other contributions to the Academy, and significant leadership positions and experience that the nominee would bring to Council.

Whether or not the nominee self-nominates or is nominated by another, the nominee must submit a letter of interest to the Nominating Committee describing their interest in, and qualifications for, the position. In addition, each nominee must sign a declaration that they will attend each Council meeting in full.

Although only Academy Fellows may be candidates for election, any Academy member may nominate a Fellow.

March 30: Deadline for all nominations and letters of intent.
May–June: Nominating Committee meets to develop nomination slate for Council consideration.
While the above schedule will be implemented fully in 2019, Council and the Nominating Committee agreed to a compressed schedule this year to invite nominees for four council positions becoming available in November. Each position is for a three-year term; two incumbents are eligible for nomination to a second term.
The abbreviated nominations process closed on July 1 and the Nominating Committee is scheduled to deliver its slate of candidates to the Academy's Secretary by July 31. The slate of candidates will be notified to the Academy membership no later than September 17.
The officer nomination process, currently being discussed by Council, is expected to undergo transition to a similar procedure.
APA representative
The Academy is also revising its nomination process for its representative to the American Psychiatric Association (APA) Assembly Committee of Representatives of Subspecialties and Sections (ACROSS).
The Academy meets criteria set by the APA for sending a voting representative to the APA Assembly. But in the past, Council has selected a representative based on personal knowledge of skills and experience.
"It is now time to implement a formal procedure both to seek expertise that may not be immediately known to Council, and for transparency," says Dr. Brendel.
The Assembly representative must be an Academy Fellow, and an APA member, and have considerable knowledge and experience of the governance structure of the APA. Prior Assembly experience is highly desirable, as is a history of service and leadership within the ACLP, and having the personality attributes to work effectively and produce results in a collaborative, deliberative body.
The three-year term of the Assembly representative will begin at the conclusion of the APA Annual Meeting. The representative may apply for a second consecutive three-year term for a maximum term of six years.
A separate call for nominations of Academy Fellows for this position will occur in January during years when a term is expiring. Fellows may self-nominate. The Nominating Committee may also solicit nominations from Academy Fellows who have exemplary experience in both the APA and the Academy. The timetable will be:
February 28: Deadline for nominations and letters of intent.
March 31: Nominating Committee recommends a rank-ordered list of up to three nominees to the Executive Committee.
April: ACLP Executive Committee recommends a nominee to Council.
Prior to APA Annual meeting: Council votes on recommended nominee. If the nominee is not approved by Council, the Executive Committee will discuss the alternative nominees and present those to Council, with recommendations. At the discretion of the president, the Executive Committee may consider a Fellow of the Academy who has submitted materials to the Nominating Committee for the relevant year.
Drive for Transparency
"It is no longer good governance for the Nominating Committee to do its work of selecting nominees for leadership based only on personal knowledge and informal recommendations."
—Dr. Brendel
The new processes are part of a drive for greater transparency within the Academy, including the launch of a new page on the website later this summer titled Academy Governance, which will collate key governance documents for members.
The documents will include:
Adopted Council minutes
Policy manual
Public inspection copies of F990s (tax return) for the past three years
Information on elections
NY Certificate of Incorporation and amendments
IRS Letter of Determination
Council financial reporting disclosures
2017 member needs survey results
Council also agreed at its May meeting to change the appointment of ex officio members to Council, which will be presented to the Academy membership this year in the form of bylaw amendments. The changes will result in the Academy's APA ACROSS representative, and the current chairperson of the APA's Council on Consultation-Liaison Psychiatry, assuming appointments as ex officio members. The ACLP Foundation chairperson will no longer serve as ex officio.