2021: A Year to Advocate, Educate, Inspire, Optimize, and Unify
President's Message from Maria Tiamson-Kassab, MD, DLFAPA, FACLP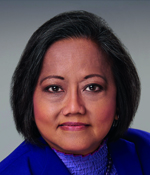 2020 is coming to an end… whew!! It has been a daunting and tumultuous year in the US (and the world) marked with chaos due to the COVID-19 pandemic and its consequences, particularly on the economy, a sharply divided country, profound challenges to diversity, equity, and inclusion, and a hotly contested presidential election.
Despite these incredibly challenging times, Michael Sharpe, MD, FACLP, was able to steer the Academy (from the UK no less) to carry out its many accomplishments: a new journal name with a new journal editor; a very successful COVID-19 listserv; an awesome and innovative virtual annual meeting; a leaner, more transparent Board of Directors; our inclusion as a member of the AMA Specialty Society Service Caucus; and continued growth of the Academy, among other things. Thank you, Michael, for a great year despite the adversities that you faced.
As has been evident through the years, the work does not stop there. Some of the things the Academy has accomplished this year started with past-presidents. One year is not enough. Academy projects are multi-year endeavors that each new president undertakes. I will continue the work with the help of the Executive Officers and the Board of Directors, with the remarkably capable assistance of James Vrac and his staff at PAI Management, and the countless volunteer hours that you, our ACLP members, contribute to the Academy.
"I am realistic enough to know that I may not be able to accomplish all the goals but it will not be for want of trying."
I first joined the Academy in 2002 when it was just a small organization. At the time, I was in New York and was completing my C-L Fellowship. I will never forget that it was at the 2002 then APM annual meeting that I got my first job after fellowship. I worked as the Director of AIDS Psychiatry at the AIDS Care Center at New York Medical College/Westchester Medical Center. I was active in the Society for Liaison Psychiatry (SLP) which started as a group of C-L psychiatrists in the Metro New York area, founded by C-L psychiatrists including Mary Ann Cohen, MD, FACLP. I became president of SLP in 2005 when we had our first Board Certification Exam in Psychosomatic Medicine. Ten years later, they gave me a Lifetime Achievement Award. For the last 10 years, I have been in San Diego, California, where I am currently the Director of Psychiatry and Psychological Services at the UCSD Moores Cancer Center, an NCI-designated Center, and Jacobs Medical Center, where I oversee the Psychiatry Consult service. I am a clinical professor of Psychiatry at the UC San Diego School of Medicine and I am primarily a clinician-educator-administrator.
I believe it is a testament to the work I have invested in the Academy that I am where I am today; in particular, my commitment to the Membership Committee where I served in various capacities for many years and relinquished only when I became secretary of the Academy. Going through the steps to become president really prepares you for the task at hand and I am grateful to those who have gone before me for the mentorship and friendship I have been privileged to have received.
"Let us work together to keep the Academy thriving and continue to make the Academy our professional home."
The COVID-19 pandemic is relentless. As I am writing this, the country is getting a second surge. These are unprecedented times. In the year ahead, I will continue to work on the strategic priorities that we initiated in 2019: Advocate, Educate, Inspire and Optimize. I am realistic enough to know that I may not be able to accomplish all the goals that we had detailed but it will not be for want of trying. I know it is ambitious. I know I can't do it all. To be able to succeed, it will have to be a team effort.
Under the strategic priority to ADVOCATE, I hope that we will be able to learn the results of the Task Force on Benchmarking led by Tom Heinrich, MD, FACLP. This will help us in our efforts to advocate for our C-L psychiatrists to colleagues, hospital systems, and payers. A long-term goal under this strategic priority that will span several years and will involve other specialties would be the creation of a sufficient workforce in C-L Psychiatry.
Regarding the strategic priority to EDUCATE, we need to develop educational resources that will expand our reach, not just to C-L psychiatrists, general psychiatrists, medical students, residents, and fellows, but also to the other members of the C-L team, such as advanced practice nurses, psychologists, nurses, social workers, pharmacists, and others. We started doing this during the virtual annual meeting by offering the course on ABCDs of C-L Psychiatry. Under this priority, I must include the recommendations of the Academy's task force on the lessons learned from COVID-19 led by Peter Shapiro, MD, FACLP. The Board of Directors will be discussing the report in the coming months.
One of the recommendations we need to consider is offering educational meetings outside of the annual meeting. During the recent virtual meeting, Sanjeev Sockalingam, MD, FRCPC, FACLP, said that "C-L research matters." To be able to educate, there is a growing need for more research to add to the knowledge base in our field and provide evidence-based assessments and treatments for our patients. This we can do through various mechanisms, some of which have already begun, including being involved in the NIMH Research Coalition.
As to the strategic priority to INSPIRE, during these times where health disparities and systemic bias have risen to the forefront, the Academy formed the Diversity, Equity, and Inclusion Task Force to give recommendations that will inspire changes to foster diversity, equity, and inclusion in the Academy. The task force is led by Kewchang Lee, MD, FACLP. They have started their work and I am looking forward to their recommendations and initiatives to ensure that ACLP is diverse, equitable, and inclusive. This is particularly important to me as a member of the under-represented minority in ACLP. It is my hope that we will accomplish this particular goal during my tenure and inspire our members, particularly the younger ones, to take advantage of opportunities that will be made available to them.
One of the more important goals we have that inspires us is enhancing the annual meeting. Having just experienced a fantastic and inspiring virtual annual meeting that Jesse Fann, MD, FACLP, and Jane Walker, MBChB, PhD, organized, it will be a hard act to follow. CLP 2021 will be in the very capable hands of Lisa Rosenthal, MD, FACLP, who has already started the work and lined up wonderful plenary speakers with the theme of Advancing Knowledge, Developing Careers, and Strengthening Community. We hope to hold the meeting in Miami, Florida, in person but during these unpredictable times, who knows what is going to happen. We will keep our fingers crossed and be prepared for any eventuality.
Our strategic priority to OPTIMIZE our organizational structure, which we have been working on, will continue to be an important goal. I would like to see this progress even more in the coming year. Our organization has grown and we would like to see it grow even more. This time around, I would like to focus on the Special Interest Groups (SIGs) which have been increasing in number; we need to look at the structure and efficiency. It is also the time to consider the proposal made by the Governance Committee and look at other suggestions regarding the SIGs and the identity groups. I believe that the SIGs are the lifeblood of the Academy and they are the conduit through which our members contribute to the strength of the Academy. One other issue is succession planning for Standing Committees, something we will need to review.
Just as Michael Sharpe finished his term as president, he suggested that we should complete the vowels in our strategic priorities. He suggested that we have a "U" for UNIFY. That is, that we hope to be able to work with other professional organizations to unify our efforts to advocate for our patients and our membership. I hope to be able to deepen the relationships with the American Psychiatric Association, American Medical Association, American Association for Geriatric Psychiatry, American Academy of Addiction Psychiatry, European Association of Psychosomatic Medicine, Canadian Academy of Psychosomatic Medicine, and Royal College of Physicians and extend these links to other organizations, such as the American Psychosomatic Society, The Association of Medicine and Psychiatry, American Psychosocial Oncology Society, and others. It is my goal that through these relationships, we may be able to advocate for the needs of our patients, and underscore the importance of the value of C-L psychiatrists in meeting the needs of our patients and the health care system.
Well, there is considerable work to be done and that work starts now. Let us work together to keep the Academy thriving and continue to make the Academy our professional home. Let us work toward advancing knowledge, developing careers, and strengthening community. Please do not hesitate to share your ideas or suggestions with me. You can email me at: mtiamsonkassab@gmail.com Thank you to all of you who are part of this great family. Thank you for your volunteerism. Thank you for helping us, your officers, and Board of Directors, to advocate, educate, inspire, optimize, and unify. 2021, here we come!
Tale of The Well-Traveled Gavel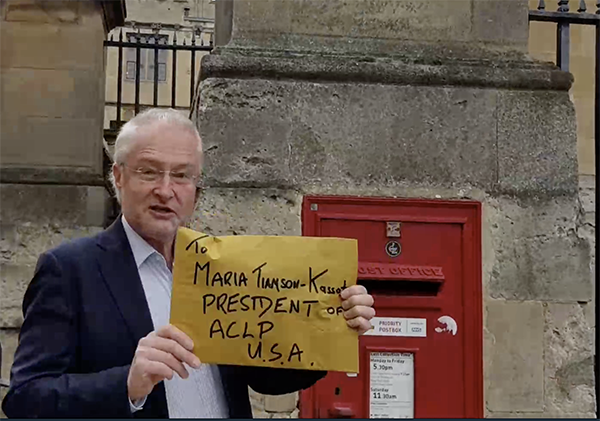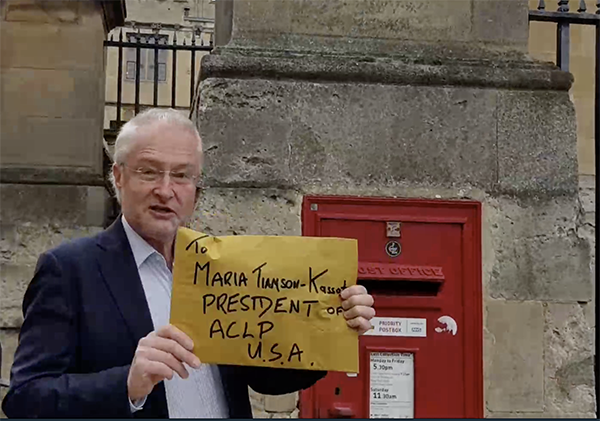 The ubiquitous gavel—traditionally exchanged between outgoing and incoming presidents each year at ACLP annual meetings—traveled 6,000 miles across the Atlantic to complete its handover as a result of CLP 2020 going digital.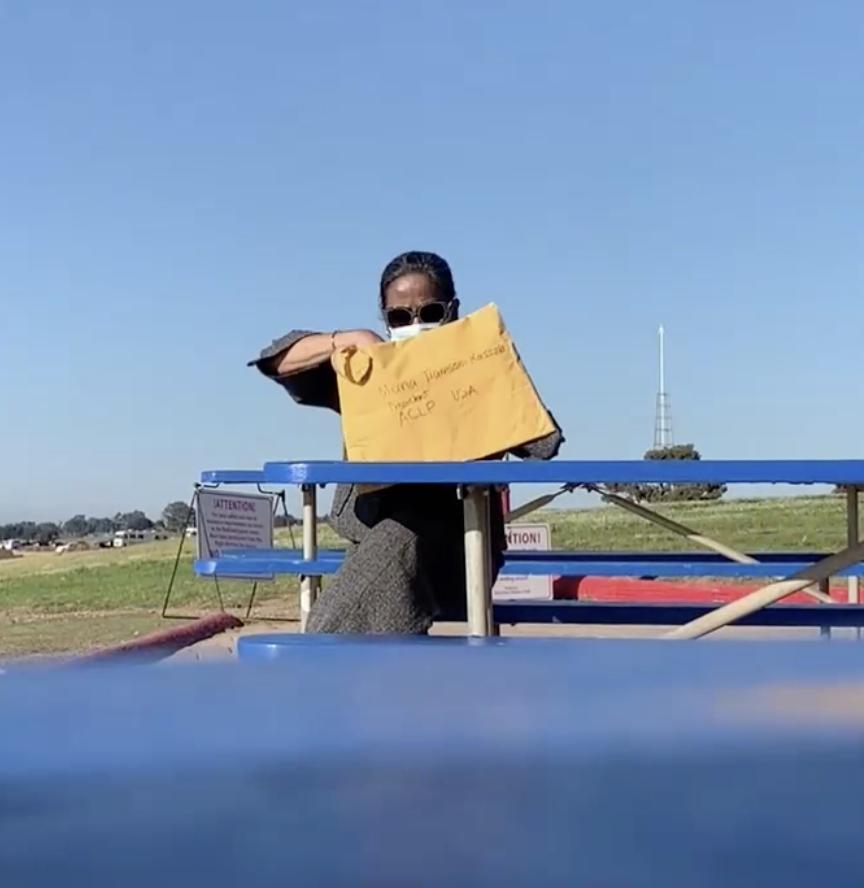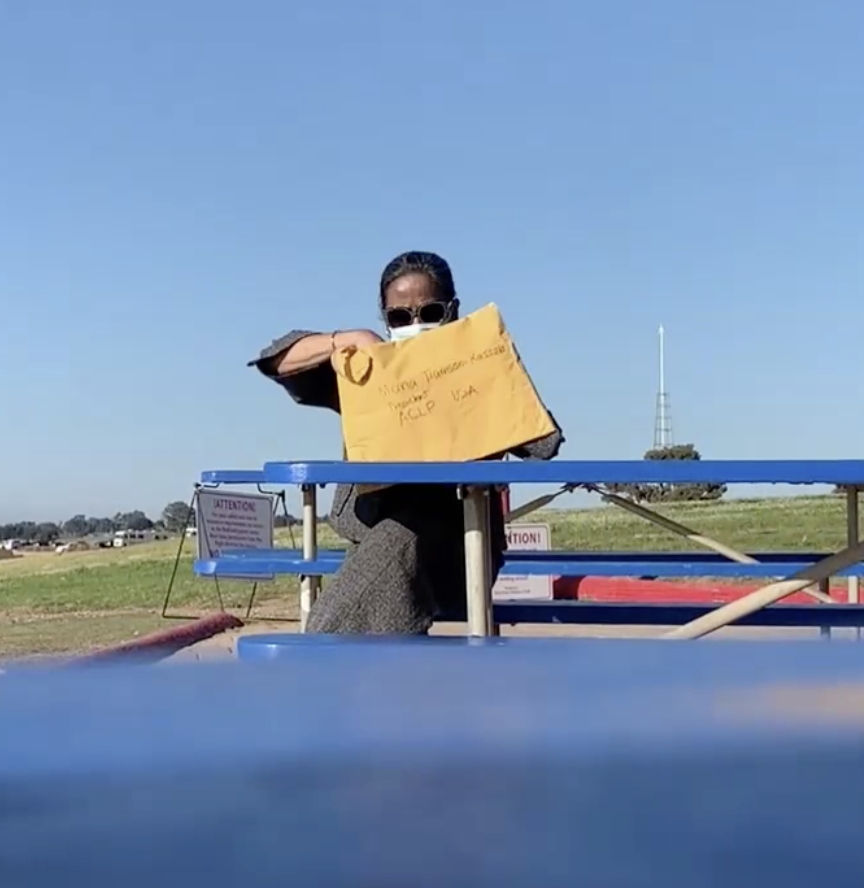 It was parcelled up in Oxford, England—the home of outgoing president Michael Sharpe, MD, FACLP—and arrived safely in San Diego, California, the home of the incoming president, Maria Tiamson-Kassab, MD, FACLP.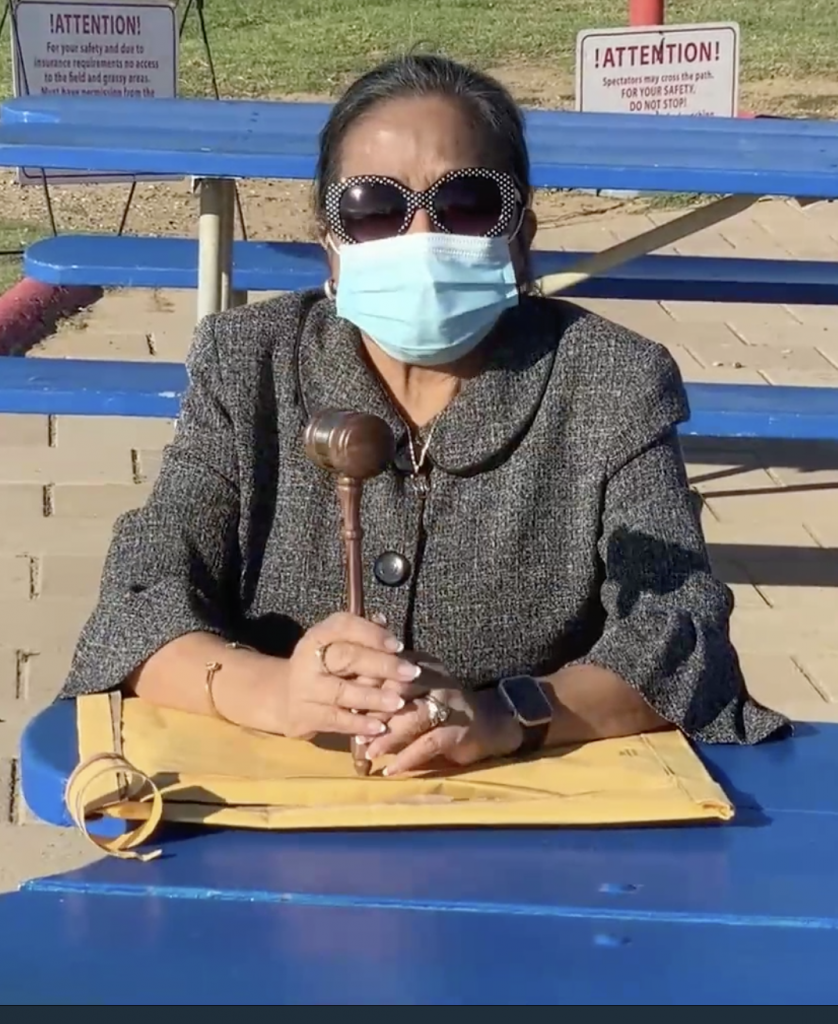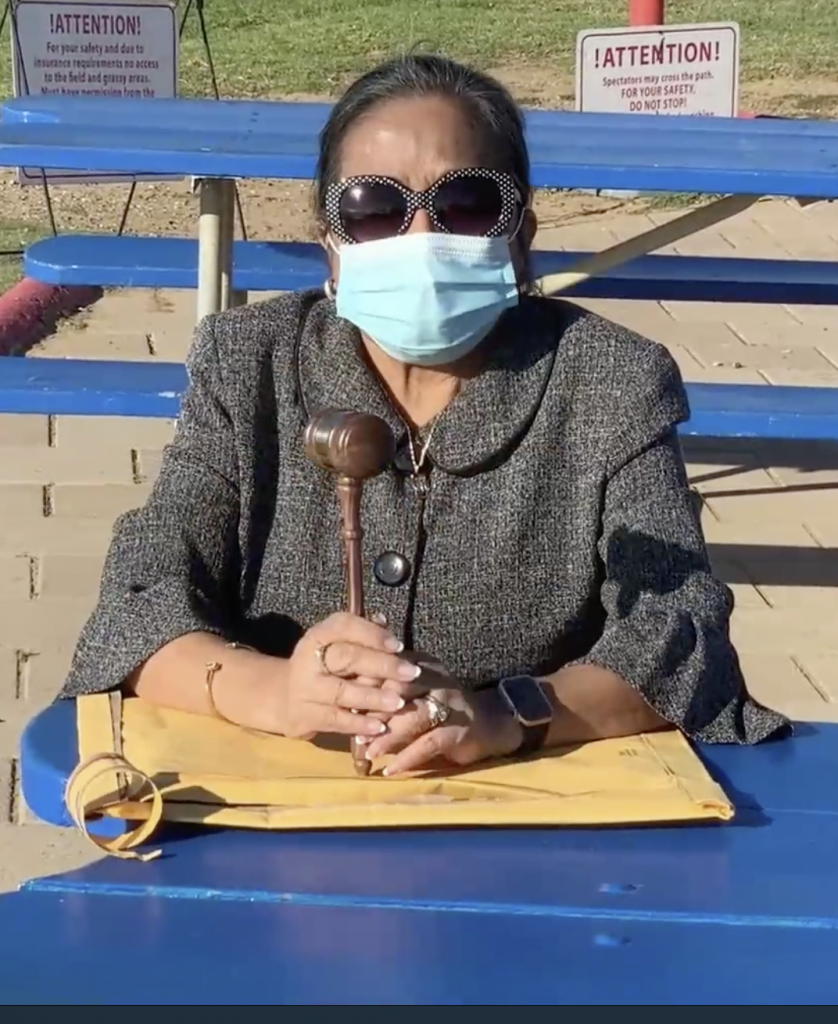 Pictures never lie, of course, so to prove it, Dr. Sharpe was filmed posting the package and Dr. Tiamson-Kassab was caught on video receiving it from a courier.