Becca is President-Elect of the APA
Dr. Brendel takes more than 60% of the vote

President of ACLP 2018-2019, Rebecca Weintraub Brendel, MD, JD, FACLP, has been elected as president-elect of the American Psychiatric Association (APA).
APA announced the result on its website and social media channels on February 12.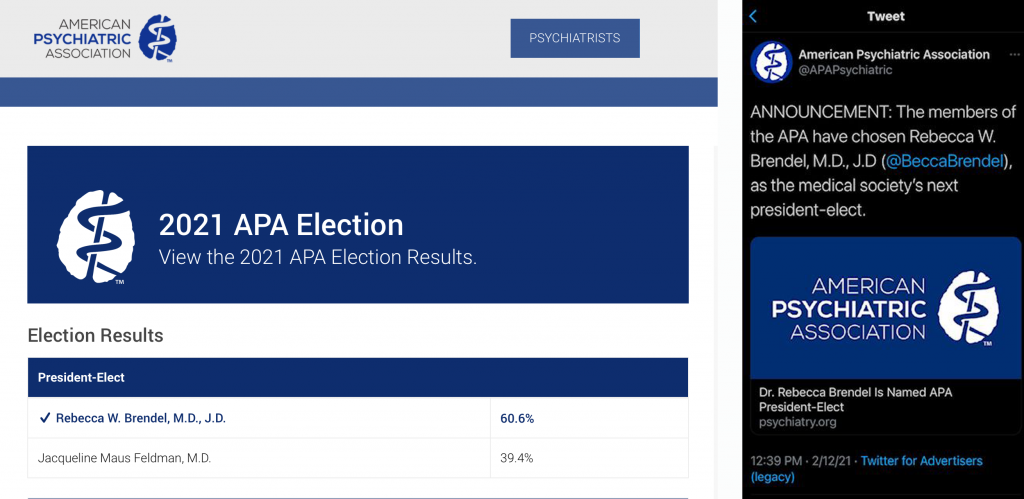 Dr. Brendel gained more than 60% of the vote. The results are public but not official until approved by the APA Board of Trustees at its March meeting. She will assume the post following the APA Annual Meeting in May.
"I extend my heartfelt gratitude to my ACLP colleagues and to the Academy for your support over the past nearly 20 years," says Dr. Brendel. "I am honored to be chosen as president-elect of the APA, an appointment that would never have been possible without the nurturing and sustaining collegiality, mentorship, friendship, and community of the ACLP.
"This result is a critical opportunity to further strengthen the relationship between the ACLP and the APA, a collaboration that has served ACLP well in achieving results such as subspecialty approval, our name change to C-L Psychiatry, and a new CPT code for collaborative care.
"Going forward, APA colleagues will need our expertise in the care of medically ill patients and in integrated and collaborative care to address the growing mental health consequences of the COVID-19 pandemic. In turn, partnership with APA can offer C-L Psychiatry support for priorities including productivity benchmarking and workforce development and sustainability."
As president-elect, Dr. Brendel will chair the APA's Joint Reference Committee to which APA's 13 councils report, and will be a member of the Board's executive committee. She will appoint chairpersons and members to existing APA components, work with the president and the Board to set priorities for the Association, and collaborate with the Board and the CEO and medical director to formulate policy and develop initiatives to advance APA components' priorities.