From program chair Lisa J. Rosenthal, MD, FACLP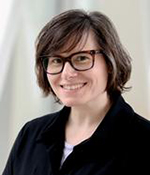 Strength of ACLP Shown by Numbers of Abstracts for CLP 2021
'We are gearing up to make this an outstanding meeting and attendee-friendly experience'
It is a compelling marker of the strength of the ACLP community that even a pandemic does not substantially impact the number of submissions to the annual meeting.
Reports from other academic organizations suggest that many planned virtual meetings received less than half their usual number of submissions. It is thrilling to announce that there were 510 abstracts submitted for CLP 2021, marking only an approximate 15% decrease from 2020, which was itself a high-water mark for the Academy.
The strength of our membership is one of the many factors that makes the ACLP such a unique academic organization—and CLP 2021 on November 10-12 aims to celebrate our membership.
As previously reported in ACLP News, the Annual Meeting Committee has agreed that paper and poster abstract submissions will be reviewed using an author-blinded process. We hope that this blinded method will provide an opportunity to remove any potential for bias from the reviewer system.
New online platform
We are gearing up to make this an outstanding meeting and attendee-friendly experience. The 2020 online format was impressive, especially given the short time for preparation and limited experience of online conferences industry-wide. This year a new platform with many new features has been selected to support CLP 2021.
We will have a more streamlined and supportive host, with features for submitting accepted work and for active participation during the meeting. Some of the web platform upgrades include:
Individual IT support for content uploads.
Flexible viewing options.
Greatly expanded online chat options, including chat streams specifically designated for SIGs.
Seamless breakout rooms within the same platform to avoid the need for external links.
Upgraded poster gallery with larger upload sizes.
Easy search and filter options to find the information you are interested in.
Personalized schedule builder.
We will retain some of the popular platform features of CLP 2020, including options for audio with posters, live question-and-answer sessions with chat rooms, and we are planning breaks between sessions. There will also be opportunity built into the program for independent viewing of prerecorded sessions.
All sessions will be recorded, and available during the meeting, as well as for a year subsequently. CME credit will remain available for six months just as in 2020. And, for all accepted submissions, please be reminded that final uploads will be due by October 15 this year!
Journal supplement
The Academy's Journal of the Academy of Consultation Liaison Psychiatry (JACLP) will publish accepted oral paper and poster abstracts in the months following CLP 2021. As part of its transition to an all-online journal, JACLP will publish an annual supplement to capture these abstracts from each annual meeting.
As previously, abstracts will be able to be modified up until the time of final upload for the meeting. This process will be particularly important for publication, as many paper and poster abstracts submitted in April have yet to complete investigations and data. This year the system will include a check box at the time of final upload and submission (i.e., by October 15) that demonstrates the submitter has updated their abstract and is approving the abstract for publication. If submitters choose not to check this attestation, the abstract will not be included in the JACLP supplement.
Free Recorded Sessions
All CLP 2020 recorded content will be available online for registered delegates through December 31, 2021. Registered delegates can also purchase add-on packages, such as the Skills Course Bundle, at any time. The meeting content will be available to purchase through December 31, 2021, however, the CME claims period ends May 13th. Adjusting CME claims after purchasing add-ons must be completed by May 13th.
To file your CME claim, login to the meeting evaluation website with your ACLP account information and complete the tasks; you'll be asked to select the courses you attended and complete a brief evaluation on each. There's also an evaluation about the conference overall. Once you've added your courses and completed the evaluation, you will have the option to download, print or email yourself a copy of your CME document. 
All recorded sessions from annual meetings archived in the Academy's Live Learning Center can be viewed without charge until the end of 2021.
Theme for CLP 2021
Not surprisingly, the ACLP membership remains a strong community despite the challenges of the COVID-19 pandemic and the plan for a virtual meeting, as evidenced by our number of submissions. We hope to honor the efforts made by our membership over the past year, as well as mark the losses within the ACLP community.
Support for the strength and diversity of our community and individual members was created as a theme for this annual meeting back in 2019; how prescient we were. The theme is Advancing knowledge, developing careers, strengthening community. Plenaries have been carefully chosen to relate to this theme, with topics on personal resilience, leadership, diversity and inclusion, cultural dynamics in C-L Psychiatry, and a special session with the potential to generate meaningful academic content and interaction during the meeting. We also have a select number of chair-invited workshops on similar topics. And, while we cannot spill the beans just yet, the Local Arrangements Committee has been at work arranging some truly awesome and unique opportunities for interaction and engagement.