Selection from the latest research impacting C-L Psychiatry
Differentiating Pseudodelirium from Delirium Proper
Research: Pseudodelirium: Psychiatric Condition to Consider on the Differential for Delirium
Authors: Jo Ellen Wilson, MD, MPH, et al.
Abstract/Extract: The phenotypes of several psychiatric conditions can closely resemble delirium; the authors describe such presentations as pseudodelirium.
Because the clinical management of these conditions differs markedly from that of delirium, prompt differentiation is essential.
So, the authors provide an educational review to assist clinicians in identifying and managing psychiatric conditions that may be especially challenging to differentiate from delirium.
They identify four psychiatric conditions as among the most difficult to differentiate: disorganized psychosis, Ganser syndrome, delirious mania, and catatonia. An overview of each condition is provided together with a description of clinical features, differentiation of specific phenotypes from delirium, and review of clinical management.
The authors conclude: "The thought and behavioral disorganization in disorganized psychosis can be mistaken for the clouded sensorium and behavioral dysregulation encountered in delirium. The fluctuating alertness and apparent confusion in Ganser syndrome resemble delirium's altered arousal and cognitive features. As its name suggests, delirious mania presents as a mixture of hyperactive delirium and mania; additional features may include psychosis, autonomic activation, and catatonia. Both delirium and catatonia have hypokinetic and hyperkinetic variants, and the two syndromes can also co-occur."
Importance: The clinical presentations of several psychiatric conditions can blend with the phenotype of delirium, at times even co-occurring with it. Detailed evaluation is often required to differentiate such instances of pseudodelirium from delirium proper.
Availability: Journal of Neuropsychiatry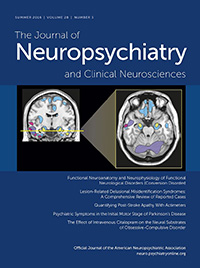 When Anger Remains Unspoken Among Stress-Exposed Black Americans
Research: When Anger Remains Unspoken—Anger and Accelerated Epigenetic Aging Among Stress-Exposed Black Americans
Authors: Brooke McKenna, MA, et al.
Abstract/Extract: Race-related lifetime stress exposure—including racial discrimination, trauma, and stressful life events—have been shown to contribute to racial health disparities.
However, little is known about associations between race-related stressors and premature biological aging that confer risk for adverse health outcomes. Even less is known about the mechanisms through which race-related stressors may be associated with accelerated aging.
Early evidence suggests psychological processes such as anger, and particularly the internalization of anger, may play a role.
In a community sample of predominantly low-income Black adults, this study suggests race-related lifetime stress-exposure may elicit the internalization of anger, which, along with the externalization of anger, may initiate detrimental epigenetic alterations that indeed confer risk for adverse health outcomes.
Importance: These findings lay the groundwork for longitudinal studies of the association between race-related stress and racial health disparities.
Availability: Psychosomatic Medicine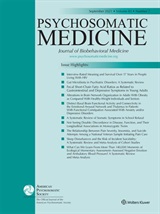 Medically Unnecessary Hospital Days for "Unbefriended" Cost $5.8m
Research: Hospital Guardianship: A Quality Needs Assessment of "Unbefriended" Patients Who Lack Decisional Capacity
Authors: Emma Babb, MD, et al.
Abstract/Extract: The "unbefriended" patient does not demonstrate capacity to make their own medical decisions, does not have an advance directive, and lacks a surrogate decision-maker. For these patients without a designated health care proxy, hospitals may need to petition for public guardianship, a notoriously arduous process with undefined impact on hospital resources.
So the authors set out to describe the characteristics, system needs, and financial impact of unrepresented inpatients in an academic, tertiary care, urban medical center.
They conducted a retrospective review of patients admitted to Northwestern Memorial from September 2013 to August 2019 for whom the hospital petitioned for a public guardian.
From fiscal years 2014 to 2019, 156 patients were petitioned for public guardianship. The number of cases rose sequentially from eight in 2014 to 44 in 2019. The two most common conditions that impaired capacity were neurocognitive disorders (56.4%) and psychotic disorders (17.9%). The C-L Psychiatry service consulted just over 70% of cases. There were 2,347 medically unnecessary hospital days related to the pursuit of guardianship, and the associated costs to the health system were estimated to be more than $5.8 million.
Importance: The number of "unbefriended" patients who lacked decisional capacity necessitating public guardianship dramatically escalated over five years and resulted in 2,347 medically unnecessary hospital days at this one hospital alone.
Availability: Journal of the Academy of Consultation-Liaison Psychiatry (JACLP)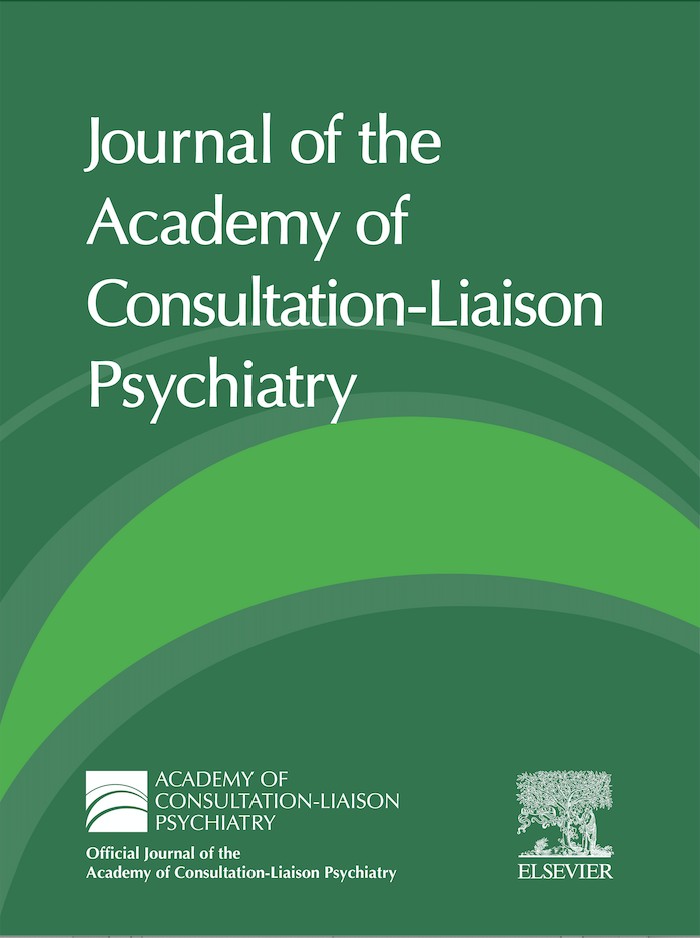 Telehealth Satisfaction Among Substance Use Disorder Patients
Research: Patients' Perceptions of Telehealth Services for Outpatient Treatment of Substance Use Disorders During the COVID-19 Pandemic
Author: Dawn Sugarman, PhD
Abstract: The rapid scale-up of telehealth services for substance use disorders (SUDs) during the COVID-19 pandemic presented a unique opportunity to investigate patient experiences with telehealth.
This study examines patient perceptions of telehealth in an outpatient SUD treatment program offering individual therapy, group therapy, and medication management.
270 adults receiving SUD outpatient treatment were eligible to complete a 23-item online survey distributed by clinicians; 58 patients completed/partially completed the survey. Data is summarized with descriptive statistics.
The majority (86.2%) of participants (predominately male, White, well-educated) were "very satisfied" or "satisfied" with the quality of telehealth care. "Very satisfied" ratings were highest for individual therapy (90%), followed by medication management (75%), and group therapy (58%). Top reasons for liking telehealth included the ability to do it from home (90%) and not needing to spend time commuting (83%). Top reasons for disliking telehealth were not connecting as well with other members in group therapy (28%) and the ability for telehealth to be interrupted at home or work (26%).
Importance: This is the first study examining patients' perceptions of telehealth for outpatient SUD treatment during the COVID-19 pandemic by treatment service type. Importantly, while many participants found telehealth more accessible than in-person treatment, there was variability with respect to the preferred mode of treatment delivery.
Availability: The American Journal on Addictions

Factors Associated with Seven-day Follow-up Outpatient Mental Health Care in Suicidal Older Adults
Research: Factors Associated with 7-Day Follow-up of Outpatient Mental Health Care in Older Adults Hospitalized for Suicidal Ideation, Suicide Attempt, and Self-Harm
Authors: Timothy Schmutte, Psy.D, et al.
Abstract/Extract: This national study of 27,257 adults aged ≥ 65 years examines patient, hospital, and regional factors associated with seven-day follow-up outpatient mental health care after hospitalization for suicidal ideation, suicide attempt, and deliberate self-harm.
30.3% of patients received follow-up mental health care within seven days of discharge. However, follow-up rates were higher for patients with any mental health care within 30 days pre-hospitalization (43.7%) compared to patients with no recent mental health care (15.7%). Longer length of stay and care in psychiatric hospitals were associated with higher odds of follow-up. For patients with no mental health care in the 30 days pre-hospitalization, discharge from hospitals that were large, system-affiliated, academic medical centers, or provided hospitalist-based care, were associated with lower odds of follow-up. Females were more likely to receive seven-day follow-up, whereas non-White patients were less likely to receive follow-up care.
Importance: Older adults are one of the fastest growing age groups seeking emergency care for suicidal ideation and self-harm. Timely follow-up outpatient mental health care is important to suicide prevention, yet little is known about predictors of care continuity following hospital discharge. This study identifies patient-, hospital-, and regional-level factors associated with seven-day follow-up outpatient mental health care in suicidal older adults.
Availability: Geriatric Psychiatry