'I Shall Always Be Proud to have been Part of That Team'
How the Phoenix annual meeting rose from the ashes
Awards of Special Recognition have been made by the Academy to Jane Walker, MBChB, PhD, and Jesse Fann, MD, FACLP, who masterminded ACLP's first digital annual meeting in 2020.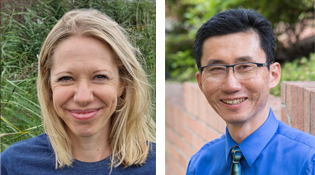 The Award of Special Recognition is presented to individuals for outstanding service to the field on a local or national level. Here Dr. Walker describes how the digital ACLP 2020 came together at short notice during the COVID-19 epidemic.

  I am honored to receive a Special Recognition Award from the Academy for my role in planning the CLP 2020 annual meeting. 
I was very nearly the executive chair of the first annual meeting not to happen… 
It had all started so well. ACLP president (2019-2020) Michael Sharpe, MD, FACLP, had chosen an amazing meeting venue in Phoenix. Our wonderful program committee was dedicated and enthusiastic, and driven to make this the best meeting ever. We had even visited the venue, surveyed the meeting rooms, and checked out the opportunities for local arrangements. We had lists and spreadsheets. We had plenary speakers clamoring to speak to our theme of Delivering Our Vision of Integrated Care. So, after many years of attending Academy meetings, I was thrilled to have the opportunity to organize CLP 2020. 
After months of planning, we were ready to advertise the program and accept submissions. It was an exciting time. We all know how special the annual meeting is for ACLP members—it's a time when we can learn from experts in our field and related areas, hear about research and clinical developments, and brush up on our skills. It's also a time when we can meet friends and colleagues—at the pool, the bar, in line for coffee. We can be together.
Then COVID-19 struck. As weeks passed the chances that we could hold the in-person meeting we had planned dwindled. With under four months to go we had only two options—cancel the meeting or go virtual. Between us— Jesse Fann and I, the rest of the program committee, the PAI team—we had huge experience of planning events and meetings. But a virtual meeting for a thousand-plus C-L psychiatrists? Zero experience. And our committee members were all dealing with the effects of COVID-19 at their own institutions. 
It seemed that CLP 2020 was destined not to be.  
But the program committee was not going to take this lying down. At a very memorable meeting, I asked them what they thought we should do. Their response still brings a tear to my eye—after all that work, during a pandemic, the answer was: 'We said we would do this; we're going to do it.' 
So, we started all over again…
Eliza Park, MD, FACLP, (preconference courses) set out to shepherd the preconference courses, using all her psychotherapeutic skills to reassure speakers that videoed material would work just fine. Walter Jay Kilpatrick III, DO, (oral papers & posters), and Scott Beach, MD, FACLP, (symposia & workshops) led the review of, amazingly, a record number of submissions and spent many hours recording speakers with film-director level dedication. L. Lee Tynes, MD, PhD, FACLP, (local arrangements) took delivery of a special microphone and put on his tuxedo to become our awards presenter, whilst also masterminding local arrangements in virtual Phoenix. Alan Hsu, MD, (early career track) led a new program of virtual mentorships and meetings, and directed the (virtual) receipt of the presidential gavel in San Diego. 
Oddly, 'going virtual' meant that I had more contact with my fellow ACLP members than ever before. As the meeting approached, I spent entire days on Zoom, recording sessions and dealing with glitches. My email inbox was filled with ACLP-related messages. And every time I reached out, ACLP members said: 'Yes, we will help.'
In the end, CLP 2020 was a success—we had a record number of attendees, sessions that made us think hard about what we do and why we do it, and people are still attending the recorded meeting …some sessions have had over 3,000 views. 
CLP 2020 nearly didn't happen. But it was a true Phoenix meeting—against the odds, it rose from the ashes. It happened because so many terrific ACLP members came together as a team to make sure it did.   
I shall always be proud to have been part of that team.