Digital CLP 2021 Attracts More Than 1,100 Attendees
Extracts from last month's annual meeting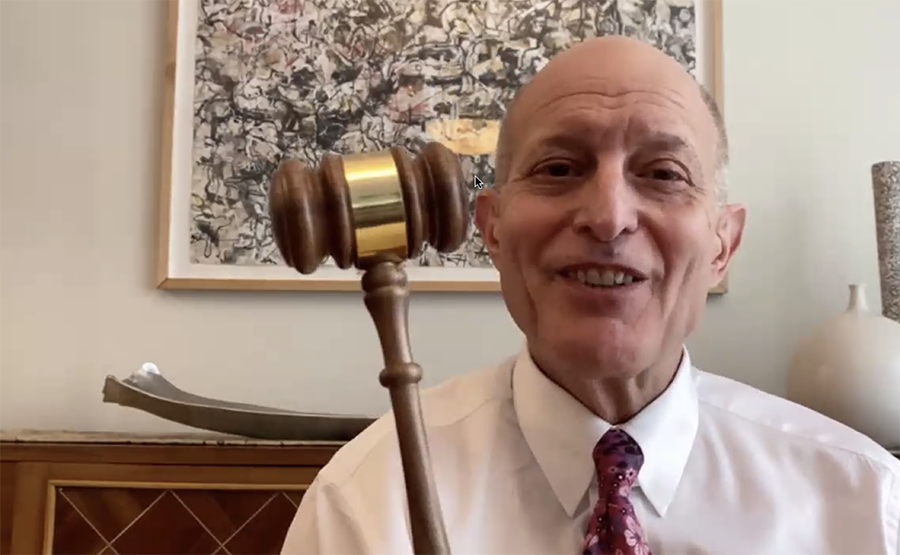 ACLP's new president, Philip Bialer, MD, FACLP, receives the Academy's well-travelled gavel which found its way across the States from San Diego to his home in New York.
And so digital CLP 2021, which attracted 1,140 attendees, more than 80% of which were Academy members, came to its finale.
All presentations are available to view, or review, in the CLP 2021 content library for a further year. Here are just a few extracts…
---
Challenges of Addiction Treatment
Ariadna Forray, MD, Yale School of Medicine, a reproductive psychiatrist with addiction training, provided an overview of perinatal substance abuse when she presented at Getting Real About C-L Psychiatrists Treating Addiction — one of seven Skills preconference courses. In an aside, she talked about how US women face trauma using this slide:

In the same session, Simon Sidelnik, MD, director, Addiction Consultation-Liaison Psychiatry, NYU Grossman School of Medicine, talked about hospital management of withdrawal and use of opioids as part of a treatment plan. With this slide, he argued that not providing opioids in hospital can be harmful and increase the risk of disengagement from care.


Please click on this slide to enlarge it.
---
Call to Action for Health Equity
A series of powerful and inspiring plenaries were led on day one by Claire Pomeroy, MD, MBA, president, Albert and Mary Lasker Foundation, who in her presentation COVID-19 and Our Core Values: Catalyzing the Call for Health Equity, issued a 'Call to Action' using this slide: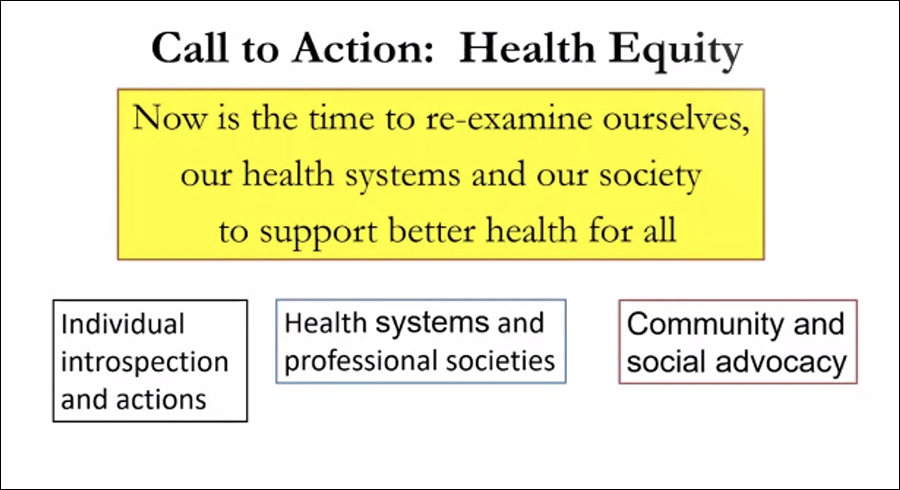 The theme was continued through the personal reflections of John E. Franklin, MD, MSc, MA, Professor of Psychiatry, Transplant Surgery, Medical Education and Medical Humanities, and Bioethics, Northwestern University. He used this slide from Northwestern to illustrate their support for Black Lives Matter. The eight-and-a-half minutes of kneeling in memory of George Floyd, said Dr. Franklin, helped faculty "reimagine what we were doing, and not doing, in this sphere, looking at institutional structure, policies that promote racial inequalities, and racism."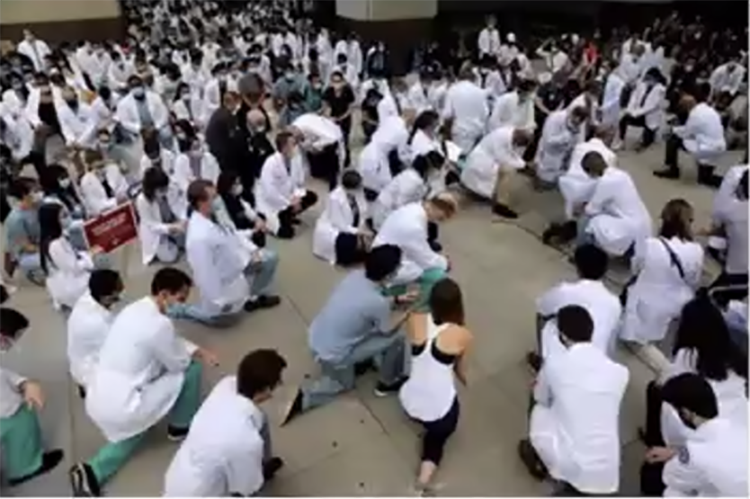 ---
Asking Them Anything
Fifty attendees—mostly early-career psychiatrists—made good use of an Ask Me Anything session where members more established in their careers proffered comments on subjects such as:
Doing research in C-L Psychiatry.
Getting involved in organized medicine.
Encouraging health care system change.
Finding life/work balance.
Even…Navigating toxic workplaces with distressed/disruptive physicians.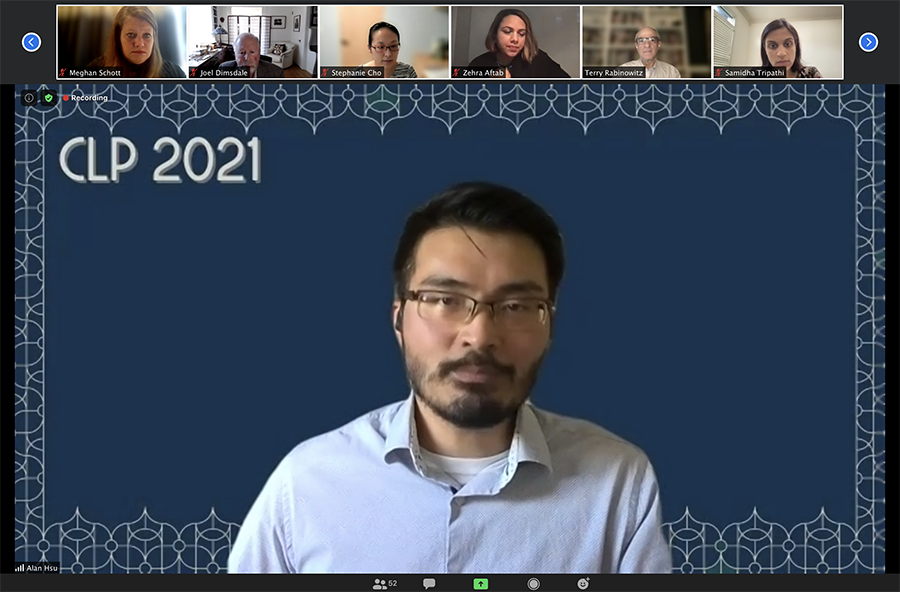 Chair for the session was Alan Hsu, MD, chair of the Early Career Track Subcommittee of the Annual Meeting Committee.
---
The Great Delirium Debate
A plenary debate on the definition and conceptualization of delirium was a real-time interaction among a prestigious panel. The debate Rethinking and Rehashing Delirium, is in the content library.
Much-acclaimed program chair, Lisa J. Rosenthal, MD, FACLP, aims to derive an ACLP policy statement from the session. Moderating the debate is ACLP past-president (2014-15) Cathy Crone, MD, FACLP, chair of a working group to develop guidelines on delirium for the American Psychiatric Association (APA).
The panel comprises:
Wes Ely, MD, MPH, Vanderbilt University Medical Center, a pulmonary and critical care specialist.
"We miss delirium 75% of the time."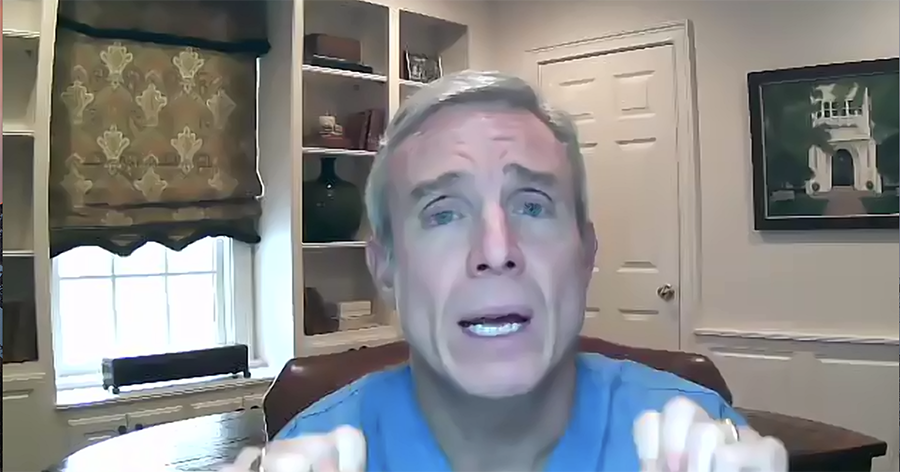 Mark Oldham, MD, University of Rochester Medical Center, board member of the American Delirium Society, and a member of the APA working group.
"We often make things worse in delirium."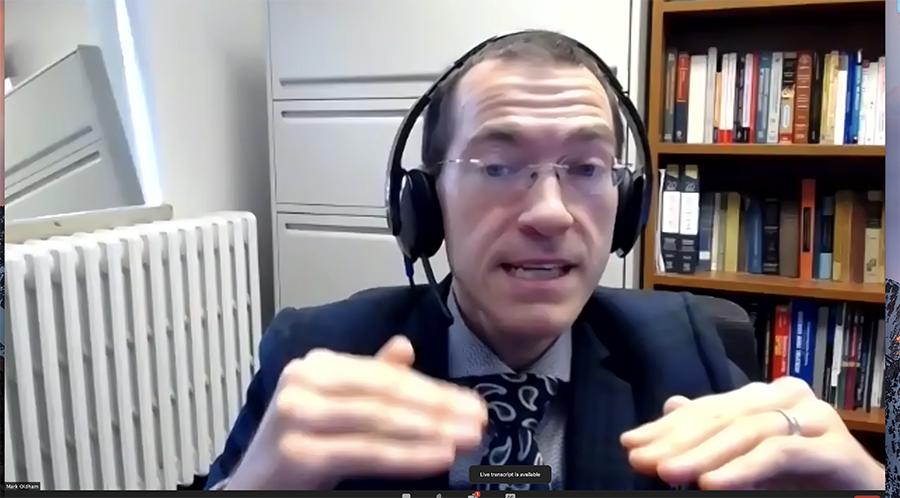 Arjen Slooter, MD, PhD, University Medical Center Utretcht, a neurologist who chaired the delirium section of the Pain, Agitation/Sedation, Delirium, Immobility, and Sleep Disruption guidelines of the (American) Society of Critical Care Medicine.
"Delirium is a lot more complex than we thought."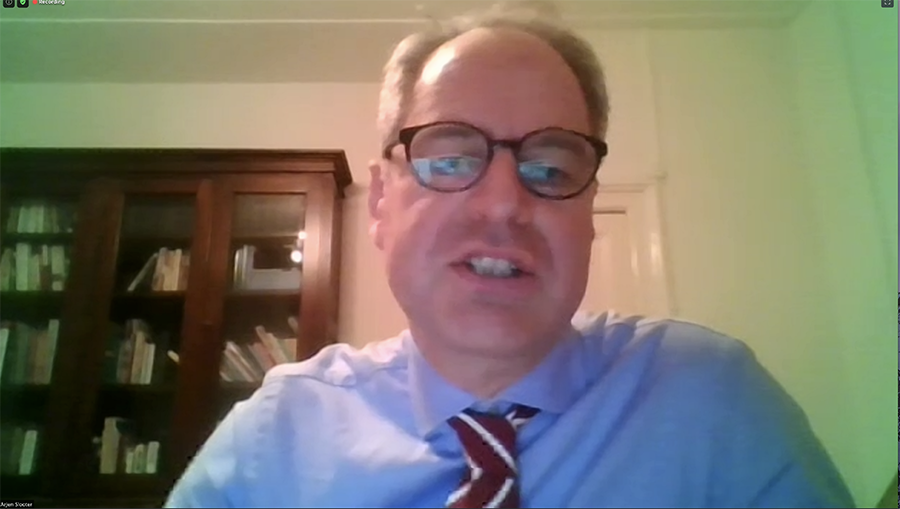 ---
Academy's Highest Honor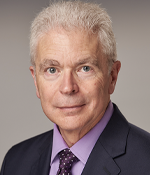 In his presentation, available in the content library, James A. Bourgeois, MD, OD, FACLP, recipient of the 2021 Eleanor and Thomas P. Hackett Memorial Award—the Academy's highest honor each year to an individual for outstanding achievement in C-L Psychiatry—says:
"The integration of Psychiatry into primary care is such an obviously logical and desirable development, that it is absurd that any other system ever evolved."
"Telemedicine is an area where C-L Psychiatry has had tremendous impact. Twenty years ago, early attempts to develop telemedicine were greeted with skeptical pessimism, if not, frank hostility by many psychiatric colleagues… Intrepid members of the C-L community kept the candle burning… Lo and behold, COVID-19 presented an imperative to go all-in on telemedicine. At Baylor Scott & White Health [where Dr. Bourgeois is chairman of psychiatry] we pivoted to 100% telemedicine… We still accomplish 35% of our clinical visits by telematics."
"Being an ACLP member is like staying at the Hotel California. You can check out anytime you like, but you can never leave. We have accomplished much together in differentiating, refining, and promoting our subspecialty. Having done so, we are poised for ever-greater advancements."
---
And The Winner Is…
We were promised: "This year's awards ceremony is Emmy-winning quality stuff, wait and see!" And we weren't disappointed. Here ACLP president (2019-2020) Michael Sharpe, MD, FACLP, supports the Wayne Katon Research Award to Professor Sir Simon Wessely, MD, FRCP, FRCPsych, FRS, Kings College London.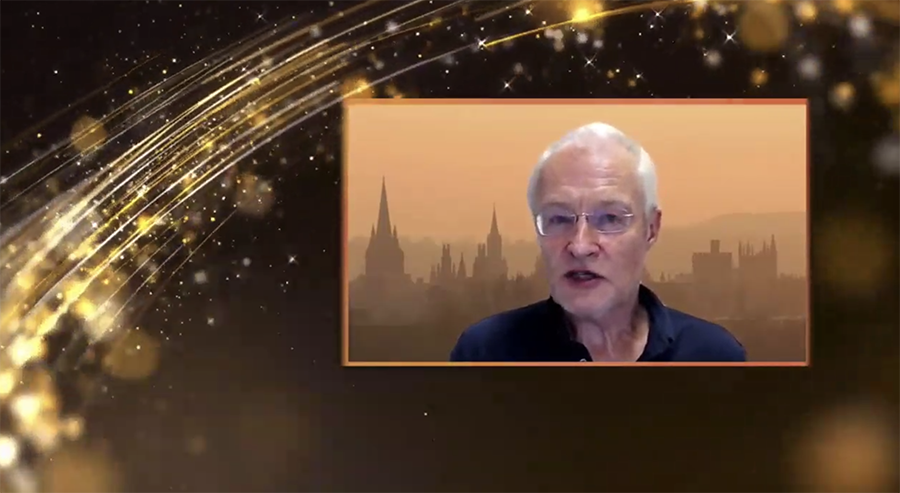 ---
Poster Award Winners
Winners of the Academy's poster awards at CLP 2021 were: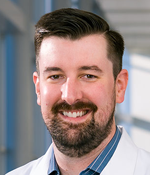 General, First Prize: The Effect of Agitation on the Sensitivity of the Columbia Suicide Severity Rating Scale Screener to Suicide Risk After Emergency Department Visit
Presenting author: Christian Goans, PhD, UT Southwestern Medical Center
---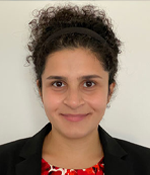 General, Second Prize: A Descriptive Analysis of Pharmacological Management of Aggression and/or Agitation in Patients with Traumatic Brain Injury in a Southwestern Virginia Inpatient Population
Presenting author: Elham Rahmani, MD, East Carolina University
---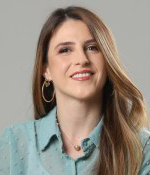 General, Third Prize: Collaborative Care Service for Psychiatric Disorders in a General Hospital Emergency Department: What Has Changed in the Patients Profile in the Context for COVID-19 Pandemic?
Presenting author: Adriana Bueno, MD, Universidade Federal de São Paulo – Escola Paulista de Medicina
---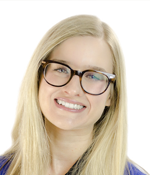 Trainee, First Prize: Impact of COVID-19 Pandemic on the Prevalence of Substance Use Disorders in Medically Hospitalized Patients
Presenting author: Kelsey Collins, MD, MS, NYU Grossman School of Medicine
---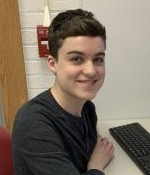 Trainee, Second Prize: Mortality Among Patients with Sepsis Associated with a Bispectral Electronencephalography (BSEEG) Score
Presenting author: Pedro Marra, University of Iowa Carver College of Medicine, Department of Psychiatry
---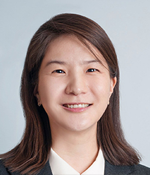 Trainee, Third Prize: Expanding the Role of Psychiatrists to Increase COVID-19 Vaccination Rates in Clozapine-Treated Patients with Serious Mental Illness: A Quality Improvement Project
Presenting author: Carol Lim, MD, Massachusetts General Hospital

---
Case Report: Successful Resumption of Clozapine with Immunosuppressants in Liver Transplantation: Case Report and Review of Literature
Presenting author: Alan Wai, MD, University Health Network
---
And Finally…
Exhausted we may be, but—as outgoing ACLP president Maria Tiamson-Kassab, MD, FACLP, implored in her summing-up of the past year—after COVID-19 and Zoom fatigue, surely, we must get to meet face-to-face in Atlanta in 2022 where the ACLP annual meeting theme will be Making Connections: Inspiring Transformation from Education.