Canadians Adopt C-L Psychiatry in Name Change
'There has never been a more exciting time to be in C-L Psychiatry!'
ACLP's sister academy, the Canadian Academy of Psychosomatic Medicine, has changed its name to the Canadian Academy of Consultation-Liaison Psychiatry (CACLP).

CACLP says: "With the goal of improving health care in this area, we strive to support the ongoing advancement of this field and its members through continuing professional development, advocacy, and collaboration with other organizations."
CACLP has invited ACLP to discussions on a strategic partnership. ACLP changed its name in a similar fashion three years ago.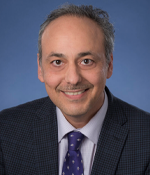 The Canadian academy has recently gained recognition of its expertise through an application for the Area of Focused Competence from the Royal College of Physicians and Surgeons of Canada.
"While there is much work to be done, this recognizes our distinct expertise and will be the basis of formal training programs and the additional recognition as Diplomates in C-L Psychiatry," says CACLP president Raed Hawa, MD, FRCPC, DABSM, DABPN, DFAPA, DFCPA.
"CACLP will continue to play a key role in this initiative and as a home for those of us in C-L Psychiatry from all over Canada. There has never been a more exciting time to be in C-L Psychiatry!"