[TOC-Bar-Fri-2018]
ACLP's Highest Honor to Be Bestowed on José Maldonado
Don't miss the Hackett lecture TODAY at 1:15pm!
The Eleanor & Thomas P. Hackett Memorial Award—the Academy's highest honor, presented to an individual for outstanding achievement in C-L psychiatry–has been awarded to José Maldonado, MD, FACLP, FACFE.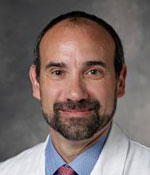 Dr. Maldonado will accept his award and deliver the Hackett lecture today from 1:15pm in the Grand Sierra. His presentation is intriguingly titled: Transplanted from Ponce to Palo Alto: Moments of Intoxication and Withdrawal in the Life of a Psychosomatic Medicine Specialist.
"I will explore the path that took me from the priesthood on a Caribbean island to the streets of Rome," he says; "from a teacher in the public school classrooms of Ponce, Puerto Rico, to a little, forsaken mission in Haiti; from medical school in a small town in the southern coast of Puerto Rico to post-graduate training on the east coast of the US, and finally to the halls of academia at Stanford University.
"Driven by doubt, and an incessant need to know the 'why' of everything, I left the seminary. The very same doubt and inquisitiveness have been my saving grace in academia."
The champagne celebration of all ACLP's awards is this evening from 5:35pm in Caribbean V.
Dr. Maldonado is professor of psychiatry, medicine, surgery, emergency medicine and law at Stanford University, where he also serves as chair of the School of Medicine Faculty Senate.
He also serves as medical director of Psychosomatic Medicine and program director of the CLP Fellowship Program and is the current president of the American Delirium Society.
Dr. Maldonado's research interests include: the neurobiology, diagnosis and management of delirium; psychosocial aspects of solid organ and composite tissue transplantation; novel methods for the diagnosis, prophylaxis and treatment of alcohol withdrawal syndromes; psychopharmacology; neuropsychiatric sequelae and management of traumatic brain injury; and the use of hypnosis in medicine and psychiatry.
His research laboratory has developed clinical tools, including:
The Stanford Integrated Psychosocial Assessment for Transplantation to assess the psychosocial candidacy of organ transplant and ventricular assisted device candidates, currently being used in more than 300 centers around the world and translated into 10 languages.
The Stanford Proxy Test of Delirium (the only delirium assessment tool based on DSM-5 and ICD-10 criteria); the Stanford Algorithm for Predicting Delirium, a tool to help predict patients at risk of developing delirium; and the Prediction of Alcohol Withdrawal Severity (AWS) Scale (a tool for the prediction of patients at risk of severe AWS).
Says Dr. Maldonado: "I'm known to frequently say: 'There is more than one way to skin a cat, so let us find out how we can do the same thing, but better.' These core principles, applied to academia, have allowed my team and I, inspired and assisted by countless colleagues, to develop a number of tools to better understand the problems we face in our daily practice, and treatment protocols to tackle them. It is these ebbs and flows, moments of intoxication and those of withdrawal, that I will share with you."
[TOC-Bar-Fri-2018]