Special Recognition Awards to Two Academy Stalwarts
'A true pioneer in advancing women's mental health'
'Invaluable contributions that advance the practice, teaching, and scholarship of C-L Psychiatry'
ACLP has made special recognition awards to Neham Dresner, MD, FACLP, and Scott Simpson, MD, MPH, FACLP.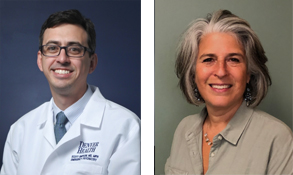 Dr. Dresner, associate professor of Psychiatry and Obstetrics Gynecology, Northwestern University, Feinberg School of Medicine, was nominated by Donald Rosenstein, MD, FACLP. He says:
"I do not think it is hyperbole to state that Dr. Dresner has been a true pioneer within the ACLP with respect to the advancing women's mental health at the interface of Medicine and Psychiatry, in general, and providing sophisticated perinatal mental health care, in particular. Dr. Dresner's longstanding and impactful contributions to our field warrant this special recognition."
Dr. Dresner became an active member of the Academy in 1991. "Throughout her career, Dr. Dresner has been an authority on care of pregnant and peripartum women who suffer from psychiatric disorders. As a faculty member at Northwestern University, she created a novel women's mental health rotation for OB/GYN residents that included clinical care, as well as writing and lecture presentations, in an embedded fashion (well before the integrated/collaborative care movement took hold)."
For this creative educational and liaison program she received the Academy's Alan Stoudemire Award in 2003.
"Year after year, both at the ACLP annual meetings, as well as her academic and clinical activities, she has been a passionate and steady advocate for specialty care for women's mental health. Indeed, she was a founding member of the ACLP Women's Health SIG and has trained a cohort of C-L psychiatrists who have amplified her impact in this critical area of medicine."
Dr. Simpson, associate director of Behavioral Health Services, Denver Health, was nominated by Kenneth Novoa, MD. He says:
"Dr. Simpson has made invaluable contributions that advance the practice, teaching, and scholarship of C-L Psychiatry, particularly through its practice in emergency settings."
Accomplishments include: 
Former co-chair of the Emergency Psychiatry SIG, helping to grow the SIG from several dozen members to more than 900 today.
Chair of the Guidelines and Evidence-based Medicine Subcommittee, where he has expanded prominence of the quarterly Annotations, and is playing a key role in developing the Academy's process for practice guidelines.
Launched Colorado's first 24/7 buprenorphine induction program, which offers methadone inductions in the emergency department to address the fentanyl epidemic. First chair of Denver Health's Zero Suicide, which aims to reduce suicides in Colorado by 25%.
Designed an online video curriculum to teach verbal de-escalation that has been used more than 300,000 times, disseminated across health care institutions nationally, and published as an evidence-based practice learning tool.
"Dr. Simpson is a trusted and invaluable colleague who has been a fantastic mentor for me, from my early-career until present day," says Dr. Novoa. "I value his experience and the institutional knowledge he possesses as well as all the incredible work he does for the community and our underserved patient population. He is more than deserving of this award."