The Great Debate
On disorder accounting for 10-15% of medical visits in primary care
Saturday's plenary session included The Great Debate on Somatic Symptom and Related Disorders. Children with Somatic Symptom and Related Disorders (SSRDs) account for 10% to 15% of medical visits in primary care, and somatization is the second leading reason for consultation requests received by child and adolescent psychiatrists in pediatric hospitals.
Claire De Souza, MD, FRCPC, and Jeffrey Staab, MD, FACLP, debated: Is only thy name our enemy? Perspectives on somatic symptom & functional disorders through the lifespan. Moderator was Durga Roy, MD, FACLP, associate professor, Johns Hopkins University School of Medicine.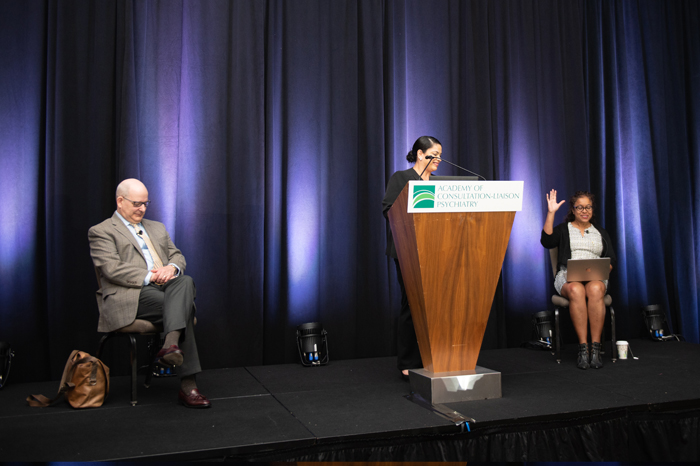 The debate was previewed in ACLP News, October, here.
The debate followed plenary guest speaker, Warren Ng, MD, MPH, immediate past president of the American Academy of Child and Adolescent Psychiatry: "One in five Americans live with a behavioral health or developmental disorder, yet fewer than half receive any treatment. This is worse among racial/ethnic and other minoritized populations with dire consequences on morbidity, mortality, and economic costs to our society. The social determinants of mental health and risk factors exacerbate the mental health crisis and include adverse childhood experiences, racial disparities, social isolation, trauma, food and housing insecurity, economic stress, and poverty. The crisis has exposed the inequities within our society and health system."