The Alan Stoudemire Award for Innovation and Excellence in C-L Psychiatry Education is given to an individual or individuals who has/have developed/led a creative educational program in the area of consultation-liaison psychiatry directed at any level, from medical students to board-certified physicians, that is outstanding by virtue of its innovation and impact.
In keeping with Dr. Stoudemire's legacy of interest in the training of medical students and psychiatry residents, applications are especially encouraged on behalf of programs geared to these two groups. Preference will also be given to programs which include educational materials which can be accessed and utilized by other institutions.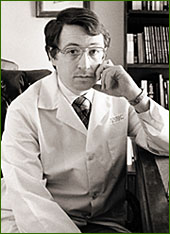 The award is named for Alan Stoudemire, MD, FACLP, a highly respected clinician and educator and a prolific author and editor. Dr. Stoudemire was professor of Psychiatry at Emory University in Atlanta, Georgia. He received the Academy's highest honor, the Thomas P. Hackett Memorial Award, in 1997.
Dr. Stoudemire passed away at age 49 in February 2000 of melanoma. Dr. James Levenson, Academy president at the time, wrote in his President's Message for the Newsletter:
"In health and in illness Alan was a remarkable man, and an inspiration to us all. He brought a level of serious commitment to his work few could match, yet never lost sight of life's most important values of family and friendship, all the while wielding his wicked sense of humor, sparing no sacred cows."
For an excellent and inspiring read about Dr. Stoudemire, see A Tribute to Alan Stoudemire, MD 1951–2000 in the February 2001 issue of Psychosomatics by Troy L. Thompson II, MD, FACLP (Academy president 1991-92).

| | |
| --- | --- |
| Leo Pozuelo, MD, MBA, FACLP, FACP, chair of the Fellowship & Awards Subcommittee, presented the 2018 Stoudemire award to Sanjeev Sockalingham, MD, MHPE, FACLP, FRCPC. | |
ALAN STOUDEMIRE AWARD RECIPIENTS
2018
Sanjeev Sockalingham, MD, MHPE, FACLP, FRCPC
Medical Psychiatry Alliance Education Program, University of Toronto
2017
Robert McCarron, DO
UC Davis Train New Trainers (TNT) Primary Care Psychiatry (PCP) Fellowship
2016
Anna Ratzliff, MD, PhD
University of Washington Integrated Care Pathway: Psychiatry in Medical Settings
2015
No award
2014
No award
2013
J. Michael Bostwick, MD, FACLP
Disruptions in Development: A Pioneering Course for First-year Medical Students Taught at the Psychosomatic Interface
2012
Gary J. Gala, MD, FACS
Crossing the Blood Brain Barrier: An Experiment in Interdisciplinary Research
2011
Pamela Diefenbach, MD, FACLP
Educating Multiple Disciplines of Trainees in Primary Care Clinics
2010
Philip Bialer, MD, FACLP
MSKCC Comskil [communication skills] Curriculum
2009
Philip R. Muskin, MD, FACLP
A Tool for Assessment of Consultation-Liaison Trainees: Train the Trainer
2008
Rebecca W. Brendel, MD, JD
"Team 5" at Massachusetts General Hospital
2007
Per Fink, MD, FACLP
The TERM — An Advanced Educational Program for Primary Care Physicians in the Treatment of Functional Somatic Symptoms
2006
Robert Schneider, MD
Virginia Commonwealth University: A Unique Approach to Teaching Psychiatry to Nonpsychiatric Physicians Through a Special Curriculum that Incorporats the Way Internists Think
2005
No award
2004
Theodore A. Stern, MD, FACLP
Avery D. Weisman, MD Psychiatric Consultation Service of Massachusetts General Hospital
2003
Nehama Dresner, MD, FACLP, Program Director
Women's Mental Health Rotation for Obstetrics/Gynecology Residents at Northwestern University Feinberg School of Medicine
2002
Donald L. Rosenstein, MD, FACLP, Program Director
NIMH Program in Psychiatric Research Bioethics
2001
Joseph S. Weiner, MD, PhD, Program Director
Program in the Doctor-Patient Relationship at Long Island Jewish Medical Center
How to Nominate or Apply for the Stoudemire Award
Complete the online Stoudemire Award Nomination form. Two letters of support from individuals not directly involved in the program are required (training director, C-L director, beneficiaries, and colleagues from other departments are all appropriate), the comments from which should be focused on innovation and impact; submit letters of support online via the Stoudemire Award Referral form. All application materials must be received by April 1.
The application should include:
Program content
Nature of innovation (how is this program innovative compared to existing programs at the institution, nationally and/or internationally?)
Duration of program
Number and type of participants (students, trainees, practicing physicians, others)
Population affected (e.g., patients, students, etc.)
Portability/Generalizability
Measure of impact/data
The Fellowship & Awards Subcommittee will review all applications in collaboration with designated members of the Education Committee. A final decision will be announced by July 1.
The award will be presented at the Academy's annual meeting and the awardee(s) will have the opportunity to present their program as a poster during the poster session.