C-L Psychiatrists Should Know About Stem Cell Transplant Side-Effects
Psychological stress from routine cancer care
Consulting psychiatrists should be familiar with the basic principles of hematopoietic stem cell transplantation (HSCT)—a cancer treatment associated with multiple neuropsychiatric sequelae. 
HSCT, also known as bone marrow transplantation, is a routine part of cancer care for many patients with hematologic malignancies.
"The psychological stress of HSCT begins during the pre-transplant period, is exacerbated during inpatient hospitalization, and is perpetuated by a close surveillance period over several months following HSCT," say researchers at  University of North Carolina Health Care.
"Given the prevalence of hematologic disorders and increasing indications for HSCT, it is imperative for C-L psychiatrists to be familiarized with HSCT, its many associated pharmacologic treatments, and the range of neuropsychiatric presentations in these patients."
Researchers Zev Nakamura, MD, and colleagues provide an overview of HSCT in their paper published in the May/June issue of Psychosomatics, and describe the prevalence, impact, and risks from HSCT and how to manage psychiatric sequelae.
HSCT overview
More than 50,000 people undergo HSCT annually worldwide—a number that has been increasing alongside advances in technology and access to care.
HSCT is delineated by graft type:
Autologous transplantation (auto-HSCT) is the re-infusion of one's own cells back into oneself. The aim is to deliver very high doses of chemotherapy, and to utilize the patient's own cells to re-establish progenitors within the bone marrow to prevent profound myelosuppression. Auto-HSCT is well tolerated: published transplant-related mortality for most diseases is less than 1%.The overall benefit varies by disease type.
Allogeneic transplantation (allo-HSCT) refers to the infusion of cells collected from a donor into a patient. Patients and donors are matched across human leukocyte antigen types. The graft can be obtained from either related donors or unrelated donors identified through the National Marrow Donor Program. In addition to safely delivering very high doses of chemotherapy, allo-HSCT also offers potential immune-related benefits at the cost of immune-related side-effects, principally graft-versus-host-disease (GVHD). GVHD refers to the damage of host organs by graft cells (predominantly T-cells) and can result in myriad clinical manifestations ranging from minor rashes to fatal complications. More than 40% of patients develop chronic GVHD.
Complication rates are higher among those undergoing allo-HSCT compared to auto-HSCT. Transplant-related mortality is thought to approach 40% over two years for higher-risk patients. For those with significant comorbidities, or of advanced age, reducing the intensity of chemotherapy may be an option to mitigate acute side-effects, but this is often at the expense of an increased risk of disease relapse. Potential benefits of allo-HSCT vary primarily by disease type, as well as by disease stage and cytogenetics.
Screening & side-effects
Due to the high morbidity of HSCT, all patients should undergo a comprehensive pre-transplantation screening, including an assessment of comorbidities, functional status, and psychosocial well-being and support.Several psychosocial screening tools, such as the Transplant Evaluation Rating Scale, are used in HSCT. "Exclusion of patients based on psychosocial risk factors, such as a history of addiction or the absence of a reliable caregiver for the first 90 days post-transplant, is common practice, though somewhat controversial," say the researchers.
The HSCT process is both physically and emotionally challenging for patients.
Patients undergoing auto-HSCT typically spend at least three weeks in the hospital while allo-HSCT patients often spend more than one month as an inpatient. The acute physical side-effects are largely due to chemotherapy and GVHD and include fatigue, nausea, vomiting, diarrhea, malaise, weakness, mucositis, and infection. "Long-term, HSCT patients may face a myriad of potentially serious physical effects secondary to their transplant that elevate mortality risk and can have a major impact on quality of life," say the researchers.
Both acute and chronic GVHD are independently associated with worse functional status, occupational outcomes, mental health, and overall quality of life.To mitigate GVHD risk, patients often require long-term immunosuppression, including use of corticosteroids, which can result in osteoporosis and an elevated risk of infection.
After transplantation infertility is common, and patients are more likely to develop several secondary cancers, including myelodysplasia and acute leukemias after auto-HSCT for lymphoma; or cancers of the skin, oral mucosa, brain, thyroid and bone after allo-HSCT.
Adverse side-effects, and the prolonged and potentially unpredictable post-HSCT course, can lead to post-transplant decisional regret in some patients, as well as a myriad of psychiatric symptoms.
Anxiety and depressive symptoms are the most commonly reported psychiatric concerns during HSCT. Anxiety is typically highest prior to transplant and then it gradually decreases during inpatient hospitalization and after discharge. Depression tends to be less prevalent than anxiety before transplant, but increases during hospitalization and may remain elevated for years.
Several risk factors have been identified for increased distress in HSCT patients: female gender, chronic GVHD, chronic pain, and worse functional status increase the likelihood of disturbances in mood and anxiety.
Studies have also identified the financial impact of HSCT and its consequences. In one study, of 325 HSCT recipients, 46% reported a decline in income post-HSCT, and a worse quality of life and stress for those in financial hardship.
"Complication rates are higher among those undergoing all-HSCT compared to auto-HSCT."
—Dr. Nakamura
Psychological management
A systematic review quoted in the Psychosomatics paper describes nine intervention studies for the management of distress in adults who receive HSCT. Seven evaluated a cognitive-behavioral therapy (CBT) intervention and almost all showed benefit.
Few studies have evaluated pharmacologic interventions for depression and anxiety in HSCT patients. But in one study, 56 adult HSCT candidates with depression or anxiety, who had received sertraline, had a shorter time to engraftment and demonstrated lower mortality and re-admission rates at six months compared to placebo.
"Although selective serotonin re-uptake inhibitors carry theoretical risks of bruising and bleeding, raising concern in HSCT patients with cytopenias, we use them widely in our clinical practice, and find them to be safe and well-tolerated," say the researchers. "Because HSCT patients often experience nausea, decreased appetite, and insomnia, mirtazapine is another good option for depression and anxiety management. The extremely rare risk of agranulocytosis described in isolated case reports with mirtazapine, as well as its association with thrombocytopenia, is often outweighed by its potential benefit in our clinical experience. However, the risk-benefit ratio of using mirtazapine, or any medication associated with blood dyscrasias, in HSCT should be made on an individual basis.
"While we strongly advocate for treating depression and anxiety in symptomatic patients, it is important to be cognizant of the feasibility of this approach during transplant hospitalization. Patients may be unable to tolerate oral medications in the setting of severe chemotherapy-induced mucositis or emesis and potential drug-drug interactions with other medically-necessary medications commonly exist.
"Finally, patients with hematologic malignancies are at increased risk for delirium, which is further compounded during HSCT by exposure to numerous centrally-acting medications. Therefore, delirium should be ruled out prior to assessing for mood or anxiety disorders and potentially introducing another centrally-acting medication to [the] patient's regimen."
A table in the paper provides an overview of medications commonly used in the treatment of HSCT side-effects.
Conclusions
"Patients receiving HSCT experience a high prevalence of psychiatric comorbidity," say the researchers. "To optimize identification and management of these neuropsychiatric issues, psychiatrists can familiarize themselves with the medications and treatments that these patients receive, complications that they experience, and how different phases of their treatment course present unique risk factors for disturbances in mood, anxiety, and cognition.
"While the prevalence and impact of these psychiatric disorders have been well described in the HSCT literature, this review underscores the ongoing need to strengthen the evidence base for the management of these disorders.
"Further research is needed at all levels of management: from studies focusing on individual pharmacologic treatment interventions, such as the use of neuroprotective agents for cognitive disorders, to adaptive design studies that use algorithms to guide treatment decisions for a variety of interventions. Similarly, additional studies evaluating systems-based care approaches, such as collaborative care models or proactive psychiatric consultation, will facilitate much-needed research to establish standard of care treatment of psychiatric disorders among HSCT recipients."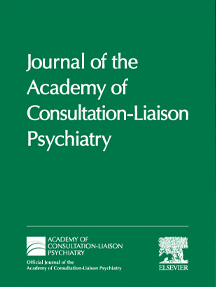 The full paper, Psychiatric Care in Hematopoietic Stem Cell Transplantation, is here.