The Academy's strategic objectives include developing relationships with leading organizations in Medicine and Psychiatry. In the September edition of ACLP News we delved into the role of L. Lee Tynes, MD, PhD, FACLP, at the American Medical Association. Here we talk with Michael Peterson, MD, PhD, FACLP, DFAPA, who represents the Academy at ACROSS meetings at the American Psychiatric Association (APA).   
A Seat at Another Table
ACLP is one of 22 organizations represented at ACROSS meetings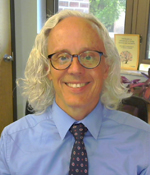 What is ACROSS?
The APA has a governance structure somewhat similar to the AMA and other large medical organizations. The Board of Trustees makes final policy and strategic decisions, but they answer to a larger parliamentary body representing all APA members—the APA Assembly. The Assembly includes representation from each of seven geographic areas, with the number of representatives proportionate to the number of APA members in the area. (Each area has representatives from each district branch plus resident-fellow member representatives and early career psychiatrist representatives). There are additional representatives from minority/under-represented groups and from subspecialty organizations.
The representatives from other organizations are grouped as the Assembly Committee of Representatives of Subspecialties and Sections (ACROSS). ACLP is currently one of 22 organizations represented—each organization appoints a representative, and each representative has a single vote. The ACROSS chair (voted on by ACROSS members) also has a seat and vote at the Assembly Executive Committee, providing a voice at Assembly leadership level, and more directly with the APA Board of Trustees.
If a new subspecialty organization wishes to become a part of ACROSS, they must have:
At least 100 members who are also APA members.
A majority of members who are psychiatrists.
And at least 40% of psychiatrist members who are part of the APA.
They then submit an application to the APA which is reviewed and voted on. Once approved, the organization nominates a member as a representative at ACROSS. ACROSS includes representatives from all of the major subspecialty organizations, as well as other established interest areas (e.g., psychotherapy, women psychiatrists, senior psychiatrists, community psychiatry—see panel below).
Tell us about ACROSS meetings.
The APA Assembly meets twice a year—in November, and at the APA Annual Meeting in the spring (usually May) of each year. The ACROSS group meets in conjunction with those meetings. There is not a quorum required for ACROSS, but the Assembly requires a quorum of at least one-third of Assembly representatives (representing at least 50% of APA membership).
At the ACROSS meeting we will discuss any Assembly business related to our subspecialty groups, as well as any business related to how ACROSS operates (e.g., a recently approved action at the Assembly approved financial support for ACROSS representatives to attend meetings equal to Assembly members). This is also where ACROSS members decide who the ACROSS chair will be, and which ACROSS members will represent the group at Reference Committee (working groups that review submitted action papers).
My role, as the ACROSS representative, is to represent ACLP interests at the APA Assembly. (There are other ACLP members who are representatives at the Assembly, however, their primary role is representing their APA District Branch and Area.) In addition to ACROSS, ACLP is also able to provide input on Assembly matters through the Council on Consultation-Liaison Psychiatry. The Council has an advisory role to the Assembly and APA Board of Trustees related to C-L Psychiatry matters. The 12 members of the council must include one Assembly member, one fellow member, and other members associated with ACLP.
The Assembly will vote on any actions ('Action Papers') brought by representatives for a vote; approval of new position statements (or retirement of old position statements) on a variety of topics; review and approval of APA Practice Guidelines; and review and recommendations for DSM changes. Assembly votes are advisory—final decisions and actions are made by the APA Board of Trustees with input from APA Councils.
Does ACLP delegate to you input towards policy decisions from the Academy without referring back to the Academy?
I provide a summary report to the ACLP executive committee after each Assembly meeting highlighting actions of interest to ACLP. I am also available to work with ACLP leadership or other members who wish to create an Action Paper to be brought to the Assembly on ACLP-related matters.
ACLP are periodically then invited to co-sign, within a deadline, ACROSS (i.e., APA) statements on policy decisions. ACLP's Board has commented that this typically happens at very short notice with our representation at the AMA. What is the timescale in your case?
Yes, in addition to the regular Assembly business described above, the APA is actively engaged in national advocacy and monitors national legislation. When a bill or policy matter relevant to Psychiatry is being considered, the APA will release a public statement and contact involved legislators. ACROSS member organizations are invited to co-sign these statements to strengthen their impact and invite involvement of subspecialty groups. The APA usually requests a response within a few days to a week when urgent matters arise.
This can obviously create a challenge to get official approval. For regular Assembly business, I am able to act as an ACLP representative, voting as I believe is in the best interests of our organization. However, for these more official statements of support, we need authorization from the president and Board. The last time a request like this arose, I forwarded the information to executive director James Vrac, CAE, who was able to confirm support within one to two days!
The fast turn-around is more critical for legislative/policy matters with the government. Most internal processes are more deliberative and tend to take much longer for review and implementation.
A different type of situation may also come up. For example, the APA established a Presidential Task Force to address Diversity-Equity-Inclusion (DEI) matters. That Task Force reached out to ACROSS representatives to learn what our organizations were doing internally to address DEI matters. I was able to share a summary of ACLP DEI Task Force efforts with the APA group.
What happens if a minority of organizations represented at ACROSS disagree? What happens if a majority disagree? Or has this not arisen?
Each ACROSS representative has their own vote, which allows for different positions between organizations. When actions are reviewed at the Assembly Executive Committee, only the ACROSS chair has a vote. The chair would then likely vote with the majority of ACROSS members as the group representative. In my time in this role, I have not been aware of particular issues like this. 
How does ACROSS/APA disseminate its policy decisions to practitioners, presumably in the form of guidance, or does the APA have statutory influences leading to legislative programs?
The APA has a variety of ways that Assembly actions and other APA business are disseminated to both APA members and the public. Clinical documents that we see include official APA Practice Guidelines (often published in the American Journal of Psychiatry and posted on the APA website) and periodic DSM updates. APA Position Statements can touch on both clinical, advocacy, and public information matters, and are often seen in press releases and on the APA website. Other content developed based on Assembly actions is seen in various ways, including educational materials (print or online), etc.
Could you briefly talk us through one or two ACROSS policy decisions on position statements relevant to C-L Psychiatry on which ACLP signed off?
At a recent Assembly meeting, there was a proposal to retire a position statement on the role of Psychiatry in the treatment of HIV. This was strongly opposed by a number of ACLP members, and the proposal was voted down (i.e., the position statement was retained), largely as a result of vocal support from the Council on C-L Psychiatry, my vote as ACROSS representative, and the votes of others.
In other matters, I will vote as I believe best represents ACLP, but then will report the matter (and outcome) to the ACLP Executive Committee. A recent example was an action paper recommending an APA Position Statement against the use of the term "excited delirium." This is my summary statement that I provided to our Board:
A new position statement Concerns about use of the term 'excited delirium' and appropriate medical management in out-of-hospital contexts was passed. This paper addresses potential misuse of chemical restraints (e.g., ketamine) 'in the field' by EMS (often guided by police) for subduing persons. Paper addresses the potential racial discrimination in these practices as well.
As you become further embedded in the process, would you expect to present still more C-L Psychiatry-related issues at ACROSS meetings?
As ACLP members and the Board are aware of my role at the APA, we may work jointly to write Action Papers that I would present at ACROSS and to the entire Assembly.
As I have longer service with ACROSS, there could also be opportunities to serve as the ACROSS chair or vice-chair, and more directly engage with the Assembly Executive Committee. There could also be opportunities to chair a Reference Committee—subgroups of Assembly members that review Assembly business (including Action Papers) ahead of the Assembly, and make recommendations to the entire Assembly about that content. 
Could those issues derive not just from the ACLP Board but from individual ACLP members/SIGs/committees/forums?
Yes! Ideas for APA Assembly actions to be brought forward in ACLP's interest could be initiated by groups (like SIGs), committees (not just the Executive Committee) or individual members. Of course, formal endorsement by ACLP for these actions would involve review and support from the Executive Committee.
Organizations represented at ACROSS
Academy of Consultation-Liaison Psychiatry
American Academy of Addiction Psychiatry
American Academy of Clinical Psychiatrists
American Academy of Child and Adolescent Psychiatry
American Academy of Psychiatry and the Law
American Academy of Psychodynamic Psychiatry and Psychoanalysis
American Association for Emergency Psychiatry
American Association for Geriatric Psychiatry
American Association for Social Psychiatry
American Association for Community Psychiatry
American Association of Psychiatric Administration & Leadership
American Group Psychotherapy Association
American Psychoanalytic Association
American Society for Adolescent Psychiatry
Senior Psychiatrists
Southern Psychiatric Association
Association of Family Psychiatrists
AGLP: The Association of LGBTQ Psychiatrists
Association of Women Psychiatrists
Association of Medicine and Psychiatry
American Society of Clinical Psychopharmacology
Transcranial Magnetic Stimulation Society