Innovation in Education Award
Sharing lessons learned from our own professional development
As CLP 2022 draws to a close today, the Academy's presentation of its Stoudemire Innovations in Education Award has meaning for us all.
STOUDEMIRE INNOVATIONS IN EDUCATION AWARD—The award is given to an individual or individuals who has/have developed/led a creative educational program in the area of C-L Psychiatry directed at any level, from medical students to C-L Psychiatry fellows, that is outstanding by virtue of its innovation and impact.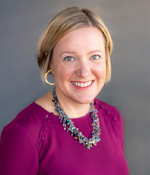 Winner: Sarah Nagle-Yang, MD
Dr. Nagle-Yang and co-creators Lindsey Standeven, MD, Constance Guille, MD, Elizabeth Albertini, MD, and Lauren Osborne, MD, led the NCRP Fellowship Collaborative Didactic Series, an educational program aimed at trainees in C-L Psychiatry or women's mental health fellowships across the US.
This virtual learning series represents an innovative adaptation of the National Curriculum in Reproductive Psychiatry (NCRP). Primary goals are to:
Provide a comprehensive, evidence-based, advanced curriculum in reproductive psychiatry.
Build a community of learning and mentorship to foster continued growth of this field.
Recruitment to the 2021-2022 fellowship programs resulted in 26 fellows across 16 programs. Each cohort had 'core' faculty plus discussants for individual sessions recruited from more than 60 reproductive psychiatry experts. The curriculum utilizes NCRP materials to cover core knowledge; while discussant experts discuss sentinel or recent relevant journal articles and share lessons learned from their own professional development.