[TOC-Bar-Sat-2018]
Are You Ready for This?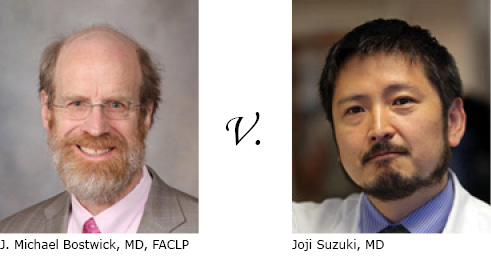 Provocative and informative.These are the two required ingredients of our CLP 2018 debate, starting at 8:45am in the Grand Sierra.
Taking up the challenge are J. Michael Bostwick, MD, FACLP, professor of Psychiatry, Mayo Clinic, and Joji Suzuki, MD, director, Division of Addiction Psychiatry, Brigham and Women's Hospital.
Their subject suggests they may well succeed:
"Is Marijuana a Legitimate Replacement for Opioids in Pain Management?"
The presenters will debate their differing perspectives.
Ilana Braun, MD, FACLP, chief, Division of Adult Psychosocial Oncology, Dana-Farber Cancer Institute, will lead and moderate the debate.
Participants are promised an "entertaining session filled with clinical expertise and ethical puzzles."
But you'll need to be alert. Learning objectives require participants not only to understand evidence regarding use of marijuana in the role of pain management, but to recite statistics about the US opioid use epidemic.
[TOC-Bar-Sat-2018]