[TOC-Bar-Sat-2018]
Treatments for PTSD in Acute Cardiovascular Events
Each year, more than 2 million Americans have heart attacks, strokes, or transient ischemic attacks.
The experience of presenting to crowded, hectic emergency departments for these acute medical events often involves anxiety and fear.
Up to one in four of these patients go on to experience elevated symptoms of post–traumatic stress disorder (PTSD).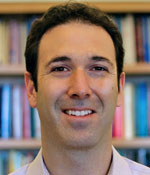 Today's Wayne Katon Research Award Lecture—Is It Time to Start Screening for PTSD in Survivors of Acute Cardiovascular Events?—will review the epidemiology of PTSD after such events and highlight the biobehavioral mechanisms by which PTSD may worsen cardiovascular prognosis.
The lecture—by Ian Kronish, MD, MPH, Florence Irving associate professor of medicine, Center for Behavioral Cardiovascular Health, Columbia University Medical Center, New York—starts at 9:30am in Grand Sierra.
[TOC-Bar-Sat-2018]