IN THIS ISSUE: Q&S Leadership | 988 | ERAS | APA Elections | A&E Abstracts 
For the past many months, ACLP Quality & Safety SIG members have been tackling C-L Psychiatry's 'holy grail'—to demonstrate our value. They plan to publish a White Paper this spring inviting discussion on

defining quality measures and goals of care. In a short ACLP News series, they will highlight pathways for moving forward. In this issue, two SIG members explain

the role of a C-L Psychiatry quality and safety officer.
C-L Psychiatrists: Unique Leaders in Quality and Safety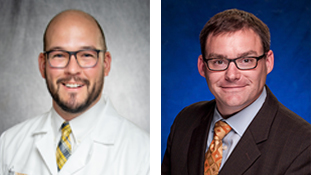 Michael Strong, MD, MSEd, Director of Integrated Care and Associate Vice Chair for Clinical Services, University of Iowa Department of Psychiatry.
Alexander Thompson, MD, MBA, MPH, CPE, Physician Value Officer and Vice Chair for Clinical Services, University of Iowa Department of Psychiatry.
During November's 2022 Annual Meeting in Atlanta, the ACLP Quality and Safety SIG enjoyed the opportunity for a lively face-to-face discussion of the many clinical challenges encountered by members throughout the COVID-19 pandemic.
These included changes to clinical services and increased demand, widespread staffing shortages, and renewed calls from hospital systems and payers to demonstrate value, or health outcomes achieved per dollar spent.
As we talked about ways to move forward with quality and safety (Q/S) initiatives in our individual roles and as an organization, the question was posed: what exactly does it mean for C-L psychiatrists to be a director of quality and safety?  
Historical barriers to physicians leading quality and safety programs often included lack of departmental support, low engagement by faculty and trainees, and limited expertise, mentorship, or role modeling. Lack of clear roles and responsibilities can also limit the ability of Q/S leaders to navigate complex health care environments and often competing priorities. Despite these challenges, many ACLP members have successfully established themselves as Q/S leaders within their departments, health systems, and a wide range of clinical settings.
Responsibilities and key skills
In their 2020 paper in Academic Psychiatry (see below) researchers highlighted examples of successful Psychiatry quality improvement programs across the country, describing core responsibilities as:
Teaching and disseminating QI education for residents and faculty.
Committee participation and direct reporting responsibilities to departmental, hospital and institutional quality leaders.
A focus on quality regulatory compliance, including federal and state regulations, and clinician/staff performance.
C-L psychiatrists often incorporate these components into their daily work, and many successful Q/S directors develop additional skills in areas such as project management, data acquisition, and program evaluation.  
We C-L psychiatrists are ideal drivers of better care in the hospital and primary care settings because of skills required to do our core work. In the same way we see a hospitalized patient and discern the true issues from the myopic biomedicalization guiding care, we see the health care landscape in a thoughtful, open-minded style.
We help solve problems (from the individual all the way up to the greater system) by inclusive team-building and the continual asking of 'Why?'. We are effective educators of patients, colleagues, and myriad stakeholders, particularly when advocating for safe and effective psychiatric care of our most medically complex patients.   
In whatever realm of C-L Psychiatry you practice, you are a quality and safety leader. We encourage you to consider making that arrangement more formal if you have not done so already.
The Fellowship Education Subcommittee and the Quality & Safety SIG have compiled many excellent resources, available to members here on the ACLP website. 
Also see:
A model for quality improvement programs in academic departments of medicine.
Building Psychiatric Quality Programs and Defining Quality Leadership Roles at Four Academic Medical Centers.
NEXT: What is the Vizient scorecard, and why does it matter to C-L psychiatrists?