CLINICAL INFORMATION
Excellent Update from a Physician on the Front Lines in NYC
This video from Dr. David Price of Weill Cornell Medical Center describes the typical course of the illness, steps to take to protect yourself in the community, and actions needed if you have symptoms.
https://vimeo.com/399733860
Well-Illustrated Summary of the Viral Proteins from the NYT
https://www.nytimes.com/interactive/2020/04/03/science/coronavirus-genome-bad-news-wrapped-in-protein.html
Reviews for Clinicians Assisting in ICU Settings
Ventilation 101 with Dr. Hala Karnib, Louisville Lectures Int Med Lecture Series Podcast
https://podcasts.apple.com/us/podcast/louisville-lectures-internal-medicine-lecture-series/id976428746?i=1000451253831
The Seriously Ill Patient with Dr. Nunley, Louisville Lectures Int Med Lecture Series Podcast
https://podcasts.apple.com/us/podcast/louisville-lectures-internal-medicine-lecture-series/id976428746?i=1000337880618
Acute Respiratory Distress Syndrome with Dr. Cavallazzi, Louisville Lectures Int Med Lecture Series Podcast
https://podcasts.apple.com/us/podcast/louisville-lectures-internal-medicine-lecture-series/id976428746?i=1000348953730
Sepsis with Dr. Sally Suliman, Louisville Lectures Int Med Lecture Series Podcast
https://podcasts.apple.com/us/podcast/louisville-lectures-internal-medicine-lecture-series/id976428746?i=1000451253841
Critical Care for the Non-ICU Clinician provides online education to healthcare professionals who could benefit from critical care training. Access to this important resource is complimentary.
Visit https://sccm.org/covid19 to access
Covid-19 as an Upper Respiratory Infection
This new study in Nature argues that Covid-19 is in many patients an upper respiratory infection, with variable extension to the lower respiratory tract.
Nature Virological Assessment of hospitalized patients with COVID-2019.pdf
Infectious Diseases Society of America Guidelines on the Treatment and Management of Patients with COVID-19
These guidelines from an authoritative professional group will be continually updated.
https://www.idsociety.org/practice-guideline/covid-19-guideline-treatment-and-management/
Ongoing Clinical Trials of Interventions, by Stage of Illness
ACLP member Dr Hindi Mermelstein MD, FACLP, of the Long Island Jewish Medical Center sent us this interesting link.
https://www.biocentury.com/article/304896
Cytokine Storm and Covid-19 Infection
ACLP member Dr Avram Mack, MD, of the Children's Hospital of Philadelphia sent us these though-provoking links about cytokine release syndrome after Chimeric Antigen Receptor T-cell therapy and about the use of IL-6 blockade in Covid-19 infection.
https://www.ncbi.nlm.nih.gov/pmc/articles/PMC5452983/
https://www.ncbi.nlm.nih.gov/pmc/articles/PMC7151347/
No Indication ACEi or ARB Increase Risk in Covid-19 Infection
A large study with 1128 Covid-19 patients with hypertension shows decreased mortality (HR 0.37) with ACEi/ARB use. Increased risk with these agents was originally hypothesized, but now seems unlikely.
https://www.ahajournals.org/doi/abs/10.1161/CIRCRESAHA.120.317134
Large Outcome Study of Covid-19 Patients Hospitalized in New York City
Dr Safiya Richardson, MD, MPH, and others from Northwell Health, Manhasset, NY, report on 5700 patients hospitalized with Covid-19 in NYC. Of 2634 patients discharged or died, 12% were intubated, of whom 88% died (but this statistic may be misleading as it does not reflect patients still intubated at time of publication).
https://jamanetwork.com/journals/jama/fullarticle/2765184
NEJM Illustrates Proper Collection of Nasopharyngeal Samples
A video is included in:
https://www.nejm.org/doi/full/10.1056/NEJMvcm2010260?query=featured_home
Coagulopathy Emerges as Key Aspect of Covid-19 Pathology
Dr Klok and coworkers describe thrombotic complications in 31% of Covid-19 pneumonia admissions to 3 Dutch hospitals, including several ischemic CVA. Dr Llitjos and coworkers describe a 69% incidence of venous thromboembolic events in 2 French ICUs. A letter in the NEJM from Mount Sinai Hospital in NYC describes 5 cases in young adults of new large-vessel occlusive CVA related to Covid-19 infection.
https://www.thrombosisresearch.com/article/S0049-3848(20)30120-1/fulltext
https://onlinelibrary.wiley.com/doi/abs/10.1111/jth.14869
https://www.nejm.org/doi/full/10.1056/NEJMc2009787
Mixed Results in Clinical Trials with Remdesivir
Remdesivir, prodrug for an adenosine nucleoside analog which interferes with viral RNA-dependent RNA polymerase, significantly shortened time to recovery, median 11 vs 15 days, the primary endpoint in a large clinical trial with 1,063 subjects, and mortality was lower, 8.0% vs 11.6% (missing significance at p = 0.059), according to a summary announcement by the NIAID. By contrast, a clinical trial in China with 237 subjects just appearing in in The Lancetfound a non-significant improvement in time to clinical improvement, median 21.0 vs 23.0 days, and no improvement in mortality, 14% vs 13%.
https://www.niaid.nih.gov/news-events/nih-clinical-trial-shows-remdesivir-accelerates-recovery-advanced-covid-19
https://marlin-prod.literatumonline.com/pb-assets/Lancet/pdfs/S0140673620310229.pdf
Convalescent Plasma Ineffective in End-stage Covid-19 Infection
Five of 6 patients expired despite treatment with convalescent plasma at a median 21 days of infection, and the authors discuss that earlier treatment should be tried.
https://academic.oup.com/jid/advance-article-pdf/doi/10.1093/infdis/jiaa228/33146129/jiaa228.pdf
Early Treatment with Corticosteroids Improves Disease Course
Dr. Raef Fadel, DO, and coworkers at the Henry Ford Hospital describe improved mortality and other disease outcomes with prompt corticosteroid treatment in moderate to severe Covid-19 infection in this quasi-experimental study with 213 subjects.
https://academic.oup.com/cid/advance-article/doi/10.1093/cid/ciaa601/5840526
More Evidence for Widespread Vascular Infection in Covid-19 Disease
Varga et al. describe Covid-19 viral inclusion structures in endothelial cells, and endotheliitis in heart, lung, bowel, kidney, and lung in 3 post-mortem cases, pointing to Covid-19 endothelial infection, likely by ACE2 receptors.
https://www.thelancet.com/action/showPdf?pii=S0140-6736%2820%2930937-5
Persistent Symptoms after Covid-19 Infection
In a study of 143 patients hospitalized for Covid-19 in Italy followed up at a mean of 60 days, all Covid-, only 13% were symptom-free, with the most common symptoms being (53%), dyspnea (43%), joint pain, (27%) and chest pain (22%).
https://jamanetwork.com/journals/jama/fullarticle/2768351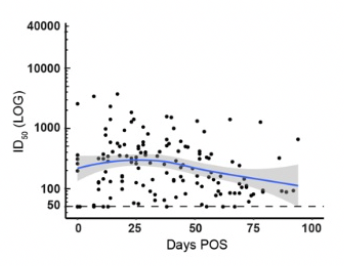 Longevity of Antibody Response to Covid-19 Infection
A widely cited study argues that antibodies to Covid-19 are relatively short-lived in some patients: many patients with lower intensity of response had neutralizing potency at baseline by 50 days. This resembles antibody response to the corona viruses causing the common cold.
https://www.medrxiv.org/content/10.1101/2020.07.09.20148429v1.full.pdf
Dexamethasone improves survival in Covid-19 Infection
In a trial with over 6,000 randomized subjects just published in NEJM, the RECOVERY Collaborative Group reports increased survival in subjects treated with corticosteroid, particularly in mechanically-ventilated patients (deaths 29% vs. 41%), one of the few trials to report meaningful survival benefit for any treatment in Covid-19 infection.
https://www.nejm.org/doi/pdf/10.1056/NEJMoa2021436
Proper Study of Hydroxychloroquine Indicates No Clinical Benefit
Alexandre B. Cavalcanti, MD, PhD, and coworkers randomize 667 patients to standard care, hydroxychloroquine, or hydroxychloroquine plus azithromycin. At day 15 there is no clinical difference.
https://www.nejm.org/doi/full/10.1056/NEJMoa2019014
---

ORGANIZATIONAL WEBSITES
American Psychiatric Association
The APA website contains an array of useful links for practitioners, including resources related to telepsychiatry. Notable content includes links to government guidance on practice: note that Medicare and Medicaid in many states now cover telepsychiatry more fully; the Office of Civil Rights has announced that HIPAA regulations will be enforced with discretion so that providers may provide needed medical care; the DEA has suspended enforcement of the Ryan Haight Act that required in-person assessment prior to prescribing controlled substances; SAMSHA has loosened requirements for medication-assisted treatment of opioid dependence; the FDA permits use of best medical judgment with regard to REMS requirements regarding clozapine and other drugs.
APA's Telepsychiatry Toolkit
https://www.psychiatry.org/psychiatrists/practice/telepsychiatry/toolkit
American Medical Association
This site is assembled from their resources and continually updated.
A physician's guide to COVID-19.
APA Coronavirus Resources
https://www.psychiatry.org/psychiatrists/covid-19-coronavirus
Practice Guidance for COVID-19
https://www.psychiatry.org/psychiatrists/covid-19-coronavirus/practice-guidance-for-covid-19
NEJM resource page on Covid-19
https://www.nejm.org/coronavirus?query=RP
American College of Physicians Website
This is one of the most comprehensive and frequently updated sources for clinical information (along with the Covid-19 entry in Up-To-Date).
https://assets.acponline.org/coronavirus/scormcontent/
American Academy of Child and Adolescent Psychiatry
Many Coronavirus resources for working with children and adolescents are found at:
https://www.aacap.org/
---

TELEPSYCHIATRY, VIDEOCONFERENCING, AND REMOTE PATIENT CARE
How to Integrate Video Teleconferencing into Inpatient Rounds from Johns Hopkins
This video gives hints for protecting the medical team by telerounding. The use of a headstrap-mounted cell phone is particularly novel (around minute 12).
http://gme.med.jhmi.edu/administration/video1.php
Hints for Effective Use of Zoom
"Zoom hackers" have been invading teleconferences. Consider making your default settings to (1) Enable  screen sharing only for the host, who can then allow other participants to share their screen by "managing participants in a meeting" – host can put meeting participants on hold or remove them from the meeting and (2) Allow only host to use the annotation tools to add information to shared screens. Hints on managing participants are available here.
https://support.zoom.us/hc/en-us/articles/115005759423-Managing-Participants-in-a-Meeting
More hints on using Zoom:
Hints for effective use of Zoom 033120.pdf
American Association of Child and Adolescent Psychiatry Telepsychiatry Toolkit
The AACAP provides an extensive collection of resources for telepsychiatry. Please particularly see their page on "Coding for Telemedicine Services" regarding the use of the .95 modifier. https://www.aacap.org/AACAP/Clinical_Practice_Center/Business_of_Practice/Telepsychiatry/toolkit_videos.aspx
American College of Physicians Advice on Telemedicine
Two excellent pages of resources are below.
https://www.acponline.org/practice-resources/covid-19-practice-management-resources
https://assets.acponline.org/coronavirus/scormcontent/?_ga=2.20009592.1939924685.1585587134-45448268.1580931839&_gac=1.216678690.1585766323.EAIaIQobChMI04D_iPTk2gIVSFqGCh11lwA1EAAYASAAEgKoB_D_BwE&utm_campaign=FY19-20_MD_COVID-19_EML_APR29_MD9294-7&utm_medium=email&utm_source=Eloqua#/lessons/Cg0ca5BBOqa7ivpl9MD9aTLUdl3yUTQ9
American Psychiatric Association Resources for Telepsychiatry
Many resources for telepsychiatry are now covered in the APA practice pages. NOTE THAT ON MAY 1, CMS ANNOUNCED THAT PSYCHIATRIC VISITS CONDUCTED BY TELEPHONE, USING AUDIO ONLY, WOULD BE COVERED RETROACTIVE TO MARCH 1, 2020.
https://www.psychiatry.org/psychiatrists/practice/telepsychiatry/blog/apa-resources-on-telepsychiatry-and-covid-19
Telehealth in a Post-Pandemic Future: Regulatory and Privacy Issues
Carmel Shachar, JD, MPH, Jaclyn Engel, and Glyn Elwyn, MD, PhD, MSc, of Harvard Law School, Cambridge, MA, and Geisel School of Medicine at Dartmouth, Lebanon, NH, argue in this piece in JAMA that new regulatory standards should be continued after the Covid-19 crisis ends.
https://jamanetwork.com/journals/jama/fullarticle/2766369
Centers for Medicare and Medicaid Services Allows Billing for Audio-only Telehealth
CMS announced on April 30 that it would permit billing for telephone remote services (without video), retroactively effective to March 1, under Medicare. See the APA webpage for details:
www.psychiatry.org/psychiatrists/covid-19-coronavirus/practice-guidance-for-covid-19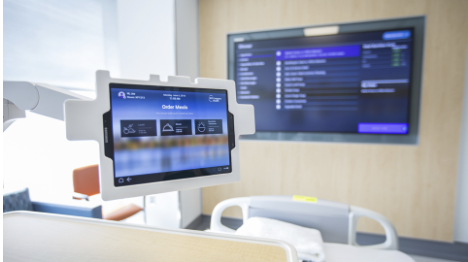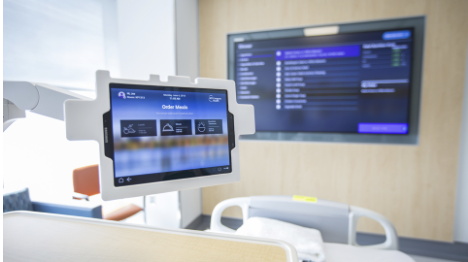 Dr. Rachel Anne Caravella, MD, NYU Langone Medical Center, sends this photo of a MyWall device attached to a patient tray table. Televisits can be done directly through this device.

Over One Quarter of US Adults Using Telepsychiatry
A new survey of over 2,000 US adults by Alkermes and Harris Poll found that 27% were using telepsychiatry services, with 74% of these hoping to continue such telehealth after the Covid-19 crisis.
https://investor.alkermes.com/node/17801/pdf