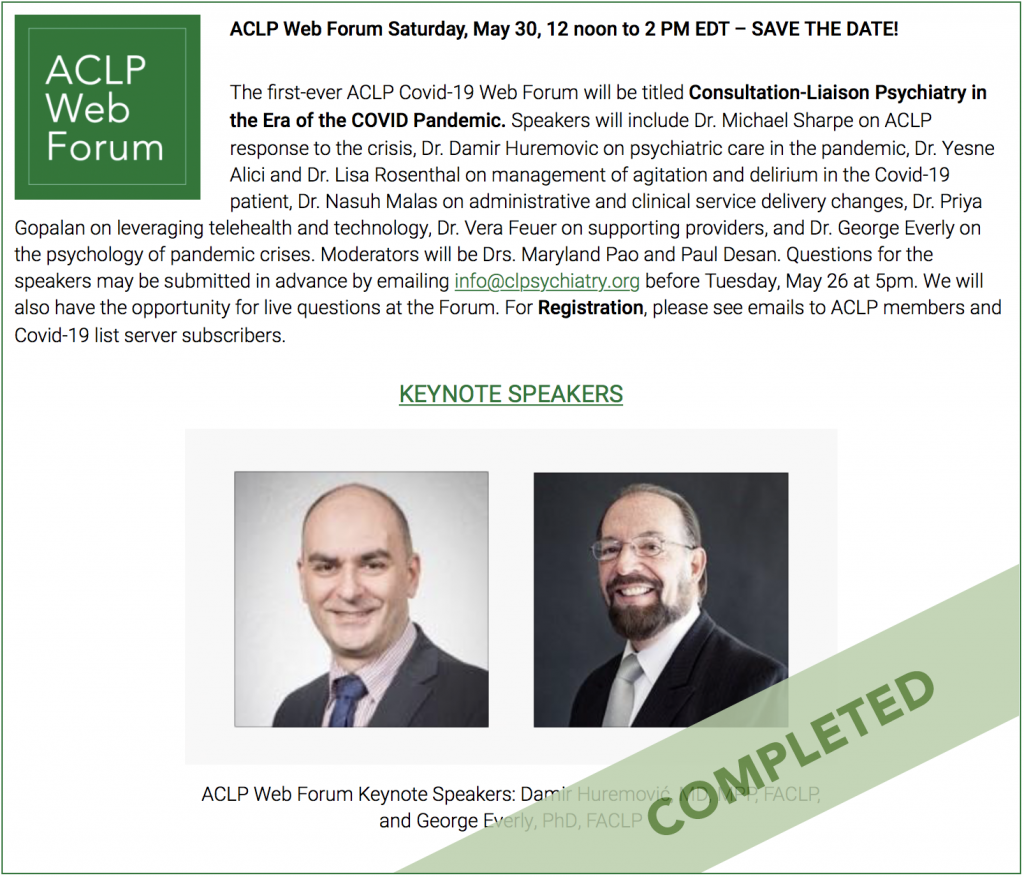 ---

CLINICAL INFORMATION
Excellent Update from a Physician on the Front Lines in NYC
This video from Dr. David Price of Weill Cornell Medical Center describes the typical course of the illness, steps to take to protect yourself in the community, and actions needed if you have symptoms.
https://vimeo.com/399733860
Well-Illustrated Summary of the Viral Proteins from the NYT
https://www.nytimes.com/interactive/2020/04/03/science/coronavirus-genome-bad-news-wrapped-in-protein.html
Reviews for Clinicians Assisting in ICU Settings
Ventilation 101 with Dr. Hala Karnib, Louisville Lectures Int Med Lecture Series Podcast
https://podcasts.apple.com/us/podcast/louisville-lectures-internal-medicine-lecture-series/id976428746?i=1000451253831
The Seriously Ill Patient with Dr. Nunley, Louisville Lectures Int Med Lecture Series Podcast
https://podcasts.apple.com/us/podcast/louisville-lectures-internal-medicine-lecture-series/id976428746?i=1000337880618
Acute Respiratory Distress Syndrome with Dr. Cavallazzi, Louisville Lectures Int Med Lecture Series Podcast
https://podcasts.apple.com/us/podcast/louisville-lectures-internal-medicine-lecture-series/id976428746?i=1000348953730
Sepsis with Dr. Sally Suliman, Louisville Lectures Int Med Lecture Series Podcast
https://podcasts.apple.com/us/podcast/louisville-lectures-internal-medicine-lecture-series/id976428746?i=1000451253841
Critical Care for the Non-ICU Clinician provides online education to healthcare professionals who could benefit from critical care training. Access to this important resource is complimentary.
Visit https://sccm.org/covid19 to access
Handout on Handwashing from Johns Hopkins
This may be useful for posting regarding proper disinfection procedures.
Handwashing advice from Johns Hopkins.pdf
Neurological complications of Covid-19 Infection
Chinese investigators studied CNS, PNS, and muscular neurological complications in 214 cases of Covid-19 infection, reporting overall rates of 11% for muscle injury, 7% for altered alertness, 6% for hypogeusia, 5% for hyposmia, and 3% for CVA and/or intracranial hemorrhage. Neurologists in NY, NY also report encountering Covid-related stroke.
https://www.medrxiv.org/content/10.1101/2020.02.22.20026500v1
This case report indicates that Covid-19 infection can present as encephalopathy.
https://www.cureus.com/articles/29414-neurological-complications-of-coronavirus-disease-covid-19-encephalopathy
Clinicians at the Henry Ford Health System in MI report a case of acute necrotizing hemorrhagic encephalitis, most likely a manifestation of cytokine storm.
https://pubs.rsna.org/doi/10.1148/radiol.2020201187
Chinese clinicians report a single case of apparent acute Guillain-Barré syndrome related to Covid-19 infection.
https://www.thelancet.com/journals/laneur/article/PIIS1474-4422(20)30109-5/fulltext
Dr. Muckherjee on Covid-19 Infection from the NYT
Noted physician author Dr. Siddhartha Mukherjee notes that size of Covid-19 inoculum may be important in outcome for an individual patient: the practical implication for a provider is minimizing closeness and duration of contact.
https://www.newyorker.com/magazine/2020/04/06/how-does-the-coronavirus-behave-inside-a-patient
Covid-19 as an Upper Respiratory Infection
This new study in Nature argues that Covid-19 is in many patients an upper respiratory infection, with variable extension to the lower respiratory tract.
Nature Virological Assessment of hospitalized patients with COVID-2019.pdf
Alpha-2 Agonists in Critical Care
This is an excellent discussion of: clonidine, guanfacine, lofexidine, ketamine, and dexmedetomidine in the ICU, from Dr. Josh Farkas, MD, Associate Professor, Pulmonary and Critical Care Medicine, University of Vermont.
https://emcrit.org/pulmcrit/ketadex/
Use of Valproate for Agitation in the ICU
As we see valproate used in increasing rates for Covid-19 patients, this interesting study emphasizes the need for adequate dosing of the agent, with median dose of 23 mg/kg/d
https://www.ncbi.nlm.nih.gov/pubmed/27693975
Research on the Efficacy of Different Mask Materials
Your patients may be asking about home-made cloth masks. This is the widely quoted study that suggests that two layers of tea towel are almost as good as a surgical mask.
https://www.researchgate.net/profile/Katy-Anne_Thompson2/publication/258525804_Testing_the_Efficacy_of_Homemade_Masks_Would_They_Protect_in_an_Influenza_Pandemic/links/53fefd8f0cf21edafd154e85/Testing-the-Efficacy-of-Homemade-Masks-Would-They-Protect-in-an-Influenza-Pandemic.pdf
This page explains why particles smaller than 0.3 microns may be easier to filter (coronavirus being about 0.125 microns in size).
https://smartairfilters.com/en/blog/what-is-pm0-3-why-important/
A number of centers have published research on the most effective fabric types, and find that densely-woven fabric or non-woven interfacing material are best
https://www.nytimes.com/article/coronavirus-homemade-mask-material-DIY-face-mask-ppe.html

Infectious Diseases Society of America Guidelines on the Treatment and Management of Patients with COVID-19
These guidelines from an authoritative professional group will be continually updated.
https://www.idsociety.org/practice-guideline/covid-19-guideline-treatment-and-management/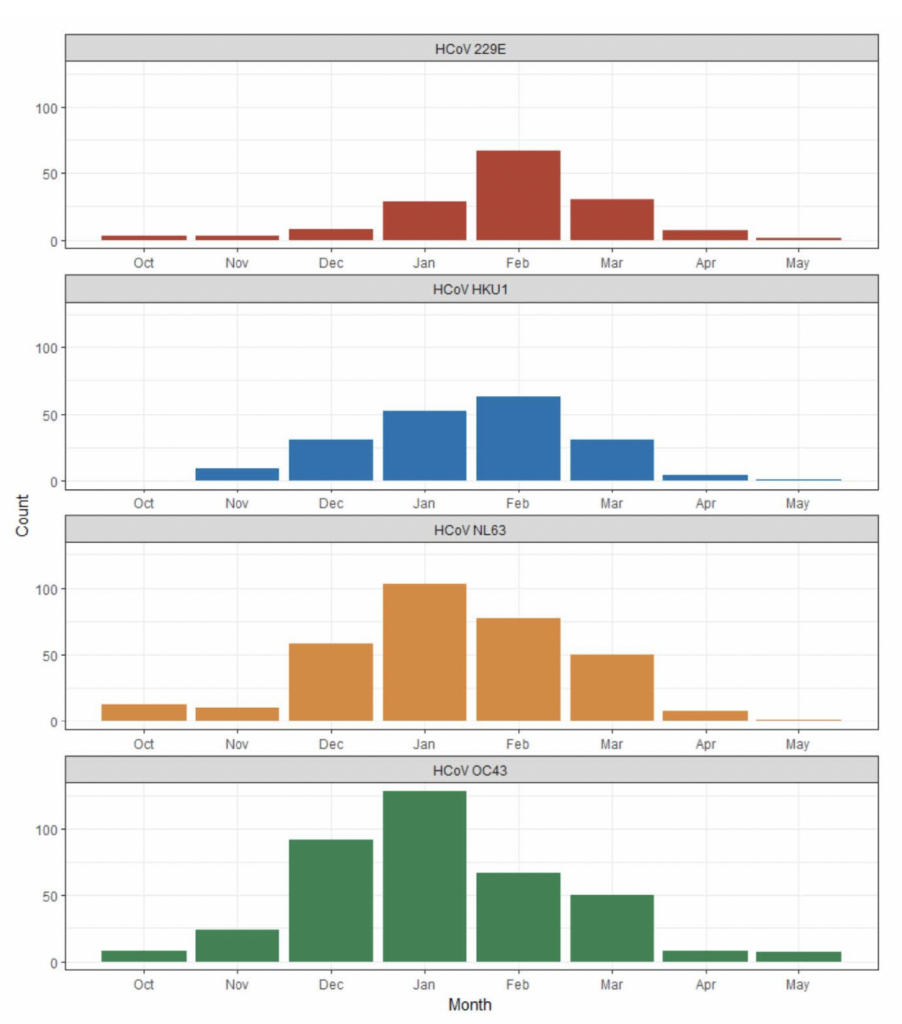 Coronavirus Seasonality
A recent study emphasizes the seasonal nature of typical coronaviruses.
https://academic.oup.com/jid/article/doi/10.1093/infdis/jiaa161/5815743
Unfortunately, the most recent research review from the National Academies Press suggests that Covid-19 will not display the same pattern.
http://nap.edu/2
Internet Book of Critical Care (IBCC): Covid-19
This is an excellent and continually updated summary of Covid-19 from the intensivist perspective, managed by Dr. Josh Farkas, MD, Associate Professor, Pulmonary and Critical Care Medicine, University of Vermont (whose PulmCrit blog is referenced in an earlier link on this page).
https://emcrit.org/ibcc/covid19/
Ongoing Clinical Trials of Interventions, by Stage of Illness
ACLP member Dr Hindi Mermelstein MD, FACLP, of the Long Island Jewish Medical Center sent us this interesting link.
https://www.biocentury.com/article/304896
Cytokine Storm and Covid-19 Infection
ACLP member Dr Avram Mack, MD, of the Children's Hospital of Philadelphia sent us these though-provoking links about cytokine release syndrome after Chimeric Antigen Receptor T-cell therapy and about the use of IL-6 blockade in Covid-19 infection.
https://www.ncbi.nlm.nih.gov/pmc/articles/PMC5452983/
https://www.ncbi.nlm.nih.gov/pmc/articles/PMC7151347/
Five Additional Cases of Guillain–Barré Syndrome Related to Covid-19 Infection
Dr Toscano and colleagues from Italy describe 5 more cases of Guillain–Barré Syndrome appearing typically 5 to 10 days after viral symptom onset, verifying that Covid-19 infection can produce autoimmune reactions in the CNS. Note that other autoimmune CNS reactions to Covid-19 infection are appearing in preliminary case reports.
https://www.nejm.org/doi/full/10.1056/NEJMc2009191
Neuropsychiatric Sequelae of Viral Infection
Drs Emily Troyer, Jordan Kohn, and Suzi Hong note that previous viral epidemics have been followed by neuropsychiatric sequelae such as insomnia, anxiety, depression, mania, psychosis, suicidality, and delirium. For example, cases of Von Economo encephalitis (encephalitis lethargica), marked by hypersomnolence and catatonia, followed the 1918 viral epidemic. These authors provide a detailed review of viral interaction with the CNS.
https://doi.org/10.1016/j.bbi.2020.04.027
No Indication ACEi or ARB Increase Risk in Covid-19 Infection
A large study with 1128 Covid-19 patients with hypertension shows decreased mortality (HR 0.37) with ACEi/ARB use. Increased risk with these agents was originally hypothesized, but now seems unlikely.
https://www.ahajournals.org/doi/abs/10.1161/CIRCRESAHA.120.317134
Large Outcome Study of Covid-19 Patients Hospitalized in New York City
Dr Safiya Richardson, MD, MPH, and others from Northwell Health, Manhasset, NY, report on 5700 patients hospitalized with Covid-19 in NYC. Of 2634 patients discharged or died, 12% were intubated, of whom 88% died (but this statistic may be misleading as it does not reflect patients still intubated at time of publication).
https://jamanetwork.com/journals/jama/fullarticle/2765184
NEJM Illustrates Proper Collection of Nasopharyngeal Samples
A video is included in:
https://www.nejm.org/doi/full/10.1056/NEJMvcm2010260?query=featured_home
The Untold Toll — The Pandemic's Effects on Patients without Covid-19
CL psychiatrists should be aware that acutely ill individuals are now avoiding the hospital due to fear of viral contagion. See this piece by Lisa Rosenbaum, MD, in JAMA.
https://www.nejm.org/doi/full/10.1056/NEJMms2009984?query=featured_home
Coagulopathy Emerges as Key Aspect of Covid-19 Pathology
Dr Klok and coworkers describe thrombotic complications in 31% of Covid-19 pneumonia admissions to 3 Dutch hospitals, including several ischemic CVA. Dr Llitjos and coworkers describe a 69% incidence of venous thromboembolic events in 2 French ICUs. A letter in the NEJM from Mount Sinai Hospital in NYC describes 5 cases in young adults of new large-vessel occlusive CVA related to Covid-19 infection.
https://www.thrombosisresearch.com/article/S0049-3848(20)30120-1/fulltext
https://onlinelibrary.wiley.com/doi/abs/10.1111/jth.14869
https://www.nejm.org/doi/full/10.1056/NEJMc2009787

High Rates of Neurological Features in Covid-19 Cases in ICU
French neurologists describe high rates of agitation, confusion, and corticospinal tract signs with enhanced tendon reflexes, ankle clonus, and bilateral extensor plantar reflexes in 58 Covid-19 ICU patients. In 13 patients with MRI imaging, leptomeningeal enhancement was noted in 8 and CVA in 3. At discharge, 15 of 45 (33%) had a dysexecutive syndrome with inattention, disorientation, or poorly organized movements in response to command.
https://www.nejm.org/doi/10.1056/NEJMc2008597
Recent Research Suggests Surgical Masks Inadequate in Clinical Contexts
Recent research raises concerns about the adequacy of protection by surgical masks, implying C-L practitioners should wear N95 gear where virus exposure is possible. Dr Fears et al show that the aerosol efficiency (plaque forming units in aerosol vs solution) of Covid-19 appears to exceed that of SARS or MERS, and also show that aerosol infectivity shows little decay over 16 hours.
https://www.medrxiv.org/content/10.1101/2020.04.13.20063784v1.full.pdf
Dr Chia et al show that airborne particles in the 1 to 4 micron range contain a significant fraction of airborne Covid-19 virus in patient rooms, with maximal levels in the first week of illness. Note that standard surgical masks are not designed to provide efficient protection from particles in this size range.
https://www.medrxiv.org/content/10.1101/2020.03.29.20046557v2.full.pdf
Dr Liu et al find low airborne virus RNA in ventilated negative-pressure patient rooms but find occasional high concentrations in unventilated patient toilet areas, crowded public hospital areas, and areas where staff removed protective gear.
https://www.nature.com/articles/s41586-020-2271-3_reference.pdf
These results are consistent with a randomized clinical trial conducted in winter 2009-10 in Beijing with healthcare workers in emergency or respiratory ward settings, excluding workers with facial hair. Upper respiratory infection rates were 7% with continuous use of N95 respirators and 17% with surgical masks.
https://www.atsjournals.org/doi/full/10.1164/rccm.201207-1164OC?url_ver=Z39.88-2003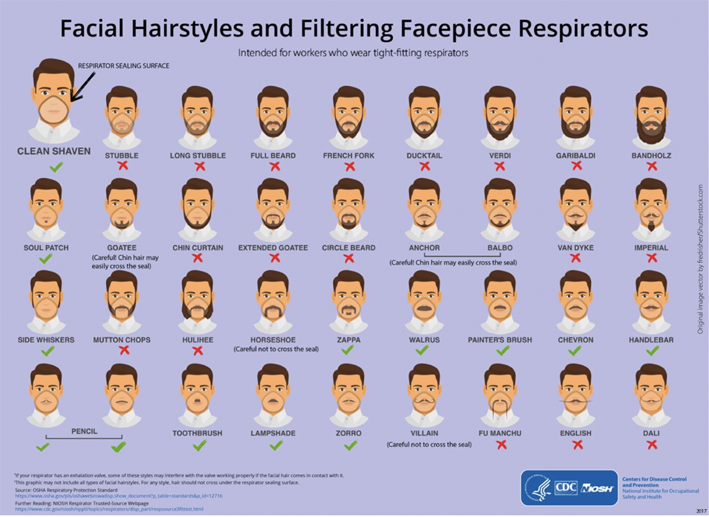 The CDC advises against facial hair in the sealing zones of respirators, a warning likely of greater relevance to psychiatrists than to members of any other medical specialty
Mixed Results in Clinical Trials with Remdesivir
Remdesivir, prodrug for an adenosine nucleoside analog which interferes with viral RNA-dependent RNA polymerase, significantly shortened time to recovery, median 11 vs 15 days, the primary endpoint in a large clinical trial with 1,063 subjects, and mortality was lower, 8.0% vs 11.6% (missing significance at p = 0.059), according to a summary announcement by the NIAID. By contrast, a clinical trial in China with 237 subjects just appearing in in The Lancetfound a non-significant improvement in time to clinical improvement, median 21.0 vs 23.0 days, and no improvement in mortality, 14% vs 13%.
https://www.niaid.nih.gov/news-events/nih-clinical-trial-shows-remdesivir-accelerates-recovery-advanced-covid-19
https://marlin-prod.literatumonline.com/pb-assets/Lancet/pdfs/S0140673620310229.pdf
Convalescent Plasma Ineffective in End-stage Covid-19 Infection
Five of 6 patients expired despite treatment with convalescent plasma at a median 21 days of infection, and the authors discuss that earlier treatment should be tried.
https://academic.oup.com/jid/advance-article-pdf/doi/10.1093/infdis/jiaa228/33146129/jiaa228.pdf
Comments about CAR-T Neurotoxicity and Covid-19 Infection
ACLP member Dr Avram Mack, MD, and his colleague, Dr Hannah-Lise Schofield, PhD, of the Children's Hospital of Philadelphia have published a letter in Psychosomatics, "Applying (or not?) CAR-T Neurotoxicity Experience to COVID19 Delirium and Agitation."
https://www.sciencedirect.com/science/article/pii/S0033318220301316
Summary Accounts of Research on Covid-19 Transmissibility
Erin S. Bromage, PhD, an animal infectious disease researcher at the Department of Biology, University of Massachusetts Dartmouth, has provided clear summaries of the literature on Covid-19 mechanism of spread, patterns of spread, and survival on surfaces (first three links). Jonathan Kay is a journalist and an editor at Quillette, a nonprofit online magazine, and his analysis of superspreader events is the fourth link (see his other blog posts too). Both authors reference the key Chinese study on transmissibility (fifth link).
https://www.erinbromage.com/post/the-risks-know-them-avoid-them
https://www.erinbromage.com/post/where-we-are-now
https://www.erinbromage.com/post/how-do-we-kill-sars-cov2-on-surfaces
https://quillette.com/2020/04/23/covid-19-superspreader-events-in-28-countries-critical-patterns-and-lessons/
https://www.nature.com/articles/s41591-020-0869-5
Early Treatment with Corticosteroids Improves Disease Course
Dr. Raef Fadel, DO, and coworkers at the Henry Ford Hospital describe improved mortality and other disease outcomes with prompt corticosteroid treatment in moderate to severe Covid-19 infection in this quasi-experimental study with 213 subjects.
https://academic.oup.com/cid/advance-article/doi/10.1093/cid/ciaa601/5840526
NEJM Video about Donning and Doffing PPE
Another well-produced video from the NEJM.
https://www.nejm.org/doi/full/10.1056/NEJMvcm2014809
New Review of Covid-19 Psychopharmacology in Psychosomatics
ACLP members Drs. Anna Kim and Carrie Ernst and others provide an analysis of psychopharmacology in the Covid-19 patient.
https://www.sciencedirect.com/science/article/pii/S0033318220301444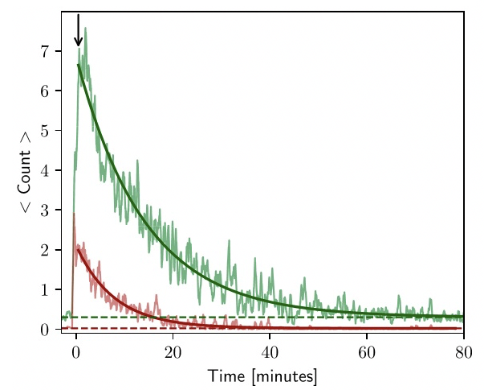 Another Worrisome Study of Aerosol Mechanisms of Infectivity
Drs. Stadnytskyi et al. estimate the half-life of airborne droplets generated by speech in stagnant air to be 8 to 14 minutes (incidentally, they believe the "th" sound particularly effective for generating such particles).
https://www.pnas.org/content/early/2020/05/12/2006874117
More on Psychiatric Sequelae of Covid-19 Infection
Chinese investigators find a 96% incidence of supra-threshold score on a post-traumatic symptom checklist in over 700 hospitalized recovering Covid-19 patients, consistent with other reports emphasizing the likely burden of symptoms in this domain in survivors.
https://www.cambridge.org/core/journals/psychological-medicine/article/posttraumatic-stress-symptoms-and-attitude-toward-crisis-mental-health-services-among-clinically-stable-patients-with-covid19-in-china/32D66826C54EB1A96C008089C0DE500E
More on Neurological Sequelae of Covid-19 Infection
Dr. Pablo Rábano-Suárez, MD, et al. describe 3 elderly patients with myclonus of the nasopharynx, face, and upper extremities, and Dr. Alireza Radmanesh, MD, et al. describe MRI features of 11 mechanically ventilated ICU patients with Covid-19 infection, with 10 having diffuse leukoencephalopathy and and 7 having juxtacortical/callosal microhemorrhages.
https://n.neurology.org/content/early/2020/05/20/WNL.0000000000009829
https://pubs.rsna.org/doi/10.1148/radiol.2020202040
Mental Status Changes in Covid-19 InfectionACLP members Erica Baller, MD, Ana Ivkovic, MD, Elizabeth Madva, MD, Mladen Nisavic, MD, Nathan Praschan, MPH, MD, Scott Beach MD, FACLP, Felicia Smith, MD, and some other physicians review the published literature and the MGH experience, describing a high incidence of delirium in Covid-19 infection. They offer a 5-step algorithm for treatment.
https://www.sciencedirect.com/science/article/pii/S0033318220301535
More Evidence for Neurological Presentations of Covid-19
In the most recent issue of the journal General Hospital Psychiatry, ACLP members Drs. Scott R. Beach, MD, FACLP, Nathan C. Praschan, MPH, MD, Flannery Merideth, MD, Nicholas Kontos, MD, FACLP, Gregory L. Fricchione, MD, FACLP, Felicia A. Smith, MD, and two other physicians present 4 cases with combinations of altered mental status, myoclonus, rigidity/cogwheeling, alogia/mutism, or abulia related to Covid-19 infection: only one had significant respiratory symptoms, and only two had fevers (which were mild and transient).
https://www.sciencedirect.com/science/article/pii/S0163834320300694
More on Treatment of Agitation in Covid Infection
ACLP members Kimberly Yonkers, MD, and Seth Powsner, MD, FACLP, and others pen a commentary on the treatment of agitation in Covid-19 infection.
https://escholarship.org/uc/item/12m0r3rp
Meta-Analysis of Corona Virus Contagion and Physical Distancing, Mask Use
Chu et al. perform a meta-analysis of 172 studies with SARS, MERS, or Covid-19 contagion, surmising a risk decrease of 82% with one-meter distance (and a two-fold decrease with each additional meter), of 96% with N95 or similar respirators, and of 77% with ordinary face masks. The results strongly argue for use of N95 masks only for all healthcare workers in risk situations.
https://www.thelancet.com/action/showPdf?pii=S0140-6736%2820%2931142-9
More Evidence for Widespread Vascular Infection in Covid-19 Disease
Varga et al. describe Covid-19 viral inclusion structures in endothelial cells, and endotheliitis in heart, lung, bowel, kidney, and lung in 3 post-mortem cases, pointing to Covid-19 endothelial infection, likely by ACE2 receptors.
https://www.thelancet.com/action/showPdf?pii=S0140-6736%2820%2930937-5
Covid-19 Infection Associated with Toxic Elevation of Serum Clozapine Levels
The authors describe three cases with marked elevations of serum clozapine level induced by Covid-19 infection and note that severe systemic inflammation can increase clozapine levels, perhaps due to cytokine-mediated inhibition of CYP1A2. Clinicians should decrease clozapine dose in patients with Covid-19 infection or consider closely monitoring drug levels.
https://www.sciencedirect.com/science/article/pii/S0033318220301791
IgM in CSF Demonstrated in Covid-19 Encephalopathy
Karima Benameur, MD, et al. describe 3 patients with Covid-19 infection, encephalopathy, myoclonus, and other neurological symptoms who were found to have viral anti-S1 IgM in CSF, consistent with brain infection, although only one patient had significantly elevated protein (>200 mg/dl) and pleiocytosis (115 nucleated cells/ml).
https://doi.org/10.3201/eid2609.202122
Social Disparities in the Impact of Covid-19
Racial, ethnic, and socioeconomic disparities are becoming dramatically obvious in the current pandemic (first link). For example, in New Haven, CT, the rate of Covid-19 infection in the poorest neighborhood area was at one point almost 50 times that in the wealthiest area. A disproportionate impact on black Americans was evident in the 1918 pandemic as well (second link).
https://jamanetwork.com/journals/jama/fullarticle/2764789
https://doi.org/10.7326/M20-2223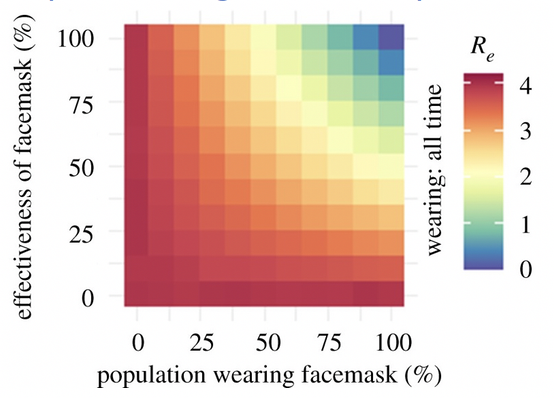 Widespread Mask Use Likely Highly Effective in Reducing Pandemic Spread
Richard O. J. H. Stutt et al. present mathematical modelling that even fabric masks could radically decrease Covid-19 spread but only if worn by a high fraction of the population for a high fraction of the time.
https://doi.org/10.1098/rspa.2020.0376
---

ORGANIZATIONAL WEBSITES
American Psychiatric Association
The APA website contains an array of useful links for practitioners, including resources related to telepsychiatry. Notable content includes links to government guidance on practice: note that Medicare and Medicaid in many states now cover telepsychiatry more fully; the Office of Civil Rights has announced that HIPAA regulations will be enforced with discretion so that providers may provide needed medical care; the DEA has suspended enforcement of the Ryan Haight Act that required in-person assessment prior to prescribing controlled substances; SAMSHA has loosened requirements for medication-assisted treatment of opioid dependence; the FDA permits use of best medical judgment with regard to REMS requirements regarding clozapine and other drugs.
APA's Telepsychiatry Toolkit
https://www.psychiatry.org/psychiatrists/practice/telepsychiatry/toolkit
American Medical Association
This site is assembled from their resources and continually updated.
A physician's guide to COVID-19.
APA Coronavirus Resources
https://www.psychiatry.org/psychiatrists/covid-19-coronavirus
Practice Guidance for COVID-19
https://www.psychiatry.org/psychiatrists/covid-19-coronavirus/practice-guidance-for-covid-19
NEJM resource page on Covid-19
https://www.nejm.org/coronavirus?query=RP
American College of Physicians Website
This is one of the most comprehensive and frequently updated sources for clinical information (along with the Covid-19 entry in Up-To-Date).
https://assets.acponline.org/coronavirus/scormcontent/
American Academy of Child and Adolescent Psychiatry
Many Coronavirus resources for working with children and adolescents are found at:
https://www.aacap.org/
---

TELEPSYCHIATRY, VIDEOCONFERENCING, AND REMOTE PATIENT CARE
How to Integrate Video Teleconferencing into Inpatient Rounds from Johns Hopkins
This video gives hints for protecting the medical team by telerounding. The use of a headstrap-mounted cell phone is particularly novel (around minute 12).
http://gme.med.jhmi.edu/administration/video1.php
Hints for Effective Use of Zoom
"Zoom hackers" have been invading teleconferences. Consider making your default settings to (1) Enable  screen sharing only for the host, who can then allow other participants to share their screen by "managing participants in a meeting" – host can put meeting participants on hold or remove them from the meeting and (2) Allow only host to use the annotation tools to add information to shared screens. Hints on managing participants are available here.
https://support.zoom.us/hc/en-us/articles/115005759423-Managing-Participants-in-a-Meeting
More hints on using Zoom:
Hints for effective use of Zoom 033120.pdf
American Association of Child and Adolescent Psychiatry Telepsychiatry Toolkit
The AACAP provides an extensive collection of resources for telepsychiatry. Please particularly see their page on "Coding for Telemedicine Services" regarding the use of the .95 modifier. https://www.aacap.org/AACAP/Clinical_Practice_Center/Business_of_Practice/Telepsychiatry/toolkit_videos.aspx
American College of Physicians Advice on Telemedicine
Two excellent pages of resources are below.
https://www.acponline.org/practice-resources/covid-19-practice-management-resources
https://assets.acponline.org/coronavirus/scormcontent/?_ga=2.20009592.1939924685.1585587134-45448268.1580931839&_gac=1.216678690.1585766323.EAIaIQobChMI04D_iPTk2gIVSFqGCh11lwA1EAAYASAAEgKoB_D_BwE&utm_campaign=FY19-20_MD_COVID-19_EML_APR29_MD9294-7&utm_medium=email&utm_source=Eloqua#/lessons/Cg0ca5BBOqa7ivpl9MD9aTLUdl3yUTQ9
American Psychiatric Association Resources for Telepsychiatry
Many resources for telepsychiatry are now covered in the APA practice pages. NOTE THAT ON MAY 1, CMS ANNOUNCED THAT PSYCHIATRIC VISITS CONDUCTED BY TELEPHONE, USING AUDIO ONLY, WOULD BE COVERED RETROACTIVE TO MARCH 1, 2020.
https://www.psychiatry.org/psychiatrists/practice/telepsychiatry/blog/apa-resources-on-telepsychiatry-and-covid-19
Telehealth in a Post-Pandemic Future: Regulatory and Privacy Issues
Carmel Shachar, JD, MPH, Jaclyn Engel, and Glyn Elwyn, MD, PhD, MSc, of Harvard Law School, Cambridge, MA, and Geisel School of Medicine at Dartmouth, Lebanon, NH, argue in this piece in JAMA that new regulatory standards should be continued after the Covid-19 crisis ends.
https://jamanetwork.com/journals/jama/fullarticle/2766369
Centers for Medicare and Medicaid Services Allows Billing for Audio-only Telehealth
CMS announced on April 30 that it would permit billing for telephone remote services (without video), retroactively effective to March 1, under Medicare. See the APA webpage for details:
www.psychiatry.org/psychiatrists/covid-19-coronavirus/practice-guidance-for-covid-19
PowerPoint about Mental Health Aspects of Covid-19
Dr Antoine Beayno, MD, of the Department of Psychiatry, American University of Beirut Medical Center, Lebanon, sends this PowerPoint titled "The Mental Health Perspective in the Current Pandemic." Submitted April 23, 2020.
Am Univ Beirut Mental Health in Pandemic 042220.pdf
Free Psychology of Happiness Course
Dr Laurie Santos, PhD, an award-winning lecturer in the Department of Psychology, Yale University, offers an 8-hour course in positive psychology and science of happiness.
https://www.coursera.org/learn/the-science-of-well-being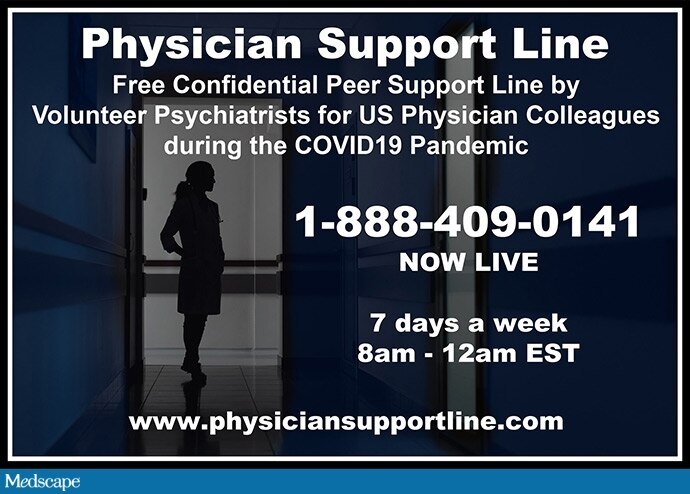 Free Physician Support Line
A team of more than 600 volunteer psychiatrists offers a free and confidential hotline for physicians on the Covid-19 frontlines. The line is at 1 (888) 409-0141 and operates 7 days a week, 8:00 am to 12:00 am EDT. The project is under the leadership of a steering committee including Mona Masood, DO, Ben Pu Cheng, MD, Allison Cotton, MD, Smita Gautam, MD, and Suzan Song, MD. According to a Medscape interview with Dr Masood, psychiatrists volunteer for 1-hour shifts, and 2 or 3 psychiatrists are available at any time.
https://www.physiciansupportline.com/
Supporting Frontline Health Care Professionals: Lessons from Wuhan Experience
In the April 17 issue of Psychiatric Times, Dr Pu Cheng, MD, describes TopGun Peer Support Wuhan, a project with a team of 45 psychiatrists and mental health professionals offering peer-to-peer support to about 300 healthcare workers in Wuhan. Team members signed up for 2-hour shifts covering a WeChat chat room (WeChat is an app widely used in China, and similar to WhatsApp). The team describes 10 stages of adaptation in healthcare workers and is producing a manual for their approach.
https://psychnews.psychiatryonline.org/doi/10.1176/appi.pn.2020.4b34
Two Suicides Reported among Medical Providers
An ED attending physician from NYC and an EMS paramedic from Minneapolis have apparently died by suicide, emphasizing the personal stress to frontline providers in the Covid-19 crisis.
https://www.nytimes.com/2020/04/27/nyregion/new-york-city-doctor-suicide-coronavirus.html
https://www.ems1.com/memorial/articles/first-responders-honor-minn-paramedic-who-died-by-suicide-aKvCIvAWTqE2kgqU/
An interesting NYT Opinion piece discusses physician perfectionism and the frustrations of the Covid-19 crisis in relation to this physician's suicide.
https://www.nytimes.com/2020/05/03/opinion/coronavirus-doctors-mental-health.html
PTSD Symptomatology Common among Healthcare Workers in Italy
PTSD symptoms were reported by 49% of Italian healthcare workers, as well as high levels of anxiety, depression, insomnia, and stress, in this preprint from Dr Rossi and colleagues, consistent with other reports suggesting a high burden of trauma will be encountered among our medical colleagues post-crisis.
https://www.medrxiv.org/content/10.1101/2020.04.16.20067801v1
Psychological Resources from the Center for the Study of Traumatic Stress
Capt Joshua C. Morganstein, MD, Center for the Study of Traumatic Stress (CSTS), Uniformed Services University School of Medicine, sends us this collection of resources.
https://www.cstsonline.org/resources/resource-master-list/coronavirus-and-emerging-infectious-disease-outbreaks-response
Dispatches from the Frontlines in The New Yorker
Dr Dhruv Khullar, MD, a hospital physician in NYC, provides 5 inspiring updates in the last month.
https://www.newyorker.com/contributors/dhruv-khullar
New York Times Article Offers Insights into Recent ED Physician Suicide
An opinion columnist at the NYT offers eloquent comments on physicians and perfectionism (the piece also notes the suicide of an EMT in NYC, bringing to three the number of known self-inflicted deaths among US healthcare workers on the Covid-19 frontlines).
https://www.nytimes.com/2020/05/03/opinion/coronavirus-doctors-mental-health.html
McSweeney's Hosts Flattened by the Curve
Healthcare worker first-person accounts are featured by this non-profit San Francisco-based online publisher.
https://www.mcsweeneys.net/columns/flattened-by-the-curve
Society of Critical Care Medicine Survey of ICU doctors, nurses, and other practitioners
A survey of over 9,000 ICU clinicians notes stress levels averaging "8" out of 10 ("3" prior to the Covid-19 crisis).
https://sccm.org/Blog/May-2020/SCCM-COVID-19-Rapid-Cycle-Survey-2-Report
Physician Burnout, Interrupted
Pamela Hartzband, MD, and Jerome Groopman, MD., offer new insights into physician morale in this exceptional NEJM Perspective.
https://www.nejm.org/doi/full/10.1056/NEJMp2003149
Boston University School of Medicine CME Webinar on Healthcare Provider Wellness
A one-hour seminar, Care for the Caregivers, Coping in a Pandemic, is available here:
https://www.bucme.org/caregivers
National Guard Front Line Service in NYC for Consultation-Liaison Psychiatrist
Dr. Zheala Qayyum, MD, describes working as an emergency room psychiatrist during National Guard duty in NYC in this moving piece.
https://www.wbur.org/cognoscenti/2020/05/21/army-reserve-pandemic-queens-new-york-zheala-qayyum
Tips for Good Sleep from Sleep Medicine Specialists
Meir Kryger, MD, and Lynelle Schneeberg, PhD, Yale School of Medicine, New Haven, CT, talk about maintaining healthy sleep and avoiding nightmares during the pandemic.
https://youtu.be/92A5n9-qVAU
New Ways of Supporting Frontline Providers
We noted above the Physician Support Line for frontline doctors. Now a variety of other resources have appeared and offer thought-provoking new approaches. The ACLP provides these links to further a discussion of how to support the mental health of medical personnel: we have no direct knowledge of the quality of any of these clinical service providers.
For the Frontlines offers support for healthcare providers by text chat: send FRONTLINE to 741741 for immediate crisis counselling in the US.
https://www.forthefrontlines.org/
Project Parachute claims to connect frontline providers to therapists in the same state who will provide at least some free care. We note that various commercial online psychotherapy entities have advertised free or reduced-rate care to frontline providers as well.
https://project-parachute.org/index.html
PeerRxMed offers to pair physicians and other providers with a "buddy."
https://www.peerrxmed.com/
Some Facebook pages appear to be oriented to providing support to frontline providers, with some examples being:
https://www.facebook.com/events/s/cor-sharing-circle-for-health-/234969314407874/
https://www.facebook.com/groups/physiciancommunity
Also worthy of mention are webpages from national medical organizations that provide a surprising diversity of resources and links:
The National Academy of Medicine
https://nam.edu/initiatives/clinician-resilience-and-well-being/
American Medical Association
https://www.ama-assn.org/delivering-care/public-health/caring-our-caregivers-during-covid-19
https://www.ama-assn.org/delivering-care/public-health/managing-mental-health-during-covid-19
American Hospital Association
https://www.aha.org/issue-landing-page/2020-03-15-coronavirus-covid-19-protecting-health-care-workers
American College of Physicians
https://assets.acponline.org/coronavirus/scormcontent/?&_ga=2.120052232.1814187500.1592342664-2143327379.1592254682#/lessons/NQE4XnNCUXt3TQ61QPi1U44knenTreu7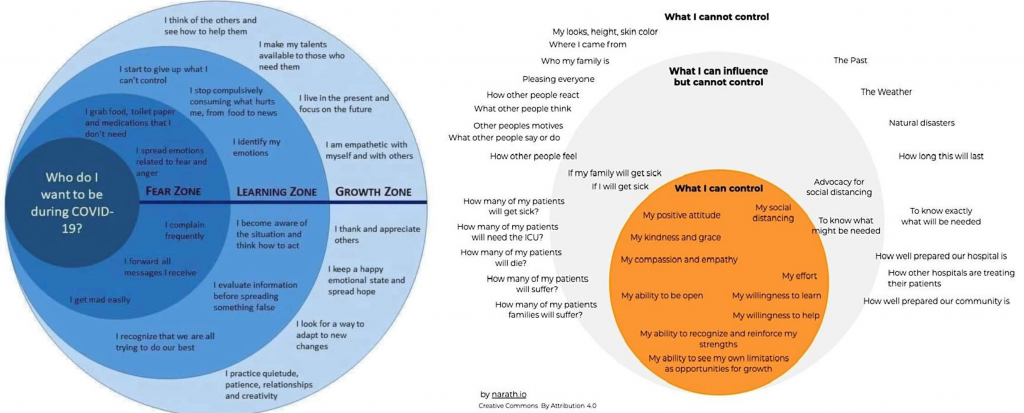 MGH Guide to Covid-19 Coping
The MGH Department of Psychiatry has put together a curated set of resources related to support and coping for patients, parents, and providers. Some resources are from that department and some are from outside. Their website is: https://www.massgeneral.org/psychiatry/guide-to-mental-health-resources/
Review of psychological responses to quarantine
This review in Lancet covers reactions to isolation interventions.
https://www.thelancet.com/action/showPdf?pii=S0140-6736%2820%2930460-8
Centre for Addiction and Mental Health Coping Resources
Another good collection of coping resources is available at:
http://www.camh.ca/en/health-info/mental-health-and-covid-19
Online Mental Health and Positive Activity Resources for Patients and Providers
The Psychology Section of the Psychological Medicine Service, Yale School of Medicine, New Haven, CT. offers this list of online free resources.
Yale Psychology – Free Mental Health and Positive Activity Resource List 041020.pdf
Emory University Covid-19-related Handouts for Diverse Patient Groups
Dr. Ann Schwartz, MD, FACLP, Department of Psychiatry and Behavioral Sciences, Emory University School of Medicine, forwards this set of 17 handouts for patients created by Caring Communities, an interprofessional group based in that department.
Tip sheets from Emory.zip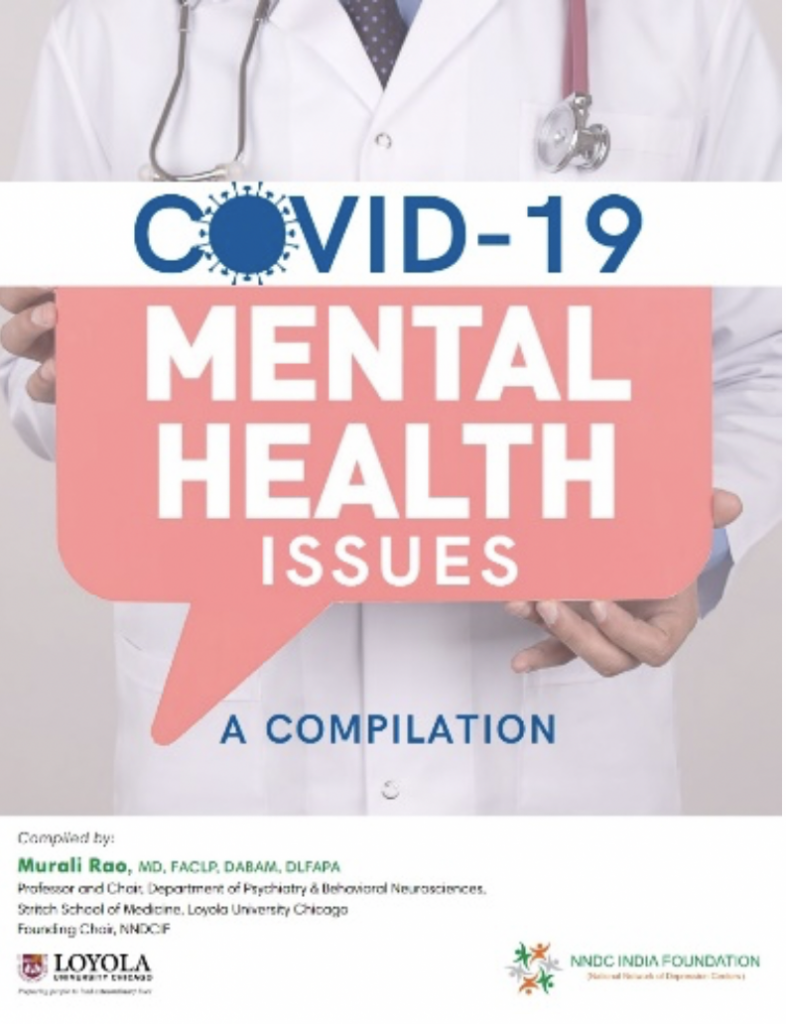 Large Compilation of Covid-19 Resources
Our member Dr Murali Rao, MD, FACLP, Department of Psychiatry & Behavioral Neurosciences, Stritch School of Medicine, Loyola University, Chicago, IL, provides an extensive, curated collection of resources. If you like the ebook, please consider a donation to the National Network of Depression Centers India Foundation to support their production of this resource, as well as their work in developing mental health resources in India and the US(www.nndcifoundation.org/donate).
NNDCIF COVID-19_MentalHealthIssues_Compilation EBOOK 042420.pdf
Projected Deaths of Despair During the Coronavirus Recession
Stephen Petterson, PhD, John M. Westfall, MD, MPH, and Benjamin F. Miller, PsyD, argue that observed relationships between unemployment and suicide / drug- and alcohol-related deaths predict 27,000 to 154,000 extra deaths from the present recession, in this report from the WellBeingTrust.org.
https://wellbeingtrust.org/wp-content/uploads/2020/05/WBT_Deaths-of-Despair_COVID-19-FINAL-FINAL.pdf
Covid-19 Anxiety Workbook
The Wellness Society offers this non-copyright resource.
The Wellness Society Coronavirus-Anxiety-Workbook 051920.pdf
Meta-analysis of Studies of Psychiatric Effects of Coronavirus Infection Published in The Lancet Psychiatry
Drs. Jonathan P Rogers et al. perform a meta-analysis of 72 studies of the acute and chronic sequelae of SARS, MERS, and Covid-19 infection: post-traumatic symptomatology was highest in prevalence among psychiatric effects, at 34%.
https://www.thelancet.com/journals/lanpsy/article/PIIS2215-0366(20)30203-0/fulltext
---

ANNNOTATED ARTICLES FROM THE ACLP: SPECIAL EDITION ON COVID 19 AND MENTAL HEALTH

Five Covid-19 Journal Articles Annotated by the ACLP Team
The ACLP provides quarterly annotations for key journal articles, and the January to March batch has just been released: https://www.clpsychiatry.org/educationcareers/annotated-abstracts/
Five Covid-19 articles are annotated here.
https://www.clpsychiatry.org/educationcareers/annotated-abstracts/2020-q1/covid/
---

SYSTEM RESPONSES AND PLANNING
SAMSHA Handbook: TAP 34:Disaster Planning Handbook for Behavioral Health Treatment Programs
This 2013 resource seems prescient.
https://store.samhsa.gov/product/TAP-34-Disaster-Planning-Handbook-for-Behavioral-Health-Treatment-Programs/SMA13-4779
Supply Chain Planning
This video explains some of the challenges in supplying PPE and other consumables.
https://vimeo.com/403449242/87fba52274
---

ETHICAL CONSIDERATIONS
Editorial from Member in Boston Globe
Dr. Rebecca Brendel, JD, MD, FACLP, and others from the Harvard Medical School Center for Bioethics have published a statement about the ethics of medical care in conditions of limited resources.
https://www.bostonglobe.com/2020/03/30/opinion/message-public-mass-doctors-nurses-ethicists-about-coronavirus/
Fair Allocation of Scarce Medical Resources in the Time of Covid-19
This article from Ezekiel J. Emanuel, MD, PhD, and colleagues on March 23, 2020, is a widely-referenced classic in the discussion of possible Covid-19 health care rationing.
https://www.nejm.org/doi/full/10.1056/NEJMsb2005114
---

EPIDEMIOLOGY
Book: Psychiatry of Pandemics: A Mental Health Response to Infection Outbreak, by Damir Huremović, MD, MPP, FACLP
Dr. Huremović is likely the only ACLP member to have edited a book on the psychiatry of infectious epidemics. This link may open a pdf of the book if activated within your institutional network.
https://link.springer.com/book/10.1007/978-3-030-15346-5
Epidemiological incidence tracking
The Financial Times provides this continuously updated resource. The first graph is from March 23, 2020, when this webpage began, and the next graph is from June 16, 2020, showing how the pandemic developed in the US and elsewhere.
https://www.ft.com/coronavirus-latest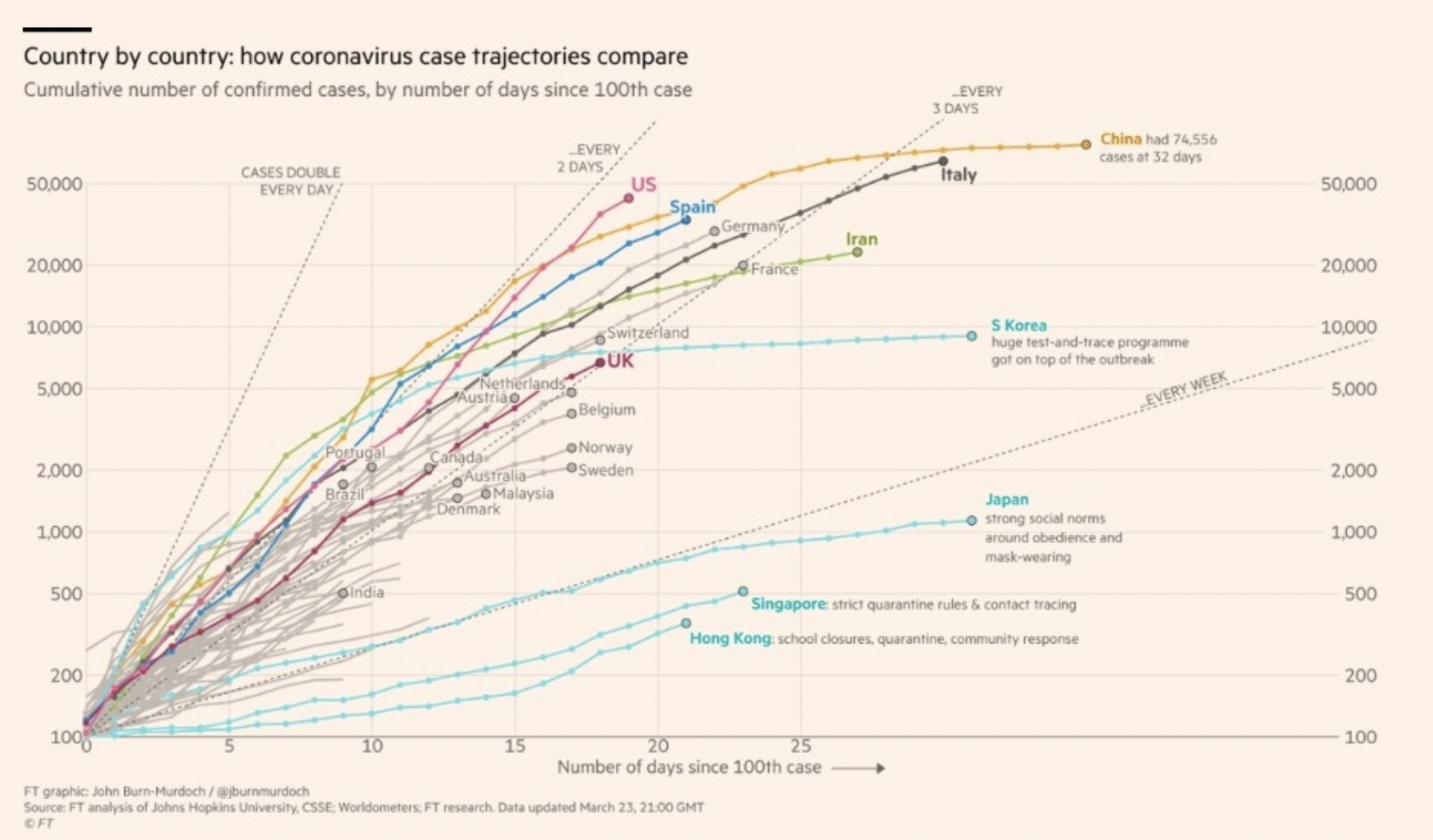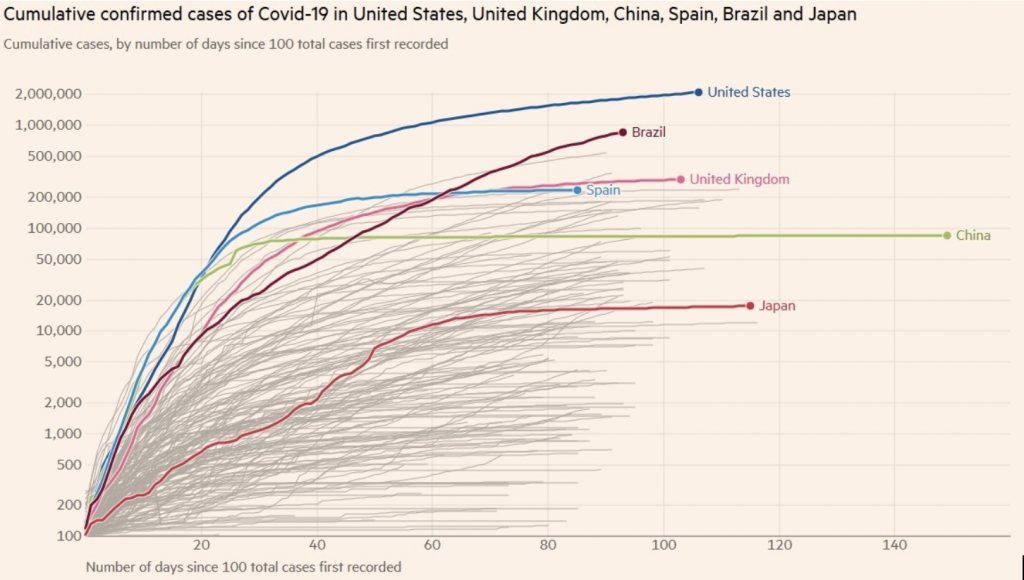 Epidemiological geographical tracking
This is from the Johns Hopkins Center for Systems Science and Engineering (CSSE), whose website also provides detailed analysis of the Covid-19 crisis.
https://www.arcgis.com/apps/opsdashboard/index.html#/bda7594740fd40299423467b48e9ecf6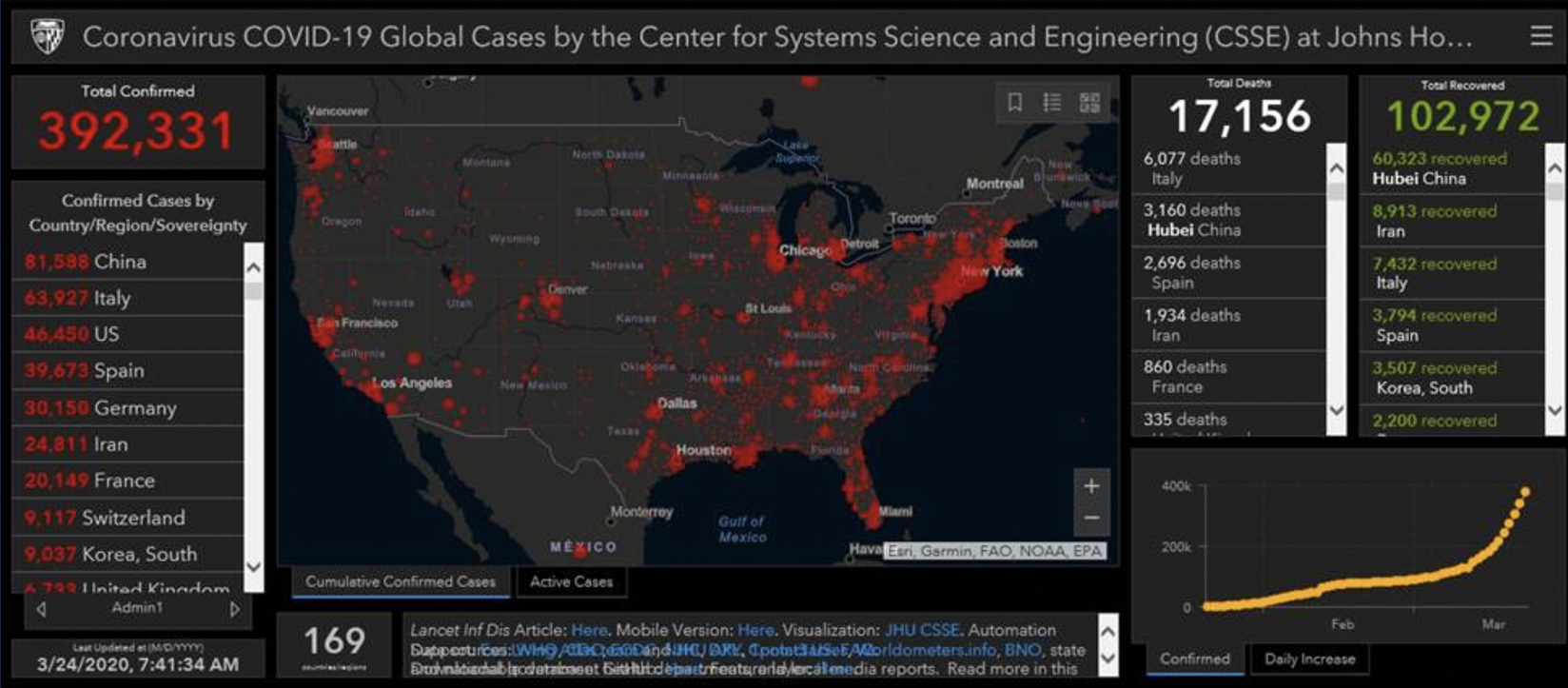 Tracking Covid-19
The Financial Times has provided useful plots of Covid-19 data. Plotting data as a function of days since threshold of case incidence per country appears to have been the idea of their analyst, John Burn-Murdoch, whose Twitter blog is excellent (https://twitter.com/jburnmurdoch). Cumulative case plots no longer appear on FT's daily update (they can be found in their Graphics section), but we suggest the following link which works best in the Chrome browser (or you can go directly to the Center for Systems Science and Engineering [CSSE] at Johns Hopkins University which is the repository for the underlying data). Updated June 15, 2020, these discouraging plots continue to show the inexorable rise in cases in the US. When normalized by total country population, the plots suggest that some European nations are leveling off at lower levels of increase than the US, but many third-world nations show explosive growth.
http://91-divoc.com/pages/covid-visualization/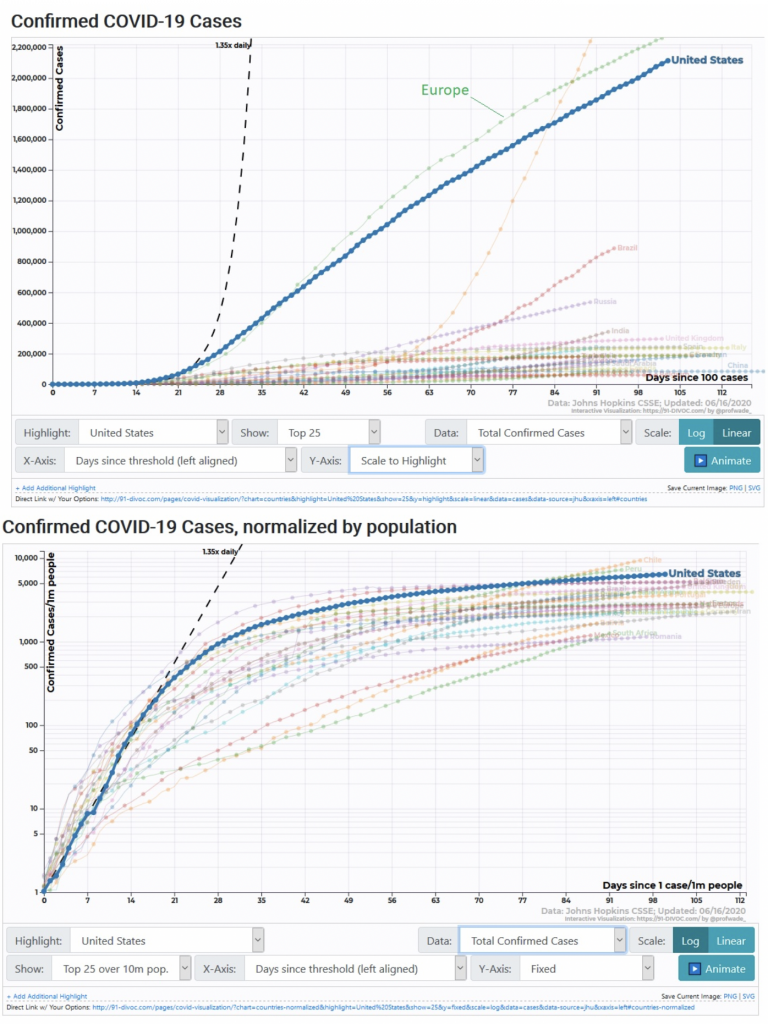 Modeling the Effect of Social Distancing
Dr Sheryl Chang and colleagues model the effect of interventions for slowing pandemic spread in Australia. Social distancing with 90% compliance (yellow solid line) or 80% compliance (orange solid line) are effective but 70% compliance is ineffective (blue solid line), while delaying 3 days reduces effectiveness (dashed lines). Ending social distancing results in rapid resumption of spread.
https://arxiv.org/pdf/2003.10218v2.pdf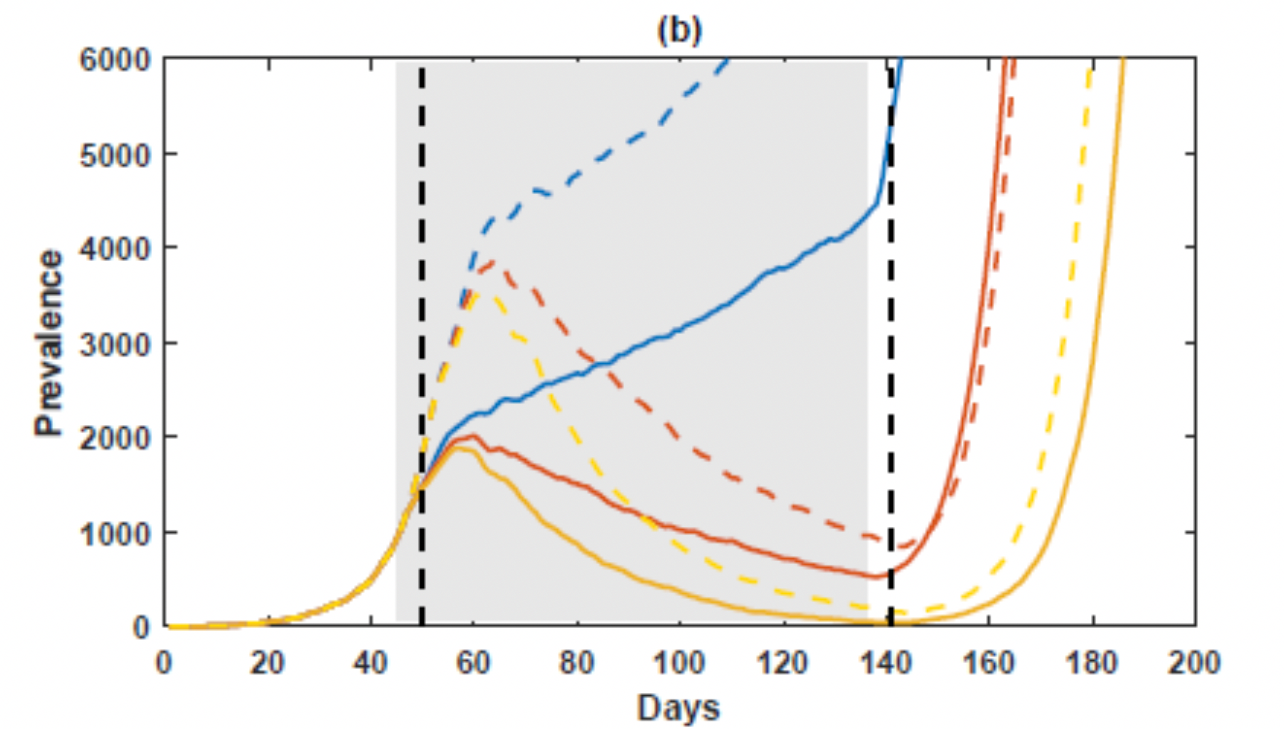 This figure from the NYT emphasizes that social distancing works, but also that most of the US is not successfully applying this strategy.
Low Prevalence of Covid-19 Infection in Iceland Population
Random nasopharyngeal swab testing discloses only 0.8% prevalence of Covid-19 in Iceland, eliminating the hypothesis that a significant fraction of the population had asymptomatic infection. This discouraging finding suggests the pandemic has far to go before population immunity occurs and epidemic spread stops. Interestingly, more men were infected than women, 0.9% vs 0.6%, for which we still have no explanation.
https://www.nejm.org/doi/10.1056/NEJMoa2006100 
CIDRAP Report Predicts 18 to 24 Months Duration for Covid-19 Crisis
A report by Dr Michael Osterholm, PhD, MPH, and colleagues from the Center for Infectious Disease Research and Policy (CIDRAP) at the University of Minnesota predicts that Covid-19 will require 18 to 24 months to reach >70% infection rates and subside, and they offer three alternative scenarios of repeated waves of infection, a large wave of infection next fall/winter followed by smaller waves, or continuing variable infection.
https://www.cidrap.umn.edu/sites/default/files/public/downloads/cidrap-covid19-viewpoint-part1_0.pdf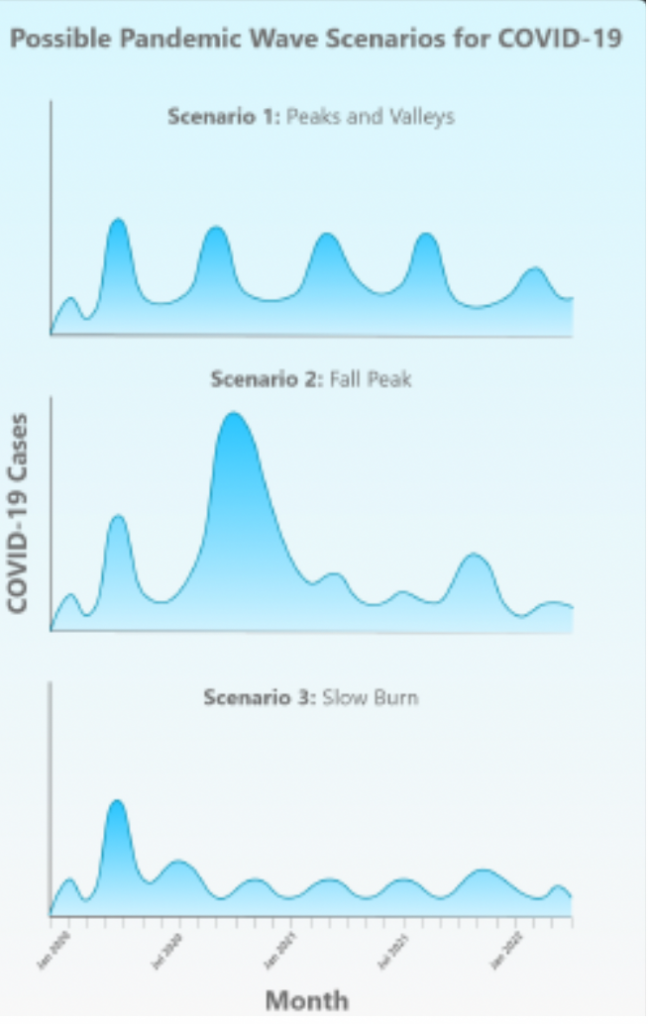 Grim Effects of Delay in Social Distancing and Other Control Measures
Drs. Sen Pei, Sasikiran Kandula, and Jeffrey Shaman model Covid-19 spread prior to May 3 and estimate that starting control measures one week earlier would have avoided 62% of cases and 55% of deaths in the US. Shown are inter-county commuting data and social distancing impact on effective reproductive number, Re.
https://www.medrxiv.org/content/10.1101/2020.05.15.20103655v1.full.pdf