PSYCHOLOGICAL REACTIONS
SECTION LINKS:
Video Conferencing Support Groups and Individual Mental Health Care for Covid-19 Clinicians
ACLP member Dr. Ramaswamy Viswanathan, MD, DMSc, FACLP, and two others discuss the use of telemedicine to support our colleagues in an upcoming Psychosomatics issue.
https://doi.org/10.1016/j.psym.2020.06.014
Thoughts about How Best to Help our Colleagues in this Crisis
Dr. Michael Blumenfeld, MD, FACLP, New York Medical College, Valhalla, NY, provides commentary about supporting medical providers on the front lines. Submitted March 26, 2020.
Podcast:   PsychiatryTalk.podbean.com
PDF:   Michael Blumenfeld on caring for colleagues in the Covid-19 crisis.pdf
Medical College of Wisconsin Mental Health Interventions for Healthcare Workers
Drs. Julie Owen, MD and Deepa Pawar, MD, MPH, Department of Psychiatry and Behavioral Medicine, Medical College of Wisconsin submit multiple resources for aid in supporting our colleagues providing crisis care. Submitted March 27, 2020.
Med Coll of Wisc Mental Health Interventions to Support Healthcare Workers 032720.pdf
Using Balint Groups to Aid Hospital Providers During the COVID-19 Outbreak
Dr. Damir Huremović, MD, MPP, FAPA, FACLP, Department of Psychiatry, North Shore University Hospital, Northwell Health, Inc., Manhasset, NY, offers thoughts on Balint groups that they are starting to use to support medical providers. Submitted March 29, 2020.
Balint groups to aid hospital providers in the COVID-19 crisis 032920.pdf
Dr. Huremović offers further thoughts about how administrative supports can decrease stress for providers. Submitted March 31, 2020.
Meta-liaison – A Cardinal Link in Preventing Provider Burnout and Psychological Trauma 033120.pdf

Support for Staff Wellbeing at the Oxford Psychological Medicine Centre
Drs. Michael Sharpe, MD, and Simon Prangnell, PhD, Oxford University Hospitals, Oxford, UK, describe a three-tier model of support for medical colleagues. Submitted April 15, 2020.
Psychological Medicine Strategy for staff care 041520.pdf
Debriefing Guide
Tanya Murtha, MD, MPH, and Andrea Asnes, MD, MSW, Department of Pediatrics, Yale School of Medicine, New Haven, CT provide a simple outline for debriefing medical teams. This is a straightforward and practical approach to conducting such sessions. Submitted April 16, 2020.
Yale Sch of Med COVID-19 Debriefing Guide 041620.pdf
Project ECHO Ontario Coping with COVID-19 (ECHO-CWC)
Dr. Sanjeev Sockalingam, MD, FRCPC, FACLP, of the Centre for Addiction and Mental Health, Toronto, Canada, describes an innovative telementoring approach to providing education and support to healthcare workers and trainees in Ontario. Also included is a description of online resources for healthcare workers.
CAMH ECHO Ontario Coping with COVID-19 042120.pdf
CAMH Online Resources 042120.pdf
Learning from the Chinese Experience
Two studies, from Dr Zhang and coworkers and from Dr Lai and coworkers in Wuhan, emphasize the severity of psychiatric symptoms among Chinese healthcare workers on the front lines.
https://doi.org/10.1159/000507639
https://jamanetwork.com/journals/jamanetworkopen/fullarticle/2763229
Dr Töres Theorell, MD, PhD, Department of International Health, Karolinska Institutet, Stockholm, Sweden, writes a useful editorial about the importance of optimizing work and life conditions for healthcare workers, referencing the work of Dr Cao and colleagues available at the second link below.
https://doi.org/10.1159/000507765
https://doi.org/10.1159/000507453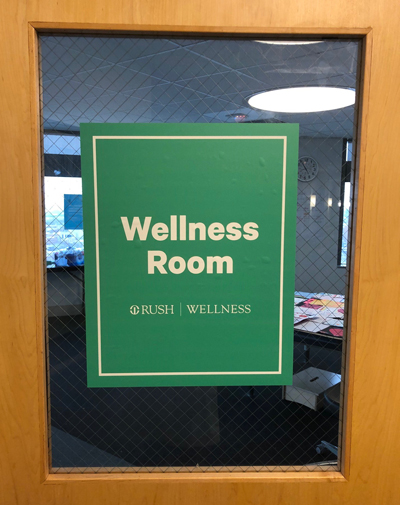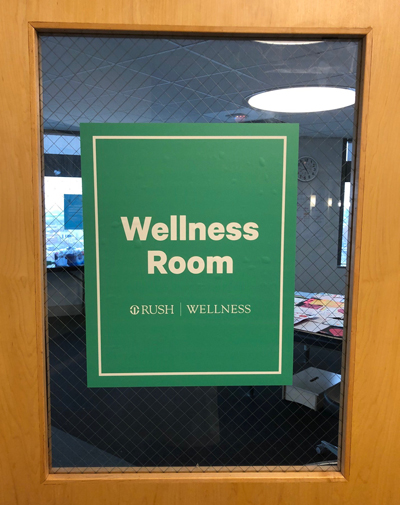 "Wellness Rounds" as a Platform to Support Staff Well-being during COVID-19
Dr. Charles Hebert, MD, and Ms. Kathryn Perticone, APRN, MSW, of Rush University Medical Center in Chicago, IL, provide an account of an innovative and comprehensive approach to staff wellness at their medical center. A copy of their flier is also included. Submitted April 12, 2020.
Rush University Medical Center Wellness Rounds 041220.pdf
Rush University Medical Center Wellness Self Care Guide 041220.pdf
More on Psychological First Aid from the University of Washington
Michele Bedard-Gilligan, PhD, MS, Emily Dworkin, PhD, and Kristen Lindgren, PhD, of the Department of Psychiatry & Behavioral Sciences, Trauma Recovery Innovations, University of Washington, provide a guide to Psychological First Aid for improving resilience among healthcare workers, as well as a summary tip sheet. Submitted April 13, 2020.
Univ of Washington Webinar_Increasing-Resiliency-of-Healthcare-Workers 041320.pdf
Univ of Washington Psychological-First-Aid-Cheat-Sheet 041320.pdf
Disaster Psychology for the COVID-19 Crisis
ACLP member George S. Everly, Jr., PhD, FACLP, of The Johns Hopkins Bloomberg School of Public Health, offers a comment about disaster psychology and also some related resources. Submitted May 9, 2020.
Johns Hopkins Everly Opinion 050920.pdf
Johns Hopkins Everly Pandemic Resources 050920.pdf
MUSC Program for Healthcare Provider Wellness
Dr. Edward M. Kantor, MD, and his colleagues at the Department of Psychiatry and Behavioral Sciences, Medical University of South Carolina, Charleston, SC, send this comprehensive resilience program for healthcare providers at their institution. Submitted May 13, 2020.
MUSC Covid-19 Resiliency Program Overview 051320.pdf
Psychological First Aid Research Update
ACLP member George S. Everly, Jr., PhD, FACLP, of The Johns Hopkins Bloomberg School of Public Health, offers an update about research in Psychological First Aid. Submitted June 1, 2020.
Johns Hopkins Everly Psychological First Aid Research 060120.pdf
---

SUPPORT FOR MEDICAL PROVIDERS – LINKS
PowerPoint about Mental Health Aspects of COVID-19
Dr Antoine Beayno, MD, of the Department of Psychiatry, American University of Beirut Medical Center, Lebanon, sends this PowerPoint titled "The Mental Health Perspective in the Current Pandemic." Submitted April 23, 2020.
Am Univ Beirut Mental Health in Pandemic 042220.pdf
Free Psychology of Happiness Course
Dr Laurie Santos, PhD, an award-winning lecturer in the Department of Psychology, Yale University, offers an 8-hour course in positive psychology and science of happiness.
https://www.coursera.org/learn/the-science-of-well-being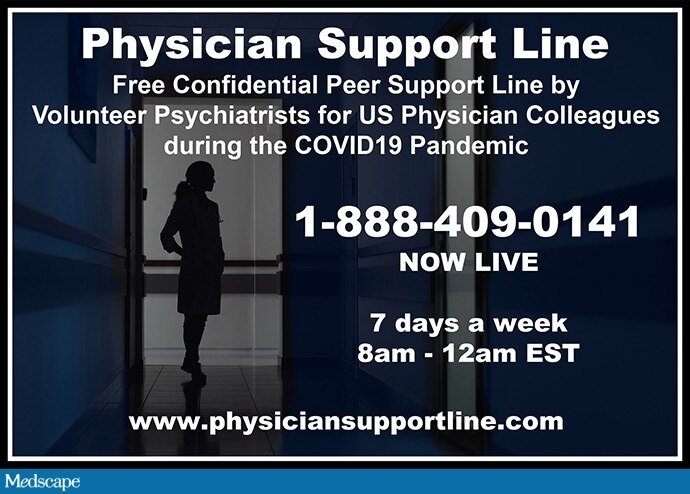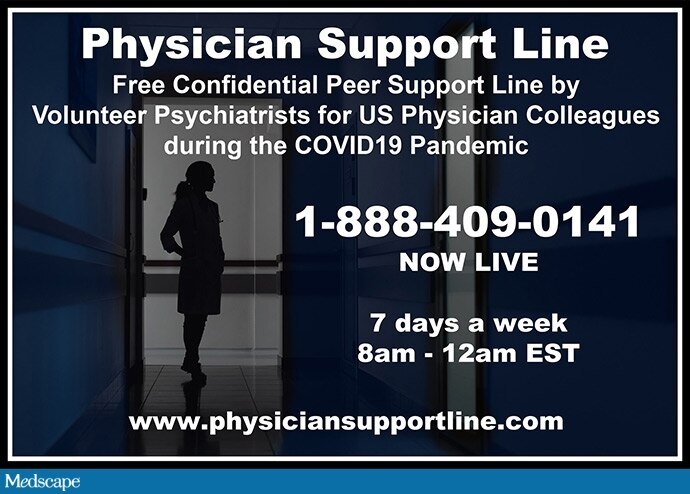 Free Physician Support Line
A team of more than 600 volunteer psychiatrists offers a free and confidential hotline for physicians on the COVID-19 frontlines. The line is at 1 (888) 409-0141 and operates 7 days a week, 8:00 am to 12:00 am EDT. The project is under the leadership of a steering committee including Mona Masood, DO, Ben Pu Cheng, MD, Allison Cotton, MD, Smita Gautam, MD, and Suzan Song, MD. According to a Medscape interview with Dr Masood, psychiatrists volunteer for 1-hour shifts, and 2 or 3 psychiatrists are available at any time.
https://www.physiciansupportline.com/
Supporting Frontline Health Care Professionals: Lessons from Wuhan Experience
In the April 17 issue of Psychiatric Times, Dr Pu Cheng, MD, describes TopGun Peer Support Wuhan, a project with a team of 45 psychiatrists and mental health professionals offering peer-to-peer support to about 300 healthcare workers in Wuhan. Team members signed up for 2-hour shifts covering a WeChat chat room (WeChat is an app widely used in China, and similar to WhatsApp). The team describes 10 stages of adaptation in healthcare workers and is producing a manual for their approach.
https://psychnews.psychiatryonline.org/doi/10.1176/appi.pn.2020.4b34
Two Suicides Reported among Medical Providers
An ED attending physician from NYC and an EMS paramedic from Minneapolis have apparently died by suicide, emphasizing the personal stress to frontline providers in the COVID-19 crisis.
https://www.nytimes.com/2020/04/27/nyregion/new-york-city-doctor-suicide-coronavirus.html
https://www.ems1.com/memorial/articles/first-responders-honor-minn-paramedic-who-died-by-suicide-aKvCIvAWTqE2kgqU/
An interesting NYT Opinion piece discusses physician perfectionism and the frustrations of the COVID-19 crisis in relation to this physician's suicide.
https://www.nytimes.com/2020/05/03/opinion/coronavirus-doctors-mental-health.html
PTSD Symptomatology Common among Healthcare Workers in Italy
PTSD symptoms were reported by 49% of Italian healthcare workers, as well as high levels of anxiety, depression, insomnia, and stress, in this preprint from Dr Rossi and colleagues, consistent with other reports suggesting a high burden of trauma will be encountered among our medical colleagues post-crisis.
https://www.medrxiv.org/content/10.1101/2020.04.16.20067801v1
Psychological Resources from the Center for the Study of Traumatic Stress
Capt Joshua C. Morganstein, MD, Center for the Study of Traumatic Stress (CSTS), Uniformed Services University School of Medicine, sends us this collection of resources.
https://www.cstsonline.org/resources/resource-master-list/coronavirus-and-emerging-infectious-disease-outbreaks-response
Dispatches from the Frontlines in The New Yorker
Dr Dhruv Khullar, MD, a hospital physician in NYC, provides 5 inspiring updates in the last month.
https://www.newyorker.com/contributors/dhruv-khullar
New York Times Article Offers Insights into Recent ED Physician Suicide
An opinion columnist at the NYT offers eloquent comments on physicians and perfectionism (the piece also notes the suicide of an EMT in NYC, bringing to three the number of known self-inflicted deaths among US healthcare workers on the COVID-19 frontlines).
https://www.nytimes.com/2020/05/03/opinion/coronavirus-doctors-mental-health.html
McSweeney's Hosts Flattened by the Curve
Healthcare worker first-person accounts are featured by this non-profit San Francisco-based online publisher.
https://www.mcsweeneys.net/columns/flattened-by-the-curve
Society of Critical Care Medicine Survey of ICU doctors, nurses, and other practitioners
A survey of over 9,000 ICU clinicians notes stress levels averaging "8" out of 10 ("3" prior to the Covid-19 crisis).
https://sccm.org/Blog/May-2020/SCCM-COVID-19-Rapid-Cycle-Survey-2-Report
Physician Burnout, Interrupted
Pamela Hartzband, MD, and Jerome Groopman, MD., offer new insights into physician morale in this exceptional NEJM Perspective.
https://www.nejm.org/doi/full/10.1056/NEJMp2003149
Boston University School of Medicine CME Webinar on Healthcare Provider Wellness
A one-hour seminar, Care for the Caregivers, Coping in a Pandemic, is available here:
https://www.bucme.org/caregivers
National Guard Front Line Service in NYC for Consultation-Liaison Psychiatrist
Dr. Zheala Qayyum, MD, describes working as an emergency room psychiatrist during National Guard duty in NYC in this moving piece.
https://www.wbur.org/cognoscenti/2020/05/21/army-reserve-pandemic-queens-new-york-zheala-qayyum
Tips for Good Sleep from Sleep Medicine Specialists
Meir Kryger, MD, and Lynelle Schneeberg, PhD, Yale School of Medicine, New Haven, CT, talk about maintaining healthy sleep and avoiding nightmares during the pandemic.
https://youtu.be/92A5n9-qVAU
New Ways of Supporting Frontline Providers
We noted above the Physician Support Line for frontline doctors. Now a variety of other resources have appeared and offer thought-provoking new approaches. The ACLP provides these links to further a discussion of how to support the mental health of medical personnel: we have no direct knowledge of the quality of any of these clinical service providers.
For the Frontlines offers support for healthcare providers by text chat: send FRONTLINE to 741741 for immediate crisis counselling in the US.
https://www.forthefrontlines.org/
Project Parachute claims to connect frontline providers to therapists in the same state who will provide at least some free care. We note that various commercial online psychotherapy entities have advertised free or reduced-rate care to frontline providers as well.
https://project-parachute.org/index.html
PeerRxMed offers to pair physicians and other providers with a "buddy."
https://www.peerrxmed.com/
Some Facebook pages appear to be oriented to providing support to frontline providers, with some examples being:
https://www.facebook.com/events/s/cor-sharing-circle-for-health-/234969314407874/
https://www.facebook.com/groups/physiciancommunity
Also worthy of mention are webpages from national medical organizations that provide a surprising diversity of resources and links:
The National Academy of Medicine
https://nam.edu/initiatives/clinician-resilience-and-well-being/
American Medical Association
https://www.ama-assn.org/delivering-care/public-health/caring-our-caregivers-during-covid-19
https://www.ama-assn.org/delivering-care/public-health/managing-mental-health-during-covid-19
American Hospital Association
https://www.aha.org/issue-landing-page/2020-03-15-coronavirus-covid-19-protecting-health-care-workers
American College of Physicians
https://assets.acponline.org/coronavirus/scormcontent/?&_ga=2.120052232.1814187500.1592342664-2143327379.1592254682#/lessons/NQE4XnNCUXt3TQ61QPi1U44knenTreu7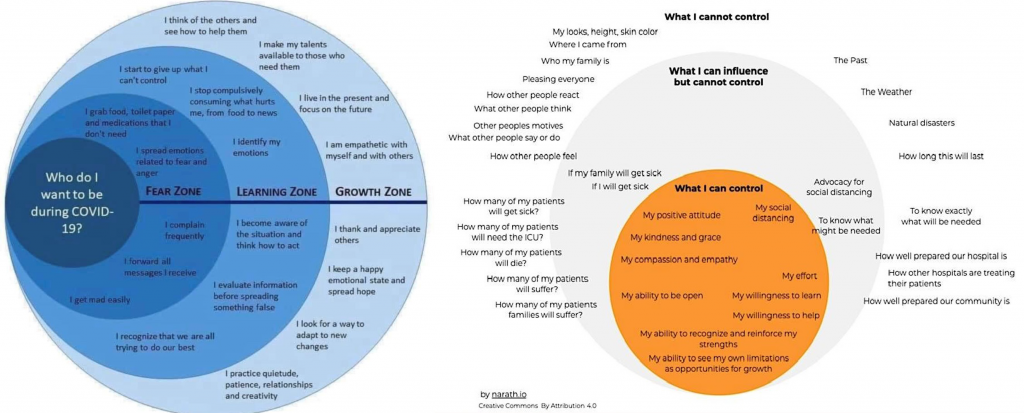 Incidents Emphasize the Importance of Social Distancing for Providers
At least 17 residents and a fellow were infected at a party in Florida.
https://www.wuft.org/news/2020/07/27/seventeen-anesthesiologist-residents-fellow-at-university-hospital-system-contract-virus-after-private-party/
Twenty-three employees and 13 patients at a Massachusetts hospital test positive after an employee traveled to a hotspot area.
https://www.bostonherald.com/2020/07/27/coronavirus-cluster-at-massachusetts-hospital-23-employees-13-patients-infected/
---

PATIENT COMMUNICATION AND PALLIATIVE CARE

Yale New Haven Health Goals of Care Scripts in the COVID-19 Crisis
Drs. Rebecca Spear, DO, Auguste Fortin IV, MD, MPH, Laura J. Morrison, MD, Yale New Haven Hospital, New Haven, CT, provides this set of 5 scripts for goals of care discussions, and 3 related documents. Submitted April 14, 2020.
Yale New Haven Health Goals of care scripts 041420.pdf
VITALtalk Guide to Talking with Patients about COVID-19
This is a useful guide for discussions with patients: may be particularly useful to pass on to the medical providers with whom you are working. This group provides useful resources for physician communication: while you are on the website check resources about breaking bad news or end-of-life discussions.
https://www.vitaltalk.org/guides/covid-19-communication-skills/

A pdf version is here:
https://www.vitaltalk.org/wp-content/uploads/COVID-Guide-English-1.pdf
Hospital Policy for Allocation of Scarce Resources from the University of Pittsburgh
This policy may be of use to hospitals developing ICU policies. Unfortunately, rationing of healthcare resources may become essential in some contexts. Having clear guidelines will be critical and lower the burden of such decision-making for frontline clinicians.
https://ccm.pitt.edu/node/1107
Not Dying Alone — Modern Compassionate Care in the COVID-19 Pandemic
Drs. Glenn Wakam, MD, John Montgomery, MD, Ben Biesterveld, MD, and Craig Brown, MD, author this striking Perspective in the NEJM.
https://www.nejm.org/doi/10.1056/NEJMp2007781
FamilyConnect: An Intervention to Improve Communication with Families
Yale New Haven Hospital prohibits physicians of age 65 or greater from direct patient contact in the current pandemic, and will use such staff to aid communication with families and to support busy front line providers. See also the Report from Madrid, Spain from Dr Arango, who notes the CL psychiatrists have taken on a critical role in family communication at his hospital.
Yale New Haven Hosp Family Connect program 042620.pdf
---

MGH Guide to COVID-19 Coping
The MGH Department of Psychiatry has put together a curated set of resources related to support and coping for patients, parents, and providers. Some resources are from that department and some are from outside. Their website is: https://www.massgeneral.org/psychiatry/guide-to-mental-health-resources/
Review of psychological responses to quarantine
This review in Lancet covers reactions to isolation interventions.
https://www.thelancet.com/action/showPdf?pii=S0140-6736%2820%2930460-8
Centre for Addiction and Mental Health Coping Resources
Another good collection of coping resources is available at:
http://www.camh.ca/en/health-info/mental-health-and-covid-19
Online Mental Health and Positive Activity Resources for Patients and Providers
The Psychology Section of the Psychological Medicine Service, Yale School of Medicine, New Haven, CT. offers this list of online free resources.
Yale Psychology – Free Mental Health and Positive Activity Resource List 041020.pdf
Emory University COVID-19-related Handouts for Diverse Patient Groups
Dr. Ann Schwartz, MD, FACLP, Department of Psychiatry and Behavioral Sciences, Emory University School of Medicine, forwards this set of 17 handouts for patients created by Caring Communities, an interprofessional group based in that department.
Tip sheets from Emory.zip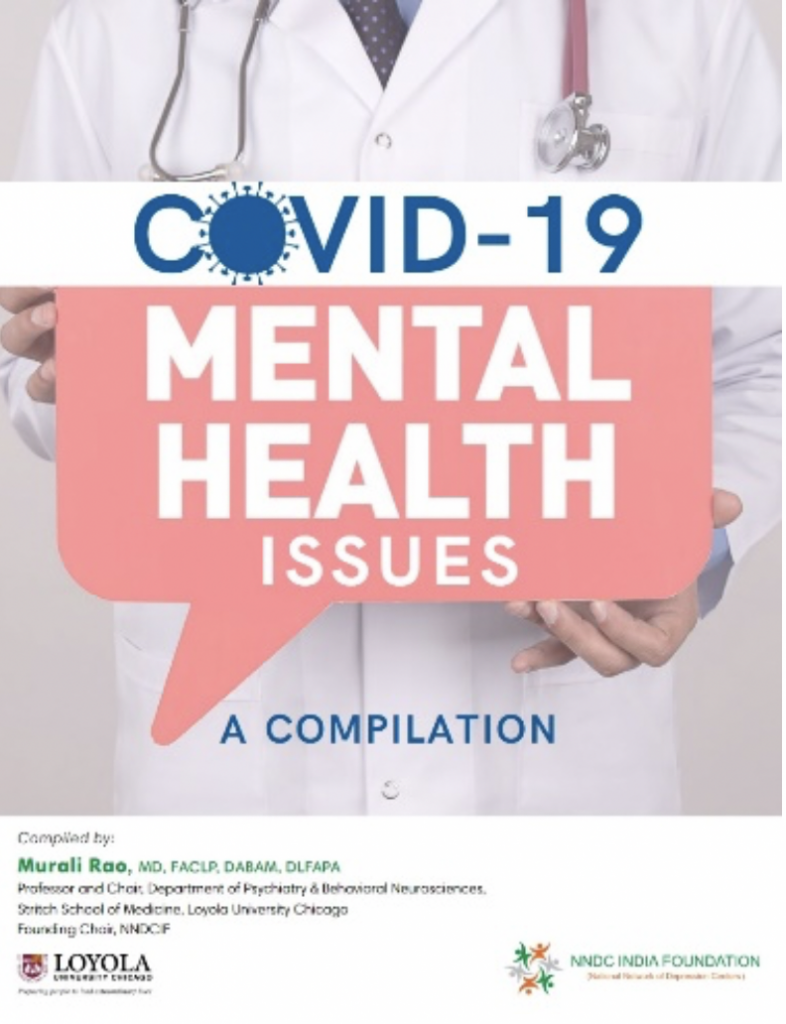 Large Compilation of COVID-19 Resources
Our member Dr Murali Rao, MD, FACLP, Department of Psychiatry & Behavioral Neurosciences, Stritch School of Medicine, Loyola University, Chicago, IL, provides an extensive, curated collection of resources. If you like the ebook, please consider a donation to the National Network of Depression Centers India Foundation to support their production of this resource, as well as their work in developing mental health resources in India and the US(www.nndcifoundation.org/donate).
NNDCIF COVID-19_MentalHealthIssues_Compilation EBOOK 042420.pdf
Projected Deaths of Despair During the Coronavirus Recession
Stephen Petterson, PhD, John M. Westfall, MD, MPH, and Benjamin F. Miller, PsyD, argue that observed relationships between unemployment and suicide / drug- and alcohol-related deaths predict 27,000 to 154,000 extra deaths from the present recession, in this report from the WellBeingTrust.org.
https://wellbeingtrust.org/wp-content/uploads/2020/05/WBT_Deaths-of-Despair_COVID-19-FINAL-FINAL.pdf
COVID-19 Anxiety Workbook
The Wellness Society offers this non-copyright resource.
The Wellness Society Coronavirus-Anxiety-Workbook 051920.pdf
Meta-analysis of Studies of Psychiatric Effects of Coronavirus Infection Published in The Lancet Psychiatry
Drs. Jonathan P Rogers et al. perform a meta-analysis of 72 studies of the acute and chronic sequelae of SARS, MERS, and COVID-19 infection: post-traumatic symptomatology was highest in prevalence among psychiatric effects, at 34%.
https://www.thelancet.com/journals/lanpsy/article/PIIS2215-0366(20)30203-0/fulltext
The Untold Toll — The Pandemic's Effects on Patients without Covid-19
CL psychiatrists should be aware that acutely ill individuals are now avoiding the hospital due to fear of viral contagion. See this piece by Lisa Rosenbaum, MD, in JAMA.
https://www.nejm.org/doi/full/10.1056/NEJMms2009984?query=featured_home
Involuntary Containment for Persons with Severe Psychiatric Impairment and COVID-19
Dr. Carmen Black Parker MD, and five other non-ACLP members discuss commitment and Covid-19 issues in this upcoming paper in Psychosomatics.
https://doi.org/10.1016/j.psym.2020.06.010
Capacity and the COVID Surge
ACLP member Dr. J.J. Rasimas, MD, PhD, FACLP, argues that consults for capacity in obviously impaired patients may be meaningful and not necessarily inappropriate.
https://doi.org/10.1016/j.psym.2020.06.023