IN THIS ISSUE: Hackett Memorial Award | Membership Expansion | Plenary | Posters | A&E Abstracts | President's Update

Posters Contribute to Knowledge Base of C-L Psychiatry
'Clinical innovations are a key part of the poster session'
This year's list of posters accepted for presentation at CLP 2022 exceeds 200. They are divided into 26 tracks. Here, and in the next issue of ACLP News, we select just a few examples of what's on offer to annual meeting attendees. They have been chosen at random from the top-scoring posters in their tracks. Chair of the Oral Papers & Posters Subcommittee, Michael Marcangelo, MD, FACLP, adds a commentary to each.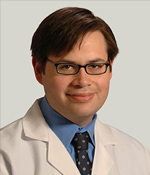 COLLABORATIVE CARE
There's No Place Like Home: A Multidisciplinary Approach to Holistically Manage Addiction and Intravenous Drug Use Related Infections Requiring Intravenous Antibiotics

Lead presenter: Alisha Agrawai, MD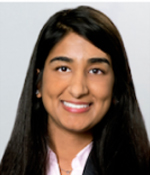 The opioid epidemic has resulted in increasing intravenous drug use (IVDU) related infections. Patients who inject substances intravenously have traditionally been excluded from outpatient IV antibiotic therapy programs due to safety concerns leading to prolonged hospitalizations, Against Medical Advice (AMA) discharges, and readmissions.
This study looks at outcomes from the implementation of a multidisciplinary team at Dartmouth-Hitchcock Medical Center for patients admitted with IVDU-related infections requiring long-term IV antibiotic therapy.
The results demonstrate that addiction was addressed in a higher percentage of admissions after multidisciplinary intervention was implemented. Although there was no difference in AMA discharge rates, and there was an increase in readmission rates post-intervention, results show that more patients were discharged on outpatient IV antibiotic therapy with an overall decrease in average length of stay.
"These findings are promising given that we know starting buprenorphine in-hospital and linking patients to outpatient MOUD [Medications for Opium Use Disorder] is more effective at retaining patients in treatment than compared to detoxification and referral," say the presenters. "In addition, by safely increasing access to OPAT [Outpatient Parenteral Antimicrobial Therapy] for patients with IVDU, we can decrease lengths of hospital stay and, in turn, allow patients to return to their lives, reducing both institutional and patient costs."
Dr. Marcangelo: "Managing opioid use disorder in the context of the worsening opioid crisis is becoming a larger and larger part of the work of inpatient C-L psychiatrists. This poster will provide evidence that a multidisciplinary approach can improve certain outcomes and give meeting attendees a roadmap to thinking about how to construct or modify their own service. Clinical innovations are a key part of the poster session and this is an example of the kind of work that will be showcased this year."
DIVERSITY, EQUITY, AND INCLUSION
Hormone Therapy in Gender Dysphoria with Concurrent Mental Health Diagnoses: National Data
Lead presenter: Mckenzee Chiam, BS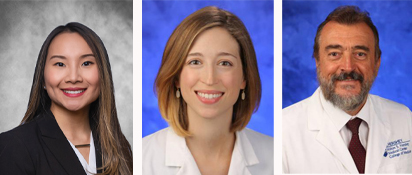 The three authors of this paper are (from left): Mckenzee Chiam, BS; Katharine Dalke, MD, MBE; and Andrew Francis, MD, PhD.
The prevalence of patients identifying as transgender is increasing. Transgender populations have increased rates of psychiatric diagnoses, but gender-affirming hormonal therapy (HT) can improve their mental health and quality of life.
This study investigated psychiatric comorbidities in gender dysphoria (GD) and the association of HT and GD across age and lifetime rates of psychiatric diagnoses.
Data indicates a minority of patients (10-20%) with GD receive HT. Overall, GD patients with most of the queried lifetime psychiatric comorbidities show similar overall rates of HT, except for those aged <18 with bipolar disorder. Some psychiatric comorbidities affect use or access to HT among younger GD patients.
Dr. Marcangelo: "This abstract utilizes a national database to increase knowledge of the prevalence of hormone therapy in people with gender dysphoria and how it relates to psychiatric conditions. One key finding is the overall high prevalence of psychiatric disorders among people with gender dysphoria. Given other work that has shown benefit for psychiatric conditions in people with gender dysphoria who receive hormone therapy, this poster highlights the disparities that exist for people seeking treatment and how that represents a missed opportunity to address psychiatric comorbidities."
NEUROCOGNITIVE DISORDERS, DELIRIUM, AND NEUROPSYCHIATRY
A Case of Disseminated Near Histoplasmosis presenting with Rapidly Progressive Cognitive Impairment: Case Report and Review of Psychiatric Symptoms in Fungal Infections
Lead presenter: Andrew Coulter, MS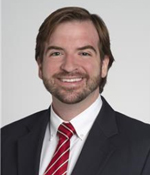 Disseminated histoplasmosis is a rare complication of exposure to H. capsulatum, a common fungus endemic to the Midwestern states. Most patients who develop disseminated histoplasmosis are immunosuppressed, but there are several reports where the condition has developed in immunocompetent individuals. Patients may present with fever, fatigue, falls, cerebellar signs, confusion, or encephalopathy, among other physical signs.
"Given the variety of seemingly unrelated and diffuse symptoms, it often is misdiagnosed and treatment is delayed," say the presenters, who give a case history example.
"Fungal infections can present insidiously and initial symptoms can be nonspecific. Patients with new onset psychiatric syndromes, as well as illness progressions that do not match known phenomenology, should be evaluated for occult infection. In addition, patients with emotional or cognitive symptoms with new-onset neurological symptoms should receive further evaluation."
Collaboration with infectious diseases is recommended given their expertise in determining risk of exposure, appropriate testing, and management. "C-L psychiatrists should thoroughly evaluate cases of new-onset psychiatric syndromes for reversible causes, including fungal infection, even in immunocompetent individuals," say the presenters.
Dr. Marcangelo: "Case reports provide key information about rare or unusual presentations and the annual poster session is a great opportunity for attendees to discuss diagnostic approaches and management. This case, of a patient with rapid cognitive decline who is found to have disseminated histoplasmosis, describes the clinical course and management clearly. One of the key roles of C-L psychiatrists is to recognize medical conditions presenting with behavioral symptoms and this case is an excellent example."
PSYCHO-ONCOLOGY
Treatment Options for Catatonia in Cancer: Case Series and Literature Review
Lead presenter: Elizabeth Hale, MD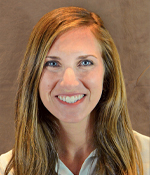 Catatonia is a syndrome of neuropsychiatric symptoms seen in mood and psychotic disorders, as well as medically complex individuals. Few studies have examined catatonia occurring in individuals with cancer; case reports have primarily focused on autoimmune encephalitis and paraneoplastic syndromes.
"To our knowledge, no clear cases of individuals developing catatonia without positive paraneoplastic causes or autoimmune markers have been reported," say the presenters.
They describe two individuals without prior psychiatric history who developed catatonia after cancer diagnosis and aim to provide the C-L psychiatrist with management strategies in this population.
"Identifying treatment options, including pharmacotherapy and ECT, for catatonia in individuals with cancer can help lead to improvement in symptoms and overall prognosis," they say.
Dr. Marcangelo: "This poster brings together two areas of abiding interest for the Academy—psycho-oncology and evaluation and management of catatonia. The cases presented here are encountered in practice, albeit rarely, and the presenters will expand on the cases with a review of the literature. Posters such as these provide guidance about best practices for relatively unusual presentations and add value for attendees looking to sharpen their clinical skills."
PSYCHOPHARMACOLOGY AND TOXICOLOGY
Single-Agent Bupropion Overdose Presenting as Serotonin Syndrome: A Case Report and Literature Review
Lead presenter: Nadia Cacodcar, MD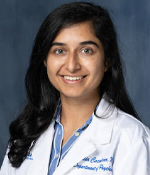 Bupropion is a dopamine norepinephrine reuptake inhibitor (DNRI) felt to work in the mesocorticolimbic pathway. Overdose generally causes tachycardia, tremor, hallucinations, seizures, and agitation.
Although not directly serotonergic, bupropion has indirect effects on serotonergic neurons through inducing increased norepinephrine release in the raphe nucleus and locus coeruleus. Theoretically, this could cause symptoms more consistent with serotonin toxicity than simply dopamine and norepinephrine toxicity. 
Here, the presenters show the case of a man who overdosed on bupropion with signs of serotonin syndrome.
"There is little literature on single agent bupropion overdose resulting in serotonin syndrome," say the presenters. "As bupropion is known by most psychiatrists as a pure DNRI to both augment serotonin reuptake inhibitors and use in individuals who have side-effects from serotonin, it is uncommon to consider that bupropion itself could cause serotonin toxicity in overdose.  Psychiatrists need to be aware of this rare but possible complication in single agent overdose."
Dr. Marcangelo: "This case adds to a small literature that reports serotonin syndrome in patients who have bupropion toxicity. The case is well documented and allows the authors to link to the other cases that have been reported in terms of phenomenology and treatment. Discussion of complex psychopharmacology and toxicity is an essential part of the meeting, and posters such as this allow attendees to grapple with challenging problems."