IN THIS ISSUE: FACLPs | Visiting Professor | CLP 2022 | Guidelines Appeal | Webb Fellows | A&E Abstracts 
Academy's Visiting Professor Award 'Will Lead to Significant Improvement'
Innovative neuromodulation treatment will inspire trainees to seek new medical practice opportunities
This year's ACLP Visiting Professor Award has been granted to the Department of Psychiatry and Behavioral Sciences, Stanford University. As visiting professor, Davin Quinn, MD, FACLP, of the University of New Mexico, will engage with residents and fellows on neuromodulation targeting traumatic brain injury (TBI).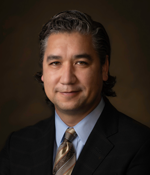 Dr. Quinn is a well-respected neuropsychiatrist known for his work in neuromodulation.
"We believe that his innovative approach for patient care and research, with robust infrastructure like ours, will lead to a significant improvement in medical practice," says Stanford associate professor Gen Shinozaki, MD, FACLP.
Dr. Quinn has presented promising data showing how to effectively help patients suffering from TBI with neuromodulation approaches including transcranial direct current stimulation and transcranial magnetic stimulation. He is also working on electroencephalogram detection of delirium.
"We are hoping to start a multi-center study with Dr. Quinn's team, and this will be a great opportunity to learn how to implement such technology in daily practice," says Dr. Shinozaki.
Dr. Quinn's novel approach for personalized treatment "will encourage our trainees to be more proactive in daily practice, to be open-minded for new opportunities, and not content with where we are at now. This example will teach our residents that Medicine and Psychiatry are full of opportunities to improve."